Archive for the 'twitter' tag
We recently discussed 3 dos and don'ts for running a campaign across platforms, but what about marketing a conference or similar event across platforms? Successfully marketing an event requires tailoring your message for each platform, just as with any successful campaign. We'll break down some of the specific uses for each platform here, playing to their individual strengths and making note of what to keep in mind based on how each works and interacts with the others.
Twitter
We've covered 16 ways to use Twitter to improve your next conference and 7 tips to maximize your conference attendance using Twitter, so what's different when you're adding other platforms to the mix?
When building your communication plan for your conference you want to keep in mind the strengths of each platform to plan which content you're going to disseminate where; Twitter's strength lies in it being the ultimate real-time tool. Use Twitter to broadcast quick updates and reminders throughout your event, such as:
Remind everyone of the official hashtag

Make announcements and reminders of keynotes, session start times, and any other events like a cocktail hour or party 

Let everyone know if a session, talk, or cocktail hour has been delayed, canceled or moved to a different location
Make suggestions about where attendees can head for meals or drinks offsite, tagging the handles of those businesses where applicable
Introduce speakers by their handles
Thank speakers, organizers, and any companies that have provided staff for catering or bars (and be sure to mention their handles too)
Answer any questions from attendees, and resolve any problems they bring to light quickly
Also be sure to prominently and consistently use and track the official hashtag you've created for your conference, which will tell you everything that went well and everything you can improve for the next time.
Instagram
Instagram is new territory for many marketers, which is why we've written a series for those new to the platform over on our Union Metrics Tumblr. Specifically for events you'll want to check out how to effectively use hashtags, the nuances of sharing to other platforms via Instagram, and even the different moves personal brands should make there (in case you're an event attendee in the future, wanting to promote yourself and connect with other attendees and organizers).
So whether you're established on Instagram when you decide to market your event there, or you've decided to make the conference the official launch of your Instagram presence, there are a few things to keep in mind. Instagram's purely visual nature is a strength for any brand looking to tell a succinct story in photographic terms. However, the single-track feed on mobile means that too many posts can easily overwhelm your followers, so established brands with a large following who know only a portion of that following will be present at an event will want to consider setting up a side account if you plan on frequent event updates.
With that in mind, some of the ways to use Instagram at a conference include:
To show off the conference venue, including what the weather in the host city is like

Share photos of sites to see around the host city
Tap into other big communities on Instagram by showing off the #food available on and offsite of your conference (be sure to tag any offsite restaurants and bars that have an Instagram presence, and follow their accounts)
Post reminders about meetups in other cities leading up to the conference, or after it, like this one from SXSW V2V
Share engaging photo reminders of deadlines for submitting speaker applications, getting a discount on event passes, and more
Post photos of keynote speakers, tagging their Instagram accounts with permission so that attendees can get a better idea of who they are
Post photos to highlight your event organizers, staff, and even regular attendees to give a behind-the-scenes look at everything that goes into the work of organizing and executing a conference (and tag their accounts too, where appropriate, or at least follow them)
Bonus: If you're short on resources, use the snappy photo reminders around deadlines as a starting point to share the same reminder across platforms, tweaking the message for each. For example, hashtags don't seem to increase engagement on Facebook, so if you're going to use the sharing buttons native to Instagram, wait to post all of your hashtags in the first comment. They'll work the same way for categorization and discovery across Instagram as when you put them in your initial photo caption, but they won't clutter your post across platforms. 
Tumblr
More and more brands have been experimenting with marketing on Tumblr and seeing some fantastic results. The built-in social aspect allows for amplification of announcements and photo recaps of any event or conference in  a way that's not possible with traditional blogging platforms. A brand hosting an event on Tumblr might use the platform to:
Go into more detail about deadlines and what's required on applications for speakers, but be sure to put it all behind a cut and underneath a snappy visual (maybe a version of the same one you used on Instagram!) 

Use the photo post-type collage option to show off the mood of the event, the venue, official accommodations, shots of the host city, past event parties and attendees, speakers and more (Tumblr automatically builds a collage as you upload multiple photos in one post)
Do a series using each of the ideas above, or pull a few of each type into one post for a photo overview. Pull these from Instagram or post a mix of Instagram photos and those from other sources
Use embedded video posts to show clips from the speakers you're featuring, or a video summary of a past event; even a video tour of the host city
Video post types will also host SlideShares of presentations using their embed codes, perfect for recaps and previews of sessions and topics from speakers
Link to articles or blog posts from event speakers, or quote things past speakers have said using the quote post-type
If past event attendees have written up their experiences, link to those as well, or quote excerpts from what they had to say
Remember that Tumblr's reblogging feature is what makes it so powerful; be sure to reblog anything appropriate or related to your conference from the Tumblrs of your upcoming or past speakers, regular attendees, organizers and more. Doing so will only encourage them to reblog you, amplifying your message to their audiences and possibly tapping new audience members. 
Example of a post from a speaker that SXSW V2V could reblog– if they had a Tumblr. 
After all, if they follow your speakers and attendees, it's likely that they're interested in the type of event you're putting on.
The bottom line
Play to each platform's strengths, and put in the work ahead of time to figure out where your attendees spend the most time. If you have limited resources, put your work into those places. Anything else after that will be a bonus.
Oh, and one more bonus tip: All of these platforms use hashtags, so search each one for any hashtags you can think of that are related to your conference or event to see how people are already talking about it in each place. Keep that tone and style in mind as you plan your approach, or use it to tailor and rethink your approach if you already have a presence there.
Got any questions, or have any ideas or examples of great conference execution across platforms that we've missed? Leave it in the comments!
Since tomorrow is Independence Day here in America we thought we'd put out This Week in Social Analytics a day early. Here are our favorite posts of the past week in the world of measurement, analytics, and social media. See a great piece we missed? Let us know in the comments, or tell us about it on Twitter or Facebook.
Finally, Most Brands Measuring Social Content Effectiveness [from eMarketer; written by staff]
While the metrics being used are fairly simplistic, it's a good start.
How Psychology Will Shape the Future of Social Media Marketing [from The Huffington Post; written by Jayson DeMers]
"Technology will never replace the human ability to extract meaningful data from volumes of information."
More Evidence that Visuals Far Outpace Text [from Geoff Livingston]
"Digiday surveyed attendees of its Agency Innovation Camp about how visual native ads stack up against text based native ads (hat tip: Richard Binhammer). More often than not, attendees favored visuals by 75 percent or more."
While that might be a very specific audience with very specific opinions about visuals, it's hard to ignore the overwhelming evidence that humans are visual creatures.
The Conundrum of Ethics and Data Collecting [from Eli Rose Social Media; written by Sunny Serres]
"We need these companies to be more socially responsible because we are entrusting them with our information. In order for us to remove ourselves from these types of data collections, we have to opt out of all of the conveniences that we rely so heavily upon to function within society. . . This just isn't plausible in today's society – our reliance on technology has grown so rapidly that opting out of many of these things simply puts those individuals "behind." It is a vicious cycle, but if companies can perform with more integrity and think about their customers first and foremost rather than profitability or academic accolades, then maybe the question of ethics will become moot."
3 Steps to Demystifying Social Media Personalities [from Social Media Today; written by Ida Cheinman]
1. Treat Every Tool as a Touchpoint
2. Metaphor the Medium
3. Secure Success Through Story
So How Many Millennials Are There in the US, Anyway? | Updated [from Marketing Charts; written by staff]
"Before putting out some numbers, there are a few problems to take note of. Chiefly, there is no consensus definition of a Millennial.

Nevertheless, things being the way they are, marketers and researchers often look at age groups. So here's a reference list of some commonly used age brackets and their corresponding population estimates and population shares as of July 1st, 2013.

12-17: 25 million (7.9%)

18-24: 31.5 million (10%)

25-34: 42.8 million (13.6%)

35-44: 40.5 million (12.8%)

45-54: 43.8 million (13.8%)

55-64: 39.3 million (12.4%)

65+: 44.7 million (14.1%)" 
Pair with Millennials Most Likely to Rely on W-O-M For Private Label Shopping Guidance and Who's Regularly Going Online While Watching TV?.
5 Principles for Creating a Social Media Following That Sticks [from Social Media Today; written by Will Blunt]
"TIP: Your customers care more about themselves than they do you. Ask them questions about what THEY want. Don't fall into the trap of TELLING them what they want."
6 Ways To Engage And Maintain A Loyal Twitter Following [from All Twitter; written by Shea Bennett]
Based on a video released by Twitter for Small Business.
Why Brands Should Use GIFs [from Likeable Media; written by Angela Kuo] 
GIFs are the language of the Internet, after all.
4 Ways To Expand Your Content Marketing With Social Content [from Heidi Cohen]
 "Social content is about how the content is created, not shared or distributed!"
Every social media platform has its own way of operating that stems from its users reasons for being there; the same person might use Twitter mostly for professional work connections and news, Facebook for family updates, Instagram to connect with friends, and Tumblr to keep up with the fandoms around their favorite shows, for example. If that person matches the ideal customer for a brand and that brand wants to run a social campaign across most or all of those platforms to reach that person, they need to tailor their message for each place.
How? Get started with these do's and don'ts.
1. Don't: discount a platform because you think you know what people are there for.
Do: The research to see how conversations form around things that matter to your brand. Instagram, for example, is often thought of as a place where people simply share photos with friends and family, but that's not necessarily the case. Big events like the World Cup have enormous conversations happening around them on the photo-sharing site, and smart brands like Adidas have caught onto that.
Our Instagram analysis* showed that Adidas was a top publisher around the World Cup conversation on Instagram, and they received 22.7k actions (likes and comments) on their 5 World Cup related posts, earning 6.3 million impressions. That's a big return on a relatively small effort, especially considering fan-run sports accounts and even official soccer athlete accounts are making anywhere from 14-128 posts related to the World Cup.
 2. Don't: assume you know how to talk the talk.
Do: Listen first, then join the conversation respectfully. Tumblr, for example, has many different communities that all have different ways of speaking to each other, making jokes, and presenting information, all of which is part of the larger Tumblr community and culture. What works well in Twitter or Facebook advertising will not work well here; the users are part of a larger creative community and they respond well to brands who take the time to understand how Tumblr really operates (or they're smart enough to hire and work with someone who does).
Denny's, for example, has an extremely popular Tumblr that users have responded well to because it speaks in the language of Tumblr. It isn't just an attempt to ape it.
3. Don't: Be afraid to experiment.
Do: Learn from and build on your failures and successes alike. FIFA has a Twitter account for their official match ball. While normally inanimate objects spontaneously get their own parody Twitter accounts following a big cultural event with social coverage (Pharrell's hat following the GRAMMY's, for example), FIFA decided to give their match ball its own autonomy and hashtag early.
Running a quick free TweetReach report shows that the conversation and engagement around #ballin is already good, and there's still more than a month of World Cup matches left to go. While something like a snapshot report gives a good idea of the general success of the account relative to the hashtag- it's not just a bunch of people using the term in other, World Cup unrelated ways- more in-depth monitoring could tell FIFA what was successful and unsuccessful in their approach specific to Twitter, and help them plan better for next time. (You can read more about how to monitor a Twitter campaign with TweetReach here.)
So what does this mean for campaigns, exactly?
The bottom line is that you have to tailor your message to fit in each place, and that can only be done by taking the time to understand how the conversation around what your audience is interested in operates. Adidas looked at how sports fans use Instagram, Denny's hired someone familiar with the culture of Tumblr and gave them the freedom to do it right, and FIFA is experimenting with giving their match ball its own voice.
After you've decided on the messaging for each platform- visual for Instagram and Tumblr, with different wording and approach on Twitter, for example- build goals based on how the audience you aim to reach in each place talks to one another about you or your industry. Are you there to increase your share of voice in the industry (here's more on how to measure share of voice, and how to grow it), or to build engagement with your existing fans, while hopefully earning new ones? Your goals for the same campaign might be different for each platform, which increases the necessity for tailored messages in each place. 
The basic approach is the same in each place, however: Research, plan, test, measure, rinse, and repeat.
*Interested in our Union Metrics for Instagram analytics? Learn more here. 
NASA astronaut Reid Wiseman posted the first Vine from space this weekend, condensing hours on the ISS and an orbit showing a never-quite-setting sun into six seconds:
1st Vine from space! Single Earth orbit. Sun never sets flying parallel w/terminator line #ISS #Exp40 @ast… https://t.co/6TwyNdewCU

— Reid Wiseman (@astro_reid) June 6, 2014
Social media has been the perfect tool for NASA to use to educate the public about their work, and give curious citizens direct access in real time to the astronauts living and working in space above us. The Vine was shared by many in the Twitter science community dedicated to science education and outreach:
Here's the first @Vine from space, showing a single Earth orbit by @astro_reid: https://t.co/AcVGFDagbM #space

— AsapSCIENCE (@AsapSCIENCE) June 9, 2014
After all, the projects started up there often come back down to earth to be used in our daily lives, and new windows into science education are the best way to spark the interest of the next generation of scientists and inventors.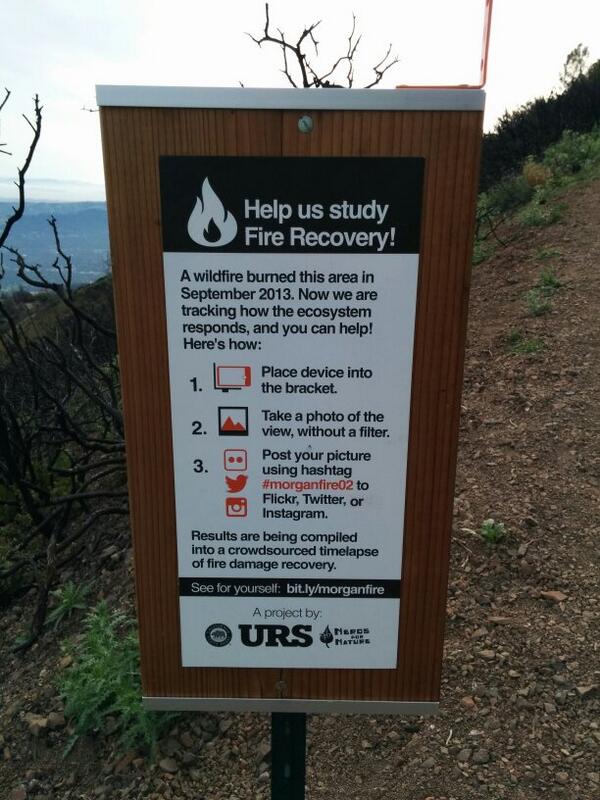 Any headlines predicting the "end of Twitter" or fearing that "everyone is bored with [social platform] now" fail to recognize that humanity is pretty good at coming up with innovative uses for the tools at our disposal, and that Twitter and other social media platforms are no exception to this. Case in point: A fire recovery study project currently underway in Mt. Diablo State Park done by URS and Nerds for Nature after the Morgan Fire burned 3,000 acres last year in September.
How does this work?
By setting up a series of fixed vantage points around the park- there are brackets to put your smartphone in so all the photos are taken from the same angle- the project is able to gather reliable, gradual photographic evidence of the recovery of the park's different ecosystems. Each site has its own hashtag to distinguish it: #morganfire01, #morganfire02, #morganfire03, #morganfire04.
Looking at the snapshot reports for each of these vantage points, you can see which ones are more commonly frequented by hikers. This gives citizen scientists as well as the projects heads themselves an idea of which areas could use more visits and photo captures, and enables them to quickly and easily spread the message and make plans about where to go. Park ranger resources can also be used more efficiently this way.
The overall conversation on Twitter.
Once a news cycle on an event like this gradually shuts down in the days or weeks after it happens, it's rare to hear much more about it; projects like this are just one way social media is changing the landscape of journalism with crowdsourcing. It also gives citizens a direct role to play in the preservation of their local environment as citizen scientists. This would be a great project for a family, group of friends, summer camp, or science class to get involved with, and social media- particularly Twitter- is one of the best ways to amplify this message and make these kinds of suggestions.
On Instagram.
While Twitter users seem to mainly be using the platform to share news about the project itself, Instagram users have been carrying out the instructions on the sign posts and posting photos from the different vantage points using the hashtags:
#morganfire02 via Instagram user mo_nini_l 
#morganfire04 via Instagram user coyotethunder
This plays to the strengths of each platform; it's harder to describe what a project is about on Instagram which doesn't enable link-sharing, while this is Twitter's main strength. The stunning visuals of the recovering areas of the park posted on Instagram can capture attention and make a user curious about what the hashtags mean, leading them to ask the user or search out the information themselves on other social sites, like Twitter.
If you live in the Mt. Diablo State Park area, consider making a weekend hiking trip out to Mt. Diablo and contribute to this citizen science project on your social networks! You might be the first to see something like this wild lily coming back:
via Instagram user coyotethunder
It's Friday, so that means it's time for This Week in Social Analytics and our favorite posts of the past week in the world of measurement, analytics, and social media. See a great piece we missed? Link to it in the comments, or tell us about it on Twitter or Facebook.
Connected Customers are Invisible to Those Who Value Demographics [from Brian Solis]
Markets are now conversations, and audiences are no longer passive or static. It's time to move beyond old demographic profiling.
2014 Internet Trends [from KPCB; written by Mary Meeker]
Mary Meeker's 2014 Internet Trends report is out! It's definitely worth a look.
Social Media Platforms 2014 And Beyond | Research/Charts [from Heidi Cohen]
"Social media platforms are where your target audience spends their time. 70+% of US online adults use social media and 40+% of online adults use 2 or more social media platforms based on December 2013 Pew Internet Research. (Here's our analysis of US social media activity.)"
Emerging Markets Drive Twitter User Growth Worldwide [from eMarketer; written by staff]
"Twitter's user base will increase 24.4% in 2014, according to eMarketer's first-ever forecast of Twitter users worldwide. The social media property's user growth will continue with double-digit gains through 2018, eMarketer estimates, and there are significant opportunities for Twitter to increase its audience across emerging markets."
You can see different breakdowns of this from All Twitter and Marketing Charts:
30% of "Socially Active" Brands Said to be on Instagram [from Marketing Charts; written by staff]
"Predictably, some industry categories have been quicker to include Instagram in their marketing mix than others: leading the pack are luxury retail and luxury auto, with 67% and 60% penetration among socially active brands, respectively."
The Periodic Table of Content Marketing [from Social Times; written by Christie Barakat]
"The visualization offers an overview of content marketing's key elements and focuses on the following areas:

Strategy

Format

Content type

Platform

Metrics

Goals

Sharing triggers

Checklist"
You can find the original article from Econsultancy here.
The Essentials of Social Media Training for Students [from Social Media Today; written by Chris Syme]
"Last year, I conducted an informal survey of college student-athletes in my Practice Safe Social™ training workshops and found the following:

The social media behavior of first-year college students is more closely related to the behavior of high school students than that of their older college cohorts.

Most college seniors desire to align their social media habits more with adults and less with typical college-age behaviors." 
Is all engagement created equal? [from Social Media Explorer; written by Tracey Parsons]
A proposal to start looking at engagement on two different levels: Active engagement, and passive engagement. A like and a share are not the same.
It's Friday, so that means it's time for This Week in Social Analytics and our favorite posts of the past week in the world of measurement, analytics, and social media. See a great piece we missed? Link to it in the comments, or tell us about it on Twitter or Facebook.
The 2014 Social Media Marketing Industry Report from Social Media Examiner came out this week, and while you should definitely take the time to read the whole thing if you can, there are also a lot of great pieces highlighting different aspects of the findings:
How the Older Generation is Embracing Social Media | Infographic [from Social Times; written by Christie Barakat]
"Did you know that one in five Twitter users are over the age of fifty? Or that of the 53 percent of
of Americans 65 and older who use the Internet, 77 percent of them are active on a typical day?

What's more, the older generation has the most spending power of any age group and accounts for 80 percent of all online luxury travel spending. Baby boomers also contribute 43 percent of America's philanthropic activity."
Click through for the full infographic.
Three Key Elements in Building Your Brand Through Social Media [from Social Media Today; written by Andrew Hutchinson]
"It's not enough to broadcast your message anymore, you need to be able to establish trust, your place in their day to day lives. How does your brand help and improve your consumer's world? What ways can your business contribute? Answering these questions are the first steps towards working out how you can use social media to achieve them."
Facts Tell, Stories Sell – How Infotainment Inspires Action in B2B Marketing [from Top Rank Online Marketing; written by Lee Odden]
Stories aren't just for B2C; check out these examples of creativity in connecting in the B2B market from Lee Odden, as well as a full ebook from other B2B marketers.
How to Spot Good Social Media Marketing Research [from Social Media Today; written by Chris Syme]
"Dr. Freberg also has some tips for marketers on how to wade through the large volume of data labeled "study" on the internet.

Always look at the data itself, the sample and method in which the data was collected, and whether or not the results match up with the question posed for the actual research and the method being used. A lot of times, there are some methods and statistics that do not match up with the results. In some cases, there are research studies that try to "spin" the results to make these big conclusions when in reality, the data does not reflect on this.

If the study does go into detail on how the research was collected and is transparent with the methods and audience they used, that is a good sign. However, there are a lot of studies that don't give readers any clue about sample size, audience numbers, how the data was collected, or what questions were asked. Having a solid base and understanding in traditional research methods to explore, critique, and analyze the results yourself is critical to know as a social media marketer now to determine what is good research versus promoted research."
How Instagram Became the Best Crisis PR [from New York Magazine; written by Maureen O'connor]
"Modern celebrity relies on the illusion of intimacy, and Instagram PR is the ultimate tool for pseudo-intimate fan management: It emphasizes the celebrity's direct connection with her fans (illusion) without forcing her to reveal any facts (reality). It feels more genuine than a press release, but still allows for meticulous image control."
How to get strangers to retweet your tweets [from Wired UK; written by Olivia Solon]
"The team found that when it sent local information tweets to individuals identified by the algorithm, 13.3 percent retweeted it, compared to just 2.8 percent of people picked at random. This was improved to 19.3 percent (a 680 percent increase) when they timed the RT request to match the periods when people had been most active in the past."
Read the full study here.
With Memorial Day approaching this weekend, summer travel is on the minds of many, and the resources to plan and execute the best trips for business or for pleasure lie within the social sites you know and love. Last year we looked at the Top travel resources on Twitter: Accounts to follow and chats to attend as well as the 10 best travel resources on social media and beyond. So what does the travel landscape look like on social in 2014?
On Twitter
All of the travel advice and perspective accounts from our Twitter travel resources post are still active and providing information on everything from amateur and budget travel to high-end luxury accommodations; skim the list to find and follow the users that fit your needs.
As for the travel chats, read over the transcripts to get an idea of which ones would be worth joining in on before you plan your next trip:
#MexMonday (all day Mondays): Check this one out if you're planning a trip to Mexico 
#TravelTuesday (all day Tuesdays): Chat about all things travel-related
#CruiseChat (2pm EST Tuesdays): Whether you're a veteran cruiser or new to boat-bound travel, find out all you need to know in this chat
#NUTS (Not-so-usual-therapy-session, aka travel and specifically roadtrips) seems to be used more as a generic hashtag than a travel related chat, but you can still check out the session recaps on their site.
#TTOT (5:30 am/pm EST Tuesdays): standing for Travel Talk on Tuesdays, you can check out the topic ahead of time on their Facebook page.
#LuxChat (2:30pm PST every 3rd Wednesday): While #LuxChat doesn't always cover travel, keep an eye on the month's chosen topic if treating yourself while you travel is your goal. You can find recaps of their chats on their Tumblr.
#TourismChat (2:00pm CST bi-weekly on Thursdays): Check the @tourismchat account for topics and transcripts.
#FriFotos (all day Fridays): You can find out each week's theme from @EpsteinTravels
Other chats to check out:
Aren't sure how to participate in a Twitter chat, or want to host your own? Check out our posts about how to get the most out of a chat as a participant or as a host.
Other social media travel resources
All of our holiday travel tips from last year still hold true, and if you're looking at how to get the most out of travel blogging on Tumblr we've covered that too. (You can see all of our travel-related Tumblr posts here.)
We still recommend Pinterest for planning what you're going to pack, what sites you want to see at your destination, and more. Instagram is an amazing way to catalog your travels that lets everyone at home follow along with you and avoids overwhelming them with an album of 200 new photos to parse when you get home.
But what about using Instagram for inspiring and planning your next trip? Stay tuned. We'll have that for you soon!
If you've got any social media travel resources we missed, leave them in the comments, or let us know on Twitter.
Photo courtesy NYPL Digital Gallery. 

One of the highlights of using Instagram for brands is that once you've uploaded a post, you can quickly share it across several other platforms once you've connected your accounts: Facebook, Tumblr, Flickr, and Twitter.
It's important to know the details of how exactly Instagram posts translate to each platform before you hit the share button; that way you can tweak your posts to get the best results across all of them.
On Twitter
Instagram posts on Twitter are shown as a link in the tweet, and they pull in all the text and the hashtags used to caption a post before the allotted 140 characters are used up. Here's an example of this post as it was shared to Twitter, below:
Meet our Lead Engineer @jcsalterego! A pioneer of #steakgram here on Instagram, he can also be found… http://t.co/tiOJAT1WEX

— Union Metrics (@UnionMetrics) May 14, 2014
Captions longer than 140 characters are truncated with an ellipses, as above, and if all of your hashtags are at the end of a long caption, none of them will translate to Twitter. If you want the full caption and hashtags to show up, keep it short; a short caption and no more than two or three hashtags (three will probably only work if you're using shorter hashtags like #TBT). Remember that some of the characters will be used up on the link to the Instagram post itself.
Instagram will also translate another Instagram user's account name that you've tagged in a post to their Twitter account username, if they've connected their accounts. If they haven't connected their accounts, the tweet will show the person's Instagram account name and will remove the "@" symbol so it doesn't tag anyone on Twitter.
However, if you use the incorrect Instagram username when you tag someone in a post and it doesn't match any Instagram users, it will translate to Twitter using the "@" symbol. Another reason to be sure you're using the right account name (you should see it pop up while you're typing it in, as in the photo below) when you decide to mention someone in a post you plan to share.
Want more?
For more tips about using Instagram as a brand, head over to the Union Metrics blog.
For more Twitter tips, or tips specific to TweetReach, check out our master post from last week.
It's Friday, so that means it's time for This Week in Social Analytics and our favorite posts of the past week in the world of measurement, analytics, and social media. See a great piece we missed? Link to it in the comments, or tell us about it on Twitter or Facebook.
The Surprising Data Behind How Often Brands Should Post On Instagram [from Forbes; written by Jeff Bercovici]
 "Union Metrics also looked at activity around paid content — ie. advertising — on Instagram, and found that it's remarkably effective as a tool for driving follower acquisition and engagement. One big brand saw a 32% increase in followers after a 30-day paid campaign, translating into tens of thousands of new followers, plus a corresponding 25% increase in engagements on organic, non-paid posts. That suggests that followers obtained through paid promotion are as valuable as or more valuable than those acquired for free — another reversal of conventional wisdom, if it holds up on a wider scale."
Want to learn more? Download our full Instagram whitepaper here.
10 Actionable Research Based Instagram Marketing Tips [from Heidi Cohen]
"93% of prestige brands have a presence on Instagram, up from 63% in July 2013 according to L2 Think Tank research."
Emphasis original. Pair with another great piece from Heidi this week: 10 Small Business Marketing Lessons You Need Regardless of Size.
10 Kinds of Stories to Tell with Data [from Harvard Business Review; written by Tom Davenport]
"Narrative is—along with visual analytics—an important way to communicate analytical results to non-analytical people. . .What's needed is a framework for understanding the different kinds of stories that data and analytics can tell. If you don't know what kind of story you want to tell, you probably won't tell a good one."
7 Ingredients for Employee Social Advocacy [from Convince and Convert; written by Jay Baer]
". . .employee social media advocacy gives you Authenticity, Trustworthiness, and Reach. But, getting there isn't a snap. There are many steps involved in creating and maintaining an effective program of this type."
Click through for the full SlideShare.
The best crowdsourced social media campaigns [from iMedia Connection; written by Drew Hubbard]
Examples of the best crowsourced social campaigns in recent memory. Do you have one to add? Or a failed attempt everyone can learn from?
Over 100 B2B Content Marketing Statistics for 2014 [from TopRank Online Marketing Blog; written by Lee Odden]
This roundup covers everything from "insourcing vs. outsourcing to the most effective tactics", but we pulled B2B content marketing and social media tactics here:
"B2B content marketers use an average of 6 social media platforms

91% of B2B marketers use LinkedIn to distribute content
85% of B2B marketers use Twitter to distribute content
81% of B2B marketers use Facebook to distribute content
73% of B2B marketers use YouTube to distribute content
55% of B2B marketers use Google+ to distribute content
40% of B2B marketers use SlideShare to distribute content
34% of B2B marketers use Pinterest to distribute content
22% of B2B marketers use Instagram to distribute content
22% of B2B marketers use Vimeo to distribute content
16% of B2B marketers use Flickr to distribute content
15% of B2B marketers use StumbleUpon to distribute content
14% of B2B marketers use Foursquare to distribute content
14% of B2B marketers use Tumblr to distribute content
14% of B2B marketers use Vine to distribute content"
On Being Useful [from Social Media Explorer; written by Tracey Parsons]
Excellent follow-up piece on the discussion on the balance brands need to strike between being human and being useful; shows examples of brands who strive to be useful in a human way.
The Ecommerce Brand's Guide To Pinterest [from Social Fresh; written by Julie Bee]
If you're an ecommerce brand that has already set up a Pinterest Business Page and gotten verified, then this article tells you where to go next.
How 4 Brands Embraced Tumblr's New Mobile Design [from AdWeek; written by Garett Sloane]
"'Tumblr is a place where brands can breathe,' the company said in today's mobile redesign announcement. 'We're once again stretching the canvas for brands and marketers to create a mobile identity that is truly representative of their brand.'"
Pair with Tumblr declares war on the internet's identity crisis from The Verge.
Twitter's Marketing Problem [from stratechery; written by Ben Thompson]
The headline takes away from the interesting potential ideas for Twitter's future in this article:
"So why not embrace the complexity? Instead of trying to teach new users how to built a curated follower list, build the lists for them. Don't call them lists, though; embrace Twitter's TV connection and make them 'channels.' Big basketball game? Go to the basketball channel, populated not with the biggest celebrities but with the best and most entertaining tweeters. Build similar channels for specific teams in all sports. Do the same for Apple, Google, and technology; liberals, conservatives, and politics in general; have channels for the Oscars, the Olympics and so on and so forth. And make them good, devoid of the crap that pollutes most hashtags and search results. If the ideal Twitter experience is achieved with a curated list, then provide curated lists and an easy way to switch among them.

Now you have a value prop: easily join the conversation about what is happening in the areas you care about, without the months-long process of building a perfectly customized Twitter feed. Oh, and by the way Ad Person, here is a very easy-to-understand ad unit built around a specific topic filled with self-selected followers."