Archive for the 'science' tag
Social efforts should never live in a vacuum, and successful content marketing efforts and campaigns exist across platforms. Even ventures like launching a Facebook page can be more successful if you track how they are being discussed across other platforms; for example, people don't just share Facebook news on Facebook, they also talk about it on Twitter.
So when The Theory of Everything- a movie about physicist Stephen Hawking's life based on a book written by his first wife- recently premiered, and Hawking joined Facebook, we thought we'd take a look at what the conversation about the famous scientist joining Facebook looked like on Twitter. Why? It's important to understand how your audience is talking about you in every place that they are doing so. Do they say different things about you on Facebook vs. Twitter? Do they share news of you joining a new platform like Facebook, helping you increase your reach and exposure to new potential fans and followers? These are just a few questions you can answer using something like our TweetReach Pro analytics.
How exactly do you monitor a conversation about Facebook on Twitter? Don't worry, it's just like setting up any other TweetReach Pro topic Tracker. Your search queries should include the hashtags you're using on Facebook, Facebook URLs, and other terms to be sure you're finding the full Twitter conversation about the Facebook content.
Let's look at some highlights from our analysis below, and a few of the conclusions we drew from it.
Discussion timeline
As with most launches, the peak of the conversation around Hawking joining Facebook came right around the launch itself, then decreased until it saw a small, second peak:
The day of the second spike, November 1st, was a Sunday, so that tells you something about this specific audience: Hawking fans spend time talking about him joining Facebook on Sunday, on Twitter, more than a week after it happens. Observing trends over time will tell you if this is an anomaly, or if Hawking fans have broader interests that bring them to Twitter on Sunday; perhaps something like #ScienceSunday.
Influencers to keep an eye on
The top ten contributors to the conversation included a lot of Spanish language accounts and one from Indonesia, which tells you Hawking fans are a global audience and not just limited to his native UK or the ties he has with the US.
The most retweeted tweet also came from Spanish language Twitter account Antena3Noticias; the second and third most retweeted tweets about Hawking joining Facebook came from WIRED magazine.
Stephen Hawking se estrena en Facebook. Su primer mensaje fue: "Sean curiosos" http://t.co/M4N7gZbMkq pic.twitter.com/npcIORrSS4 — Antena3Noticias (@A3Noticias) October 26, 2014
Stephen Hawking joins Facebook, and urges fans to "be curious" http://t.co/L2YdnwjV0m — WIRED (@WIRED) October 25, 2014
Media outlets joining a discussion around your topic of interest means you can keep them in mind should you want to reach out for a story in the future. These most retweeted tweets and contributors list also tell you that in this case, you shouldn't limit yourself to US-based media outlets either. The top URLs list confirmed this again, including links from the same Spanish language and Indonesian accounts: 
Final takeaways
This is just the insight you get from about week with a TweetReach Pro topic Tracker, looking at one specific launch. But it has already given enough information about the audience and activity times around that launch to inform a content strategy and refocus an audience profile.  The bonus takeaway is that science-related content strategies don't have to be stuffy either: Hawking has a great sense of humor, and so does Twitter. 
Stephen Hawking joined Facebook. Oh, the countless things we will never know now bc Stephen Hawking will be wasting time on Buzzfeed quizzes — Hari Kondabolu (@harikondabolu) October 25, 2014
Happy tracking!
Yesterday, for the first time in history, humanity managed to land a robot roughly the size of a washing machine (named Philae) onto a comet moving 40k mph through space. Twitter had a lot to say about it using the #cometlanding hashtag, so we took two full snapshot reports to compare the conversation on the day of the landing to the day after.
What can comparing snapshot reports tell me?
Full snapshot reports are limited to 1500 tweets, so extremely popular Twitter conversations like those around big public events tend to max them out quickly, but that doesn't mean there isn't still a lot to learn from what they capture! By comparing snapshots from two days back-to-back, you get an idea of who the most influential people and organizations in the conversation are, which you can continue to monitor by taking a few more days of snapshots, either free or full (free will just give you slightly more limited data). Alternatively you can use them as research to set up a TweetReach Pro Tracker around a similar topic in the same area of interest: Now you know which accounts to monitor, and you can look at those to see what kinds of hashtags they regularly use, etc, to get the most out of your Tracker.
So what did these two snapshots tell us?
The conversation on day two almost matches that of day one in terms of intensity, telling us that Twitter's interest in Philae's historical landing hasn't wavered much from that of landing day:
This tells you it's still a popular topic to work into your content schedule! And day two is ripe for original content. The first day had a lot more original information being broadcast; the breakdown of tweets vs. retweets was almost even, whereas today has seen a lot more retweets and fewer original tweets. This helps you hypothesize about the nature of the conversation: Perhaps on day one, everyone watching tweeted about how excited they were to watch the landing, from professionals down to amateur observers. On day two, maybe excited space and science enthusiasts are sharing information with their followers from official accounts. To confirm this, simply check the tweets timeline on your snapshot reports:
Day one Tweets Timeline: Tweets from laypeople excited about the #cometlanding
Day two tweets timeline: More RTs of official accounts with news and photos from Philae 
What about those influencers you mentioned?
No problem. The most retweeted tweets each day both included the official Twitter account for the Philae lander.
While NASA is an account you might have assumed would be influential in space and science conversations, BBC news might be less expected. And perhaps you didn't know Philae had its own account!
Still have questions?
Leave 'em in the comments. Like what our snapshots can tell you, and interested in going further with TweetReach Pro? Join us for a demo on Thursday, November 20th at 9:00am PST, or email us to set one up sooner!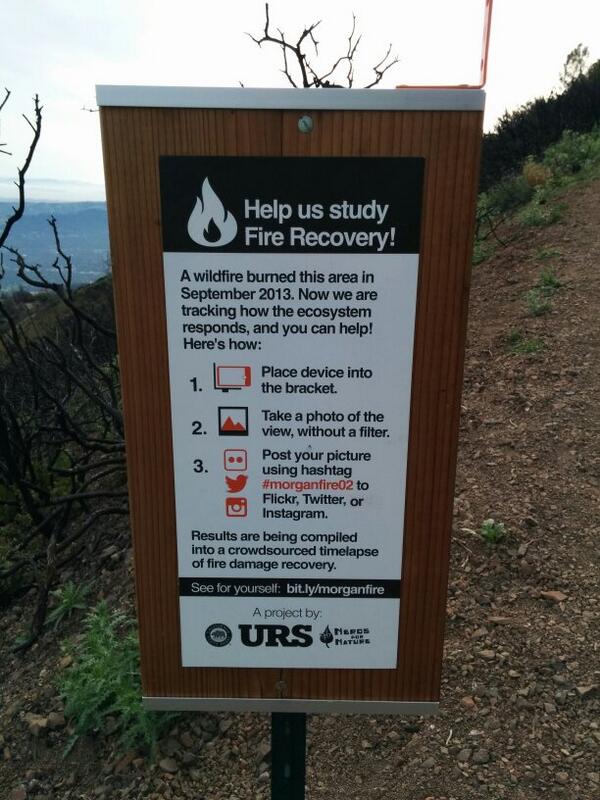 Any headlines predicting the "end of Twitter" or fearing that "everyone is bored with [social platform] now" fail to recognize that humanity is pretty good at coming up with innovative uses for the tools at our disposal, and that Twitter and other social media platforms are no exception to this. Case in point: A fire recovery study project currently underway in Mt. Diablo State Park done by URS and Nerds for Nature after the Morgan Fire burned 3,000 acres last year in September.
How does this work?
By setting up a series of fixed vantage points around the park- there are brackets to put your smartphone in so all the photos are taken from the same angle- the project is able to gather reliable, gradual photographic evidence of the recovery of the park's different ecosystems. Each site has its own hashtag to distinguish it: #morganfire01, #morganfire02, #morganfire03, #morganfire04.
Looking at the snapshot reports for each of these vantage points, you can see which ones are more commonly frequented by hikers. This gives citizen scientists as well as the projects heads themselves an idea of which areas could use more visits and photo captures, and enables them to quickly and easily spread the message and make plans about where to go. Park ranger resources can also be used more efficiently this way.
The overall conversation on Twitter.
Once a news cycle on an event like this gradually shuts down in the days or weeks after it happens, it's rare to hear much more about it; projects like this are just one way social media is changing the landscape of journalism with crowdsourcing. It also gives citizens a direct role to play in the preservation of their local environment as citizen scientists. This would be a great project for a family, group of friends, summer camp, or science class to get involved with, and social media- particularly Twitter- is one of the best ways to amplify this message and make these kinds of suggestions.
On Instagram.
While Twitter users seem to mainly be using the platform to share news about the project itself, Instagram users have been carrying out the instructions on the sign posts and posting photos from the different vantage points using the hashtags:
#morganfire02 via Instagram user mo_nini_l 
#morganfire04 via Instagram user coyotethunder
This plays to the strengths of each platform; it's harder to describe what a project is about on Instagram which doesn't enable link-sharing, while this is Twitter's main strength. The stunning visuals of the recovering areas of the park posted on Instagram can capture attention and make a user curious about what the hashtags mean, leading them to ask the user or search out the information themselves on other social sites, like Twitter.
If you live in the Mt. Diablo State Park area, consider making a weekend hiking trip out to Mt. Diablo and contribute to this citizen science project on your social networks! You might be the first to see something like this wild lily coming back:
via Instagram user coyotethunder