Archive for the 'events' tag
How many tweets did fans post about the MTV VMAs yesterday? A LOT. There were more than 11.5 million tweets posted about the VMAs during the 2.5-hour show and 20.9 million tweets during the full day on Sunday. A few other highlights:
Kanye West announced he will run for president in 2020, and generated 2.8 million tweets in just an hour and 4.6 million tweets all day.
There were more than 3.6 million tweets about Miley Cyrus yesterday.
Justin Bieber made a big appearance – with a brand new haircut – and spurred 2.9 million tweets yesterday.
MTV's big publicity push around this year's show really paid off, making it one of the most-tweeted about VMAs in history. What was your favorite moment?
We've written quite a bit about Twitter and conferences over the years, so we thought we'd combine the best of our existing knowledge with anything new we've learned through our own experiences and research. If you have wisdom of your own to share or questions we didn't cover, leave it in the comments!
If you're planning and running the conference
Choose a unique, relevant hashtag and keep it as short as possible.
Make sure you promote the hashtag ahead of time on your site, in official emails, on your social accounts, and on physical collateral throughout the event
Consider unique hashtags for particular panels so attendees can hyper-connect and discuss particular issues of interest to them. Just keep them as short as possible so they can be used in conjunction with the official conference hashtag.
It should go without saying, but make sure you have the wifi power and physical number of power outlets available for attendees so they're not cut off  from social at any time during the event.
Encourage conversation among attendees by being responsive, retweeting interesting points and questions, promoting speakers and panelists, and favoriting clever responses to your tweets. Fix any problems brought to your attention as soon as humanly possible, and quickly communicate any schedule or venue changes.
Continue to connect post-conference with presenters, speakers and attendees by sharing any wrap-ups written by your team or by others, sharing video clips of panels or keynotes, photos from cocktail hours or meet-ups, and anything else you're able to source through your official hashtag!
Measure your conference-related social efforts. Ideally you'll want to set up extensive social tracking on Twitter (and any other channel you have a presence on and will be using your official hashtag with), but if things go awry you can always look at a historical measurement option. See how big of a boost this event gave your presence! Measure engagement in three ways:
Measure total Twitter audience size. With the spread of conference content on social media like Twitter, the size of the audience can grow well beyond the number of attendees physically present (some might attend virtually!). Measure the total reach and exposure for conference tweets, as well as the number of total tweets and unique contributors.
Determine popular speakers and presentations. Analyze conference Twitter engagement by tracking metrics like retweets, replies, favorites and impressions to learn which topics are generating buzz. Search for speaker and panel names, presentation topics and track titles to see which ones are most talked about. Find out which images are being shared the most to determine attendees' favorite moments, and track shared URLs to see which websites and pages have been most useful to participants.
Share metrics with sponsors. Report this information back to conference sponsors to demonstrate the value of their sponsorship. Showing sponsors how many more people their brands reached beyond in-person conference attendance can be very valuable to securing future sponsorships. When possible, share specific examples of effective tweets about or from conference sponsors.
Bonus: Use all of this data to plan your next conference. It will tell you what went well, what you can improve, and how your conference compares to other similar conferences with available numbers.
And if you want more details on marketing your conference across social channels, check out Marketing your conference across platforms: Twitter, Instagram, and Tumblr and Marketing your conference across platforms: Snapchat and Pinterest.
If you're attending the conference
Use that official hashtag! Use it to network and connect with other attendees, use it to share your thoughts during panels and ask questions, use it to find new people to follow and interact with not only during the conference, but after.
Be sure you're following official accounts, and follow presenters and other attendees you find interesting. Take things a step further by thanking organizers and speakers after the event; they'll definitely appreciate it!
Browse the official hashtag in your downtime, along with any unique hashtags for panels you didn't get the chance to attend. Retweet, favorite, and respond to connect with any tweets or tweeters who catch your eye to extend your networking even further.
Upload photos of you and other attendees at official and unofficial events around the conference and tag it with the official hashtag to add another layer to your presence.
If you're a local, share tips for non-local attendees and presenters on where to eat or relax in their downtime. Offer to meet up with fellow attendees to show them around and take them out on the town or for a run on your favorite trail. And if you're not local, take any kind locals up on these offers and let the conference know what a great time you're having in the town they're hosting in.
If you're attending the conference virtually
Use that official hashtag just like you're there! Comment on live-streamed panels and keynotes, ask questions, connect with attendees who are there.
Share quick reports around different panels- like a TweetReach from Union Metrics snapshot report- particularly if they have a unique hashtag for them. Those running the event and speaking most likely won't have time in the moment and will very much appreciate the feedback. Want to know how it works? See our example of #smx at a glance.
In a similar vein, you can put together a Storify of tweets from a favorite panel to share back with attendees, panel speakers, and the conference itself. Write up a blog summary of what you've learned and include this in it.
If it feels right, share a photo of you from your command room from afar, toasting with a morning coffee or even a cocktail at the close of the day, and tag it with the official hashtag. It's a fun way to get a little face time even though you're not in the same room with everyone else.
If you planned to attend virtually but missed all or part of the proceedings in real-time (hey, life happens), check out our post Miss a conference? 5 tips for getting the most out of the hashtag on Twitter.
A final word
Have fun! Don't be afraid to let your personality and sense of humor shine through in your tweets. Just because you're at a professional event doesn't mean you have to be boring.
So, how big a deal was Amazon Prime Day today? There certainly was a lot of hype leading up to it. How did it turn out? Let's see what Twitter thought.
On Wednesday, July 15, there were 252,000 tweets about Amazon Prime Day, from more than 145,000 different Twitter accounts. These tweets have generated more than 1.9 billion potential impressions and a potential unique reach of 193 million. This graph shows related tweets hour-by-hour today. New tweets came in at a rate of around 10.5k per hour.
Some of the top tweets discussed the biggest or most interesting deals, while other reflected some disappointment in the sales offered. Most of the really good deals sold out quickly. Here's a sample of the most popular Amazon Prime Day tweets.
Amazon Prime Day pic.twitter.com/SzG5LlUPv3

— Marques Brownlee (@MKBHD) July 15, 2015
Waiting on a sale? Today's your day! @amazon & @Walmart offer BIG deals: http://t.co/91GnnRR9k9 #5Things #PrimeDay pic.twitter.com/BtwH2Ibb1T

— New Day (@NewDay) July 15, 2015
.@Amazon and I created a new holiday for my (belated) birthday. You're welcome. http://t.co/xnYQ0Igx1T #HappyPrimeDay #helpfulharris

— Neil Patrick Harris (@ActuallyNPH) July 15, 2015
#PrimeDay is like when grandma says "help yourself to the candy jar!" but it has nothing but raisins and sugar-free salt water taffy

— Dera Luce (@DeraLuce) July 15, 2015
Follow + RT for a chance to win this #PrimeDay Exclusive @gameofkittens http://t.co/LJ9bn9Yah6 http://t.co/OxeJpDQmHH pic.twitter.com/J8Ut8EHDha

— Amazon Sellers (@Amazon3PSellers) July 15, 2015
Did you participate? What kinds of deals did you score? Did you post about Amazon Prime Day on Twitter?
And of course, if you're interested in these kind of analytics for your event or brand, take a look at TweetReach Pro. Real-time, ongoing Twitter analytics for any hashtags, keywords, accounts on Twitter, starting at just $99 per month. For $99, you get 2 real-time Trackers, unlimited full snapshot reports, and more! Questions? Let's talk.
Sometimes we leave the office, and we like to let you know what we're up to when we do. Here's what's on our calendars right now.
SXSW 2015
Panels have been announced for SXSW 2015 and we wanted to thank everyone who voted for ours! Co-Founder Jenn Deering Davis' panel proposal How the future of independent film depends on social media has been accepted as a Future15 for SXSW Film and we are all excited!
The audience at Jenn's talk at SXSWi 2013
Digital Hollywood
SXSW is still a few months away, but Digital Hollywood is happening right now in LA. Catch Director of Customer Success Jenna Broughton on Thursday, October 23rd at the Marketing Primetime Hollywood Content – Using Twitter, Facebook, Smartphone and Tablets session from 11am to 12:20pm.
Will you be at Digital Hollywood this week or SXSW in the spring? Let us know in the comments, and come say hi in person!
While Twitter, Instagram, and Tumblr are the main three platforms brands tend to work with, other brands are making strides in places like Snapchat and on Pinterest. If you have the resources to play around with these platforms in addition to the big three- or if you know that's where you audience spends a large amount of their time- take the opportunity to see what you can do in these places to supplement and enhance everything you're doing elsewhere. They're particularly fun platforms to utilize in a cross-platform campaign.
Snapchat
We've covered the basics and specifics for brands on Snapchat, as well as showing which brands are using it well. Snapchat is a perfect way to keep in touch with event attendees in a lighthearted way throughout a conference; you can send snaps showing upcoming events, or recapping a session or a cocktail party. You can ask for snaps back in order to share free drink tickets or admission to a packed keynote; your creativity is the limit on Snapchat in terms of interaction with your followers. Like Instagram, it's a great way to show off the atmosphere and get future attendees more interested in booking their trip for the next year.
It's also a great way to foster conversations between attendees; intimidating names in a field can seem more approachable to build a connection with when they're willing to send a silly snap.
A snap from Mashable attending a Google event in San Francisco. 
Just be sure you're letting attendees know ahead of time across your other platforms that you're on Snapchat, because most won't think to look for you there. Having signage up around your conference will also let attendees know where to find you across platforms, and keep official hashtags in play, making post-event tracking easier for you!
Pinterest
Pinterest is a great way to help attendees get organized around a conference; build boards for them so they know what to pack, and what sites to see around town if they decide to come a few days early or stay a few days after. You could even encourage speakers to build their own boards around their areas of expertise, driving traffic back to their sites and letting attendees have a better idea of who they are and what their professional and personal focuses are.
An example of a Pinterest board from SXSW, showing off photos from Instagram and helping attendees figure out what to pack. 
The number and variety of boards you want to build up for your event is up to your creativity, time, and resources. Also keep in mind that Pinterest is great at driving sales, so pinning books your speakers have written after an event is a good idea as well as the same kind of snappy visual reminders you put on Instagram around deadlines for ticket prices.
The bottom line
The bottom line remains the same as in our previous post covering the big three social marketing platforms (aside from Facebook): Play to the strengths of every platform you have a presence on, but especially with these two, don't be afraid to get creative and have fun.
If you have any questions or examples of great conference marketing we missed, please leave it in the comments!
We took an early look at the #CES2014 tweets last week, and now we're back to give you the bigger picture of everything that happened in Vegas (it doesn't stay there if you put it on Twitter, and especially if you hashtag it).
From the lead up to the show- we started tracking on January 5th and the show officially began on the 7th- until it ended on January 10th, there were 457.2k tweets made by 163.8k contributors, reaching 170 million people. The first official day saw the biggest spike in tweets: 119.6k, beating out the previous day's just-under-100k. That's an average of just under 5k tweets an hour.
The most retweeted tweet was posted on the first day of CES, from PlayStation, and saw over 5k retweets and 141 replies:
4.2 million PS4s sold. Four. Point. Two. Million. #CES2014  pic.twitter.com/TXLA3FElQh

— PlayStation (@PlayStation) January 7, 2014
The rest of the most retweeted tweets were from other brands and an agency, with one or two independent reporters in the mix:
1. @intel
2. @cmithun (Campbell Mithun, agency)
3. @chippy (Chippy, tech writer)
4. @Windows
6. @byandreachang (Andrea Chang, tech writer)
7. @Logitech
8. @Audi
9. @WWE
10. @BMWi
This is a departure from the past, when CES was ruled by tech bloggers rather than brands. Since 2011, however, more brands have fully embraced social media and in-depth social strategy, joining the conversation that was already happening around them. Their increased presence in the conversation- especially their ability to direct it- shows the results this investment has brought. Brands aren't just responding to various levels of coverage from tech bloggers, they're creating, participating in, and growing the conversation themselves.
That is a powerful presence to have at the biggest consumer electronics show in the world.
This isn't just in terms of retweets either; the top contributors to the overall CES conversation also included brands:
1. Endgadget
2. Microsoft
3. Mashable
4. CNET
5. Intel
6. WSJ
7. YouTube
9. WWE
10. intlCES
That's four brands in the top ten contributors when three years ago there was only one. Based on this activity, influence from brands can only be expected to grow in the coming years.
Want help tracking tweets about your next conference or event? Let us know!
Speaking of events that happen this time of year, it's CES week in Las Vegas. (You may recall that we've analyzed CES tweets before.) We'll write more on this as the event continues over the next few days, but we wanted to check on what Twitter thinks about CES so far. Here's a quick rundown of early CES tweets.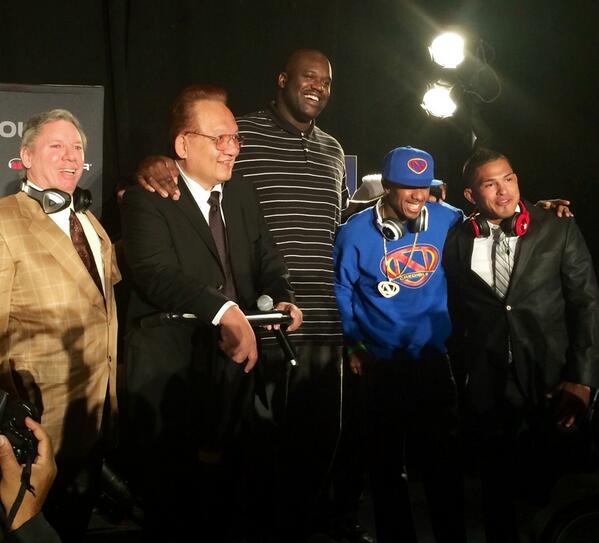 Most retweeted accounts:
Most buzzed about brands:
Intel
Samsung
Sony
Biggest celebrity endorsements:
@Shaq (Monster)
@NickCannon (Monster)
@LeVarBurton (AMD)
There were nearly 100,000 tweets using the official #CES2014 hashtag posted yesterday (January 6) and today – the first official full day of the conference – is on track to beat that. More CES updates throughout the week, so check back in later!
Want help tracking tweets about your next conference or event? Let us know!
It's that time of year again – awards season! The 71st Golden Globe Awards are this Sunday, and as usual, we'll be there to track the social media conversation around the event and help out on the #redcarpet.
So, we were wondering… In the days leading up to the first major awards show in Hollywood this season, which movies, TV shows and actors are Twitter and Tumblr buzzing about?

Well, Tumblr can't get enough of Amy Poehler and Tina Fey, who are coming back for a second year as hosts of the show. Most of the top posts about the Golden Globes right now are GIFs of the comedic duo, taken mostly from the commercials for the upcoming broadcast (like this one from gillianjacobs).
After Tina and Amy, Twitter and Tumblr are both excited about Tatiana Maslany from BBC America's Orphan Black and Jennifer Lawrence - or JLaw, if you prefer, which we do – from American Hustle. And there's a lot of talk about Jared Leto from Dallas Buyers Club, Leonardo DiCaprio from The Wolf of Wall Street, and Bradley Cooper from American Hustle.
As far as movies and shows go, Tumblr's favorite films right now are American Hustle, 12 Years a Slave, and Dallas Buyers Club. Twitter also loves Catching Fire, partly because Taylor Swift's song from the film was nominated. And Orphan Black is wildly popular on both networks. Breaking Bad and Scandal are getting some attention on Twitter, while American Horror Story is popular on Tumblr.
Want to follow along with the conversation this week? Find @GoldenGlobes on Twitter and on Instagram, and participate in the conversation with the #GoldenGlobes tag. And stay tuned here, as we'll update with more social data about the show next week!
Which conferences and events are you headed to this fall? We at Union Metrics would love to see you if you find yourself in the same place as us in the next few weeks! Here's our conference schedule for the next month or so. Let's meet up!
Today, we'll have a table at the ATX Startup Crawl in Austin, Texas. If you're in Austin, come by and say hi! We're hiring and we'll have lots of swag and stickers to give away. Follow us on Twitter to find our location.
Next week, we're headed to New York for Pivot Conference, where we'll be exhibiting on Tuesday, October 15. Come see us! Can't make it? Keep up with PivotCon on Twitter via @pivotcon or #pivotcon.
Then we're headed to Digital Hollywood on October 21-24 in Los Angeles, where our Chief Customer Officer Jenn Deering Davis will be speaking on Thursday, 10/24. You can keep up on Twitter via the event hashtag #DHFall.
Finally, we'll be at the KEEN Digital Summit on October 24-27 in Nashville, where our CEO Hayes Davis will be speaking on Saturday, 10/26,. Follow along via @KEENsummit and #KEEN2013.
The internet was excited for the season 3 premiere of Game of Thrones on HBO last night. You can see the spikes in Twitter reach about it in the graph above (reach in blue, exposure in yellow, times in PDT), particularly leading up to and during the premiere – nearly 98 million unique Twitter accounts received GoT tweets yesterday. In total, 330k people churned out more than 596k tweets yesterday. The top 5 hashtags were #GameofThrones, #GoT, #GoTSigil and #jointherealm (these two are about the ability to create and share your own house sigil), as well as #GetGlue.
The last one is for social television app GetGlue: you check in to the show or sporting event you're watching and then you can see how many others are watching with you, leave comments about it, comment on other's posts, and more. You also have the option to share on Twitter and other platforms what you've checked into on GetGlue, automatically adding the #GetGlue hashtag.
This is particularly interesting in the wake of a recent study from the Time Warner Media Lab (via AdWeek) which found that emotional engagement on television viewing is higher if you watch with someone else, or if you log in using a social app like GetGlue:
Did you watch Game of Thrones last night? Was it social? In person or digitally? Tell us about it in the comments!