Archive for the 'Trends' Category
Casual watchers of the World Series may have noticed some interesting signs popping up in the broadcasts of the games; signs aimed at San Francisco Giants player Hunter Pence. Giants fans may have noticed that these signs started popping up in August, and that they even have their own hashtag: #HunterPenceSigns.
We took a full snapshot report to get an idea of what the conversation around this hashtag looks like:
Our full snapshot reports max out at 1,500 tweets, but you can see that you reach that limit in around two days with this specific hashtag. The conversation is mostly tweets and retweets, with the fewest amount of tweets being replies. This suggests it's more about creating and sharing these jokes than critiquing them.
The top contributors to the hashtag within the confines of this snapshot were San Francisco news station KTVU, and the "official" Hunter Pence Signs account. A Kansas City news station holds the top spot for most retweeted tweets, however, keeping the rivalry going in every way possible.
Lady in #KansasCity who posted dozens of #HunterPenceSigns is rethinking her strategy after 2 straight @SFGiants wins pic.twitter.com/Ry92gix9sP

— Brandon Behle (@bbehle) October 28, 2014
The above tweet was retweeted by KTVU
Hunter Pence thinks you bunt by throwing the bat #HunterPenceSigns

— FOX 4 News (@fox4kc) October 27, 2014
What does Hunter Pence himself think about all of this?
I had a great time making the #HunterPenceSigns video, thank you to everyone for supporting it http://t.co/OOcF1shQRE pic.twitter.com/Gmxi2LmB1y

— Hunter Pence (@hunterpence) September 16, 2014
He seems to be a pretty good sport about it.  
In the fall of 2012 Yale University started using our Union Metrics for Tumblr analytics to get smarter about how they were using the social blogging platform to share information and relate to their students. Since then, many more colleges and universities have created accounts on various social platforms in order to stay connected with their students in the places those students already spend their time. Here are a few examples of what universities are doing to reach students across social media.
1. On Tumblr: Share information with targeted groups
Tumblr's unique position as a blogging platform with a built-in social element works especially well for universities wanting to target different groups of current or potential students. The tagging system means different types of posts can easily find their way to their respective communities across the site, and some universities even carve out separate Tumblrs for different areas of their university and resources. For example, the University of Texas at Austin has one Tumblr for their School of Architecture, one for the Blanton Museum, another for the Harry Ransom Center, and one more for the LBJ Library. That gives diehard Longhorns the chance to keep track of all resources UT offers, while those only interested in what the Blanton has to offer can narrow their focus.
MIT, on the other hand, chooses to focus their approach to just Residential Life & Dining on Tumblr, giving incoming students a chance to learn about their options before they arrive on campus, taking a lot of the stress out of a big life change.
The bottom line? Tumblr is the best way for universities to reach specific communities. (A full list of all the universities with a presence on Tumblr can be found here for those interested.)
2. On Instagram: Capture attention with compelling images
Many universities have a presence across platforms, and they play to each platform's strengths. Yale, for example, uses Instagram to show off campus and the school's history, beauty, and people. Instagram images can easily be shared to other platforms like Twitter, Tumblr, and Facebook to quickly catch the attention of followers in those spaces.
Meanwhile the University of Texas at Austin encourages students to share their photos with them, using specific hashtags: #HookEm, #Longhorns, #UTAustin, #UTTower, and #WhatStartsHere along with specific seasonal or event-based hashtags like #UTsummer. This helps current, former, and potential students feel connected to the university even when they're not on campus– or feel like they're not missing out during a semester abroad.
They also have a separate Instagram account just for Longhorn football.
The bottom line? Instagram is the best place to share engaging images that will make students feel more connected to them, or attract them to become students in the first place. 
3. On Twitter: Share information quickly in critical situations
Twitter has already proven itself to be an invaluable resource for quick dissemination of information during a natural or man-made crisis, on a campus or otherwise.
Shooting reported on campus. Bldg Electrical Engineering; Avoid area; Shelter in place. Check http://t.co/vQnl8blHvd for updates

— Purdue University (@LifeAtPurdue) January 21, 2014
In less serious situations, universities and colleges can use it to answer FAQs from new or prospective students, provide information and reminders about university events and deadlines, and share resources for students.
Quite a few things changed here over the summer. Did you hear about this new option for buying books? #amazonPurdue http://t.co/s6QrKxq949

— Purdue University (@LifeAtPurdue) August 25, 2014
They can also host tweet chats to address specific topics of interest to current students, incoming students, potential students, and alums. For example, the University of Michigan Medical School hosts tweet chats to answer questions about their program, and the University of Central Missouri has hosted two allowing attendees to chat with the school's president.
The bottom line? Twitter is the best way for universities to connect with their communities in real time. 
4. On Facebook: Provide an easily-found base
Facebook is the perfect social home base: A university profile can share resources and lead students back to other platforms. Users are comfortable using it to ask questions, and page administrators can answer them in a place that makes it easy for them to be seen by someone who might come looking to ask something similar. There's also a review system in place, to let potential and incoming students know what life is really like on campus, like these from UT Austin's Facebook page: 
5. On Pinterest and Snapchat: Go the extra mile
While most people- especially the younger generation- expect to find some kind of social presence for businesses and institutions, they don't expect them to be on the newer platforms. Universities with the resources have the opportunity to really connect with their students in these places, providing additional resources that will really make a difference. What do you pack for freshman year of college? How can you decorate your dorm room in a way that's more unique than just slapping up a Pink Floyd poster? A pinboard can answer those things and more, while Snapchat can give quick and intimate looks at life around campus, snippets of lectures, a look at a spontaneous snowball fight, and more.
Drake University uses Pinterest to share Bulldog culture, while the University of Houston sends snaps to share their story with students and followers:
The bottom line? Meeting students where they are and don't expect you to be- in a way that isn't condescending or pandering- will win major bonus points.
The bottom line?
Universities engage their students best when they speak to them and share resources in their own language, in the platforms they already use. Strategies should play to each platform's strengths, without sacrificing creativity.
The back-to-school crowd these days differs from the Trapper Keepers and Lisa Frank folders of yesteryear in that they've grown up not only online, but also on social media. Brands that want to connect with the kids of Generation Z understand this and put themselves in all of the places their target audience spends their time, producing campaigns that connect across Tumblr dashboards and down Instagram timelines, and are amplified across Twitter.
The best: Keds, Teen Vogue, and Hollister team up for back-to-school across platforms
Personal style is a big deal for kids, preteens, and teens working out who they are and who they want to be, and Keds embraced this in their #KedsStyleTrial campaign run in conjunction with Teen Vogue and Hollister. The three week long campaign was officially run via Instagram, but Keds and Teen Vogue also cross-promoted it on their Tumblr and Twitter accounts:
Are you Cheer Squad, Cali Cool, or Drama Club Cute? Show us at http://t.co/JLgbe12MAL for a chance to win! #kedsstyle pic.twitter.com/Srutu3bdnz

— Keds (@Keds) August 19, 2014
Cheer squad? Cali cool? Drama club cute? Show us your #KedsStyleTrial looks for a chance to win big!: http://t.co/qSbzfENoBn

— Teen Vogue (@TeenVogue) August 19, 2014
Both also used the same image and similar messaging on their Instagram accounts, while Hollister went with a slightly different approach:
The same is echoed in the Tumblr posts from Teen Vogue and Keds; Hollister doesn't have a Tumblr, which seems like a mistake given their target demographic and the success of visual content on Tumblr, particularly of the fashion variety.
How it could be better
Even the best campaigns have room for improvement, and this one could have increased its reach with more participation from Hollister on Twitter, who chose to promote their own separate contest with Pretty Little Liars star Lucy Hale in lieu of this one:
What are you wearing back to class? RT for your chance to win a piece from the @LucyHale Collection! #LHC #HCoContest pic.twitter.com/2Jsf1CWGQZ

— Hollister Co. (@HollisterCo) August 20, 2014
Even a simple retweet of one of the contest promoting tweets from Keds or Teen Vogue's accounts would have increased reach by putting the content in front of Hollister's Twitter audience as well.
Other lessons to learn
Another back-to-school campaign on Instagram from Target used the hashtag #firstdayofschool to promote a charity campaign donating school supplies to children in need across America:
What's the problem? A hashtag like #firstdayofschool is going to be something posted by a wide variety of Instagram users and most of them will probably have no idea that Target's campaign exists. This leads to difficulty in measurement; your results will be inflated with non-campaign related posts and it will be difficult to tell how successful and far reaching your campaign really was. A hashtag like #KedsStyleTrial works better as it's unlikely to be generated spontaneously by other Instagram users, and it's short enough to work when Instagram updates get cross-posted to Twitter (which also boosts your campaign's reach on that platform).
The bottom line: Pick a hashtag based on your brand name and that's unique enough not to be spontaneously used by others.
Final lessons
This campaign was planned to be recognizable and accessible to its target audience on the platforms where that audience spends time, which is the crux of any good cross-platform campaign. It was visually based, another plus for its target demographic.
The retail brands also take audience engagement a step further by sharing (or "regramming") images from fans and followers on their Instagram accounts: Keds with #FanFriday and Hollister with #HCoStyle. That's an extra incentive for fans and followers to enter the contest– what if they not only win, but also get their Instagram image wearing their winnings shared to either brand's thousands of followers? Teen Vogue opts not to do this, but it's a move that fits in with their approachable-yet-still-slightly-aloof fashion magazine brand.
Got it? Good. This will all be on the test, so leave any questions you have in the comments.
Comedy Central now takes requests for its online, sketch series CC: Social Scene, hosted by comedian Paul Scheer. Twitter users can use the hashtag #CCSocialScene to make suggestions based on each week's topic for a chance to have it included in the next sketch.
This use of a hashtag on Twitter is a natural social extension of the interactive nature of improv and sketch shows at most comedy clubs, taking suggestions from the audience for upcoming scenes. While the episodes haven't been shared across platforms yet, doing so would maximize exposure to reach each part of their audience where they prefer to spend their time, still drawing them back to Twitter if they wish to participate.
Executing that would make this an excellent example of a cross-platform campaign.
Want tips for running one of those yourself? Check out 3 dos and don'ts for making it work. 
We've already covered the basics of how Snapchat works and some of the specifics for how brands should be using the app, so now we wanted to show examples of how some different brands have been using snaps and stories to connect with their fans and followers. Consider their work as a guide and inspiration for how you might want to use Snapchat yourself.
Taco Bell
Taco Bell was one of the first brands to embrace using Snapchat, behind a yogurt chain called 16 Handles who used the platform to send out coupons. Taco Bell initially the app to advertise its Beefy Crunch Burrito:
And since then has used the new features that launched in May to start a Doodle War with its Snapchat friends, among other things:
Mashable
Mashable uses Snapchat as a way to show some behind-the-scenes office culture- birthday celebrations, etc- and more of what the company is up to, such as events they're attending, like in the snap below:
Mashable is a good example of how using simple enhancements like the pencil tool in several layers of text can make a snap more vibrant and interesting. To ramp up engagement, they have also hosted weekly Snapchat Challenges, like this emoji challenge:
MTV
MTV uses Snapchat as a way to share brief interviews with and photos of different celebrities and artists with their Snapchat friends, and to do show promotions like their first ever Snap promoting their show Teen Wolf. (MTVTeenWolf is now its own Snapchat account.) MTV UK previously used it as a way to promote their show Geordie Shore, the UK version of Jersey Shore.
Audi and Pretty Little Liars (PLL)
PLL teamed up with media sponsor Audi to send out snaps during episodes of the show meant to line up with certain scenes in the first campaign of its kind. PLL fans get exclusive content they can't get anywhere else to enhance their favorite program, and Audi gets to introduce itself to a new and younger demographic. While that demographic might not be in the market for luxury cars now, they will have an established relationship with Audi for the future.
A fan response snap to PLL and Audi.
Pitch Perfect 2
The cast of the sequel to Pitch Perfect has been sending mostly behind-the-scenes selfies to their Snapchat friends, the same kind most users send to their Snapchat friends who double as IRL friends. This creates a sense of intimacy above what even a 10-second video interview from your favorite artist via MTV does; they're framed so that it looks like the star themselves might have snapped the shot and sent it to you.
Anything else I should know?
Yes! Be sure you share your Snapchat username with your fans and followers on other social sites who might want to add you! Most audience members won't think to search for brands there, so you need to be proactive about letting them know that you're there.
And that's about it.
Got any questions, or know of anything that we missed? Let us know in the comments!
The trend of platforms providing a place for users to exchange ephemeral content isn't an obvious one for most brands to join in on; after all, why spend hours planning and executing content only to have it disappear in moments once it hits your audience's screens? But just like any other social platform, if Snapchat is where your target demographic is, then it's where you should be spending some of your time. If that's the case- or you're just a marketer or brand who loves to experiment- read on to find out all you need to know about marketing on Snapchat for brands.
What do I need to know before getting started?
If you're already familiar with Snapchat then you can skip this section and head straight for the second section. Otherwise stick around for a basic breakdown of how the platform works.
The very basics: Snapchat scores & finding friends
Your score is simply the total number of snaps you have sent and received, as per Snapchat themselves. That's all there is to it!
As for finding friends, Snapchat has step-by-step instructions for how to find and add friends that includes screenshots. You can add those who have added you, and find friends via your contacts, or through searching for their Snapchat username.
Stories vs. individual Snaps
Every time you take a snap you have the option to add it to "My Story"- a collection of snaps that add up to tell a bigger story and are viewable for 24 hours- and stories are now more popular than snaps. Stories are also a better choice for brands above sending individual snaps, and we'll discuss this more in the next section.
Our Story
Snapchat just launched a new feature called "Our Story" that is meant to let Snapchatters collaborate on a bigger story around an event they are physically attending. At the moment the first and only event to have "Our Story" is the Electric Daisy Carnival, but the wording on the page about the feature suggests it will be open to other events in the future. People who aren't currently attending an "Our Story" event can still add the event as a friend to view the ongoing, collaborative story so they don't miss out on the experience entirely. This is a great way for event organizers and attendees to persuade them to attend in the future.
Replaying Snaps
You can only replay one snap every 24 hours, so choose carefully! Also keep in mind that your audience can only do the same; that's important to keep in mind if you're designing a Snapchat contest or sending coupons.
Notifications
Snapchat notifies the sender of a snap whenever a recipient takes a screenshot of their snap or a chat between them. They have different icons to let you know if your snaps and chats have been sent, viewed, and more. Snapchat will also notify you if someone replays a snap.
And that's it for the basics; if you have more questions you can find answers to them in Snapchat's own support site.
What do I need to know specifically as a brand?
This is where we get into the specifics for brands using Snapchat; while creating consistently intriguing content is a given, there are also different settings you'll want to consider than if you were using Snapchat for personal reasons.
Settings
In your settings you'll want to make sure that you set "Who is allowed to view my story?" to "Everyone". Otherwise only those you've added as "My Friends" will be able to see it, and you'll be missing out on voluntary eyeballs until you manually add everyone who adds you. With a popular brand that could be quite an undertaking.
The manual aspect of individual snaps can be a daunting prospect for brands- as of now there's no way to create a single snap and click on a "send to all" option; you have to go through your list and choose each recipient individually-  but the workaround is adding all of the content you create to your story. (Whether or not you choose to let your audience send you snaps back is up to you, and would mostly be useful in terms of building engagement through reciprocation they can see- the icon will let them know you viewed their snap- or in conducting a Snapchat contest. The option of who is allowed to send you snaps is controlled in "Settings".)
Also be sure to check out "Manage" under "Additional Services" to turn on the "Front-Facing Flash", "Replay" option, and enable "Special Text", all of which will enhance the content of your snaps.
Kinds of content to post
Truly creative content is what makes Snapchat sing, so you'll want to plan and execute content using all of the features we mentioned earlier to make your snaps as interesting as possible:
Draw on your photos using the pencil icon in the upper right-hand corner using the full range of colors available; this gives you the ability to turn your snaps into just about anything

Tap on the screen to add text; turning on special text lets you alter it to be larger and adjust the positioning

If you have an emoji keyboard on your phone, Snapchat will support adding these characters in with your text
Other than utilizing those features, the kind of content you want to share will depend on your brand and what your goals are with the platform. Is it to share behind-the-scenes company culture? Is it to share brief behind-the-scenes interviews and photos with the stars of your show or movie? Is it to show off your products in new and interesting ways?
We'll look at a few different types of brands using Snapchat in the next post to give you some ideas of what kind of content has been successful.
Frequency of snaps
While regular snaps are limited to a maximum time limit of 10 seconds, stories aren't limited except to a 24 hour period of existence. However, since Snapchat was built to be a quick and fleeting experience, you might not want to be the first to discover what the limits of a story are. Keep it simple, sweet, and relatively short; set up stories of different lengths and see if you get an increase in activity around one type or length above others.
What do we mean by increased activity? Well, measuring Snapchat is difficult, but pay attention to things like how many people are adding you to their friend list, taking screenshots, choosing to replay your snaps, or even sending you snaps in reply if you choose to make that option available.
Anything else?
That's it for now! Check out the basics in the first section of this post if you need to, or stick around for our next post covering which brands use Snapchat well. If you still have questions, leave 'em in the comments!
NASA astronaut Reid Wiseman posted the first Vine from space this weekend, condensing hours on the ISS and an orbit showing a never-quite-setting sun into six seconds:
1st Vine from space! Single Earth orbit. Sun never sets flying parallel w/terminator line #ISS #Exp40 @ast… https://t.co/6TwyNdewCU

— Reid Wiseman (@astro_reid) June 6, 2014
Social media has been the perfect tool for NASA to use to educate the public about their work, and give curious citizens direct access in real time to the astronauts living and working in space above us. The Vine was shared by many in the Twitter science community dedicated to science education and outreach:
Here's the first @Vine from space, showing a single Earth orbit by @astro_reid: https://t.co/AcVGFDagbM #space

— AsapSCIENCE (@AsapSCIENCE) June 9, 2014
After all, the projects started up there often come back down to earth to be used in our daily lives, and new windows into science education are the best way to spark the interest of the next generation of scientists and inventors.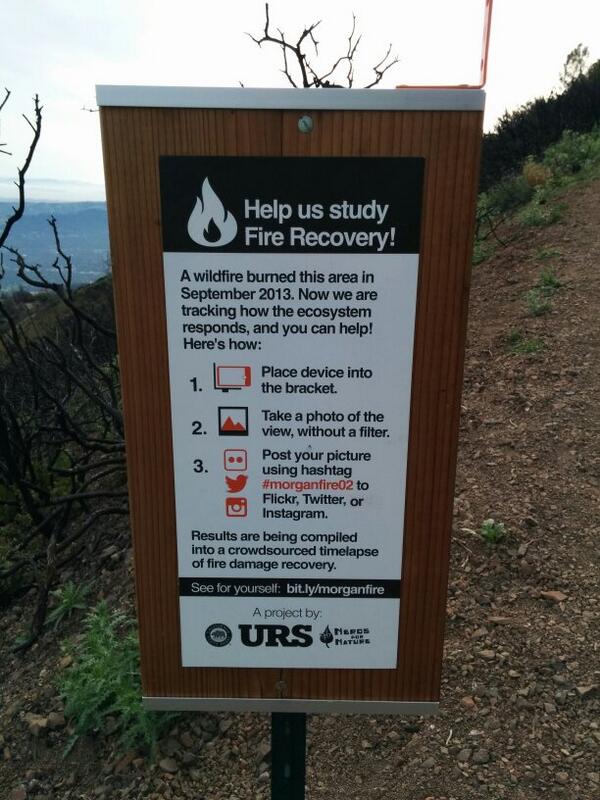 Any headlines predicting the "end of Twitter" or fearing that "everyone is bored with [social platform] now" fail to recognize that humanity is pretty good at coming up with innovative uses for the tools at our disposal, and that Twitter and other social media platforms are no exception to this. Case in point: A fire recovery study project currently underway in Mt. Diablo State Park done by URS and Nerds for Nature after the Morgan Fire burned 3,000 acres last year in September.
How does this work?
By setting up a series of fixed vantage points around the park- there are brackets to put your smartphone in so all the photos are taken from the same angle- the project is able to gather reliable, gradual photographic evidence of the recovery of the park's different ecosystems. Each site has its own hashtag to distinguish it: #morganfire01, #morganfire02, #morganfire03, #morganfire04.
Looking at the snapshot reports for each of these vantage points, you can see which ones are more commonly frequented by hikers. This gives citizen scientists as well as the projects heads themselves an idea of which areas could use more visits and photo captures, and enables them to quickly and easily spread the message and make plans about where to go. Park ranger resources can also be used more efficiently this way.
The overall conversation on Twitter.
Once a news cycle on an event like this gradually shuts down in the days or weeks after it happens, it's rare to hear much more about it; projects like this are just one way social media is changing the landscape of journalism with crowdsourcing. It also gives citizens a direct role to play in the preservation of their local environment as citizen scientists. This would be a great project for a family, group of friends, summer camp, or science class to get involved with, and social media- particularly Twitter- is one of the best ways to amplify this message and make these kinds of suggestions.
On Instagram.
While Twitter users seem to mainly be using the platform to share news about the project itself, Instagram users have been carrying out the instructions on the sign posts and posting photos from the different vantage points using the hashtags:
#morganfire02 via Instagram user mo_nini_l 
#morganfire04 via Instagram user coyotethunder
This plays to the strengths of each platform; it's harder to describe what a project is about on Instagram which doesn't enable link-sharing, while this is Twitter's main strength. The stunning visuals of the recovering areas of the park posted on Instagram can capture attention and make a user curious about what the hashtags mean, leading them to ask the user or search out the information themselves on other social sites, like Twitter.
If you live in the Mt. Diablo State Park area, consider making a weekend hiking trip out to Mt. Diablo and contribute to this citizen science project on your social networks! You might be the first to see something like this wild lily coming back:
via Instagram user coyotethunder
With Memorial Day approaching this weekend, summer travel is on the minds of many, and the resources to plan and execute the best trips for business or for pleasure lie within the social sites you know and love. Last year we looked at the Top travel resources on Twitter: Accounts to follow and chats to attend as well as the 10 best travel resources on social media and beyond. So what does the travel landscape look like on social in 2014?
On Twitter
All of the travel advice and perspective accounts from our Twitter travel resources post are still active and providing information on everything from amateur and budget travel to high-end luxury accommodations; skim the list to find and follow the users that fit your needs.
As for the travel chats, read over the transcripts to get an idea of which ones would be worth joining in on before you plan your next trip:
#MexMonday (all day Mondays): Check this one out if you're planning a trip to Mexico 
#TravelTuesday (all day Tuesdays): Chat about all things travel-related
#CruiseChat (2pm EST Tuesdays): Whether you're a veteran cruiser or new to boat-bound travel, find out all you need to know in this chat
#NUTS (Not-so-usual-therapy-session, aka travel and specifically roadtrips) seems to be used more as a generic hashtag than a travel related chat, but you can still check out the session recaps on their site.
#TTOT (5:30 am/pm EST Tuesdays): standing for Travel Talk on Tuesdays, you can check out the topic ahead of time on their Facebook page.
#LuxChat (2:30pm PST every 3rd Wednesday): While #LuxChat doesn't always cover travel, keep an eye on the month's chosen topic if treating yourself while you travel is your goal. You can find recaps of their chats on their Tumblr.
#TourismChat (2:00pm CST bi-weekly on Thursdays): Check the @tourismchat account for topics and transcripts.
#FriFotos (all day Fridays): You can find out each week's theme from @EpsteinTravels
Other chats to check out:
Aren't sure how to participate in a Twitter chat, or want to host your own? Check out our posts about how to get the most out of a chat as a participant or as a host.
Other social media travel resources
All of our holiday travel tips from last year still hold true, and if you're looking at how to get the most out of travel blogging on Tumblr we've covered that too. (You can see all of our travel-related Tumblr posts here.)
We still recommend Pinterest for planning what you're going to pack, what sites you want to see at your destination, and more. Instagram is an amazing way to catalog your travels that lets everyone at home follow along with you and avoids overwhelming them with an album of 200 new photos to parse when you get home.
But what about using Instagram for inspiring and planning your next trip? Stay tuned. We'll have that for you soon!
If you've got any social media travel resources we missed, leave them in the comments, or let us know on Twitter.
Photo courtesy NYPL Digital Gallery. 

The state of our health isn't deemed polite conversation by most of society. Navigating the line between getting support from friends and family when you're going through a hard time and not being the weird uncle who always talks about their colon at Christmas dinner can take some adept balancing.
Fortunately, just as social platforms can serve as support networks for those making physical changes aimed at fitness, they can also serve as support networks for those living with health issues from the temporary (How do I work out with a broken leg?) to those living with chronic illness (How do I restructure my life with this?).
Reaching out on Twitter
Building a supportive community on Twitter is one of the things that makes the platform the most worthwhile, and it can make a huge difference when a recently diagnosed person is able to surround themselves with supportive people dealing with similar health issues a few tweets away. Reaching out can start with browsing this master list of tweet chats and joining in whichever feel most comfortable; general health chats might point to more specific ones, and it's hard not to find someone to connect with in most tweet chats. Doctors and other medical professionals sometimes host tweet chats in order to help answer questions from the general public. Building twitter lists of who participates in which chats, or is the most helpful in pointing out resources can help sort a barrage of new information.
There are also specific accounts dedicated to any number of health issues; Invisible Illness Wk, for example, connects those living with invisible illnesses in addition to raising awareness of the issues those will invisible, chronic illnesses face to those who are unfamiliar.
On other platforms
Sometimes there's nothing more helpful than reading about someone else's experience dealing with what you're currently going through. Tumblr offers the same capabilities as a blog, but socially enhanced with reblogging and private messaging options, allowing one blog to draw from and connect with another easily, building up a support network without ever leaving the site.
For particular chronic illnesses, medical professionals will often point those newly diagnosed to message boards specific to a certain condition or related conditions. Inspire.com has a range of different communities that offer support, for example.
YouTube is also a popular platform for sharing experiences and getting feedback. Popular YouTuber Hank Green has shared his experience of living with a chronic illness, and the comments show many viewers grateful to see their own experiences mirrored in his video, especially from someone well-regarded and popular.
The bottom line
Ultimately social media helps connect those whose health might keep them from being able to attend a physical support group, and to supplement and organize the information and support they might receive from other sources.