Archive for the 'Trends' Category
The trend of platforms providing a place for users to exchange ephemeral content isn't an obvious one for most brands to join in on; after all, why spend hours planning and executing content only to have it disappear in moments once it hits your audience's screens? But just like any other social platform, if Snapchat is where your target demographic is, then it's where you should be spending some of your time. If that's the case- or you're just a marketer or brand who loves to experiment- read on to find out all you need to know about marketing on Snapchat for brands.
What do I need to know before getting started?
If you're already familiar with Snapchat then you can skip this section and head straight for the second section. Otherwise stick around for a basic breakdown of how the platform works.
The very basics: Snapchat scores & finding friends
Your score is simply the total number of snaps you have sent and received, as per Snapchat themselves. That's all there is to it!
As for finding friends, Snapchat has step-by-step instructions for how to find and add friends that includes screenshots. You can add those who have added you, and find friends via your contacts, or through searching for their Snapchat username.
Stories vs. individual Snaps
Every time you take a snap you have the option to add it to "My Story"- a collection of snaps that add up to tell a bigger story and are viewable for 24 hours- and stories are now more popular than snaps. Stories are also a better choice for brands above sending individual snaps, and we'll discuss this more in the next section.
Our Story
Snapchat just launched a new feature called "Our Story" that is meant to let Snapchatters collaborate on a bigger story around an event they are physically attending. At the moment the first and only event to have "Our Story" is the Electric Daisy Carnival, but the wording on the page about the feature suggests it will be open to other events in the future. People who aren't currently attending an "Our Story" event can still add the event as a friend to view the ongoing, collaborative story so they don't miss out on the experience entirely. This is a great way for event organizers and attendees to persuade them to attend in the future.
Replaying Snaps
You can only replay one snap every 24 hours, so choose carefully! Also keep in mind that your audience can only do the same; that's important to keep in mind if you're designing a Snapchat contest or sending coupons.
Notifications
Snapchat notifies the sender of a snap whenever a recipient takes a screenshot of their snap or a chat between them. They have different icons to let you know if your snaps and chats have been sent, viewed, and more. Snapchat will also notify you if someone replays a snap.
And that's it for the basics; if you have more questions you can find answers to them in Snapchat's own support site.
What do I need to know specifically as a brand?
This is where we get into the specifics for brands using Snapchat; while creating consistently intriguing content is a given, there are also different settings you'll want to consider than if you were using Snapchat for personal reasons.
Settings
In your settings you'll want to make sure that you set "Who is allowed to view my story?" to "Everyone". Otherwise only those you've added as "My Friends" will be able to see it, and you'll be missing out on voluntary eyeballs until you manually add everyone who adds you. With a popular brand that could be quite an undertaking.
The manual aspect of individual snaps can be a daunting prospect for brands- as of now there's no way to create a single snap and click on a "send to all" option; you have to go through your list and choose each recipient individually-  but the workaround is adding all of the content you create to your story. (Whether or not you choose to let your audience send you snaps back is up to you, and would mostly be useful in terms of building engagement through reciprocation they can see- the icon will let them know you viewed their snap- or in conducting a Snapchat contest. The option of who is allowed to send you snaps is controlled in "Settings".)
Also be sure to check out "Manage" under "Additional Services" to turn on the "Front-Facing Flash", "Replay" option, and enable "Special Text", all of which will enhance the content of your snaps.
Kinds of content to post
Truly creative content is what makes Snapchat sing, so you'll want to plan and execute content using all of the features we mentioned earlier to make your snaps as interesting as possible:
Draw on your photos using the pencil icon in the upper right-hand corner using the full range of colors available; this gives you the ability to turn your snaps into just about anything

Tap on the screen to add text; turning on special text lets you alter it to be larger and adjust the positioning

If you have an emoji keyboard on your phone, Snapchat will support adding these characters in with your text
Other than utilizing those features, the kind of content you want to share will depend on your brand and what your goals are with the platform. Is it to share behind-the-scenes company culture? Is it to share brief behind-the-scenes interviews and photos with the stars of your show or movie? Is it to show off your products in new and interesting ways?
We'll look at a few different types of brands using Snapchat in the next post to give you some ideas of what kind of content has been successful.
Frequency of snaps
While regular snaps are limited to a maximum time limit of 10 seconds, stories aren't limited except to a 24 hour period of existence. However, since Snapchat was built to be a quick and fleeting experience, you might not want to be the first to discover what the limits of a story are. Keep it simple, sweet, and relatively short; set up stories of different lengths and see if you get an increase in activity around one type or length above others.
What do we mean by increased activity? Well, measuring Snapchat is difficult, but pay attention to things like how many people are adding you to their friend list, taking screenshots, choosing to replay your snaps, or even sending you snaps in reply if you choose to make that option available.
Anything else?
That's it for now! Check out the basics in the first section of this post if you need to, or stick around for our next post covering which brands use Snapchat well. If you still have questions, leave 'em in the comments!
NASA astronaut Reid Wiseman posted the first Vine from space this weekend, condensing hours on the ISS and an orbit showing a never-quite-setting sun into six seconds:
1st Vine from space! Single Earth orbit. Sun never sets flying parallel w/terminator line #ISS #Exp40 @ast… https://t.co/6TwyNdewCU

— Reid Wiseman (@astro_reid) June 6, 2014
Social media has been the perfect tool for NASA to use to educate the public about their work, and give curious citizens direct access in real time to the astronauts living and working in space above us. The Vine was shared by many in the Twitter science community dedicated to science education and outreach:
Here's the first @Vine from space, showing a single Earth orbit by @astro_reid: https://t.co/AcVGFDagbM #space

— AsapSCIENCE (@AsapSCIENCE) June 9, 2014
After all, the projects started up there often come back down to earth to be used in our daily lives, and new windows into science education are the best way to spark the interest of the next generation of scientists and inventors.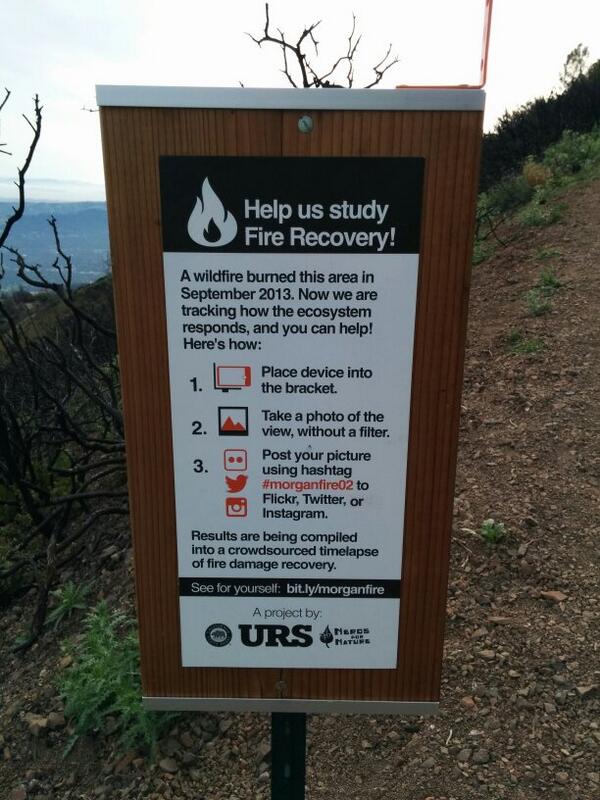 Any headlines predicting the "end of Twitter" or fearing that "everyone is bored with [social platform] now" fail to recognize that humanity is pretty good at coming up with innovative uses for the tools at our disposal, and that Twitter and other social media platforms are no exception to this. Case in point: A fire recovery study project currently underway in Mt. Diablo State Park done by URS and Nerds for Nature after the Morgan Fire burned 3,000 acres last year in September.
How does this work?
By setting up a series of fixed vantage points around the park- there are brackets to put your smartphone in so all the photos are taken from the same angle- the project is able to gather reliable, gradual photographic evidence of the recovery of the park's different ecosystems. Each site has its own hashtag to distinguish it: #morganfire01, #morganfire02, #morganfire03, #morganfire04.
Looking at the snapshot reports for each of these vantage points, you can see which ones are more commonly frequented by hikers. This gives citizen scientists as well as the projects heads themselves an idea of which areas could use more visits and photo captures, and enables them to quickly and easily spread the message and make plans about where to go. Park ranger resources can also be used more efficiently this way.
The overall conversation on Twitter.
Once a news cycle on an event like this gradually shuts down in the days or weeks after it happens, it's rare to hear much more about it; projects like this are just one way social media is changing the landscape of journalism with crowdsourcing. It also gives citizens a direct role to play in the preservation of their local environment as citizen scientists. This would be a great project for a family, group of friends, summer camp, or science class to get involved with, and social media- particularly Twitter- is one of the best ways to amplify this message and make these kinds of suggestions.
On Instagram.
While Twitter users seem to mainly be using the platform to share news about the project itself, Instagram users have been carrying out the instructions on the sign posts and posting photos from the different vantage points using the hashtags:
#morganfire02 via Instagram user mo_nini_l 
#morganfire04 via Instagram user coyotethunder
This plays to the strengths of each platform; it's harder to describe what a project is about on Instagram which doesn't enable link-sharing, while this is Twitter's main strength. The stunning visuals of the recovering areas of the park posted on Instagram can capture attention and make a user curious about what the hashtags mean, leading them to ask the user or search out the information themselves on other social sites, like Twitter.
If you live in the Mt. Diablo State Park area, consider making a weekend hiking trip out to Mt. Diablo and contribute to this citizen science project on your social networks! You might be the first to see something like this wild lily coming back:
via Instagram user coyotethunder
With Memorial Day approaching this weekend, summer travel is on the minds of many, and the resources to plan and execute the best trips for business or for pleasure lie within the social sites you know and love. Last year we looked at the Top travel resources on Twitter: Accounts to follow and chats to attend as well as the 10 best travel resources on social media and beyond. So what does the travel landscape look like on social in 2014?
On Twitter
All of the travel advice and perspective accounts from our Twitter travel resources post are still active and providing information on everything from amateur and budget travel to high-end luxury accommodations; skim the list to find and follow the users that fit your needs.
As for the travel chats, read over the transcripts to get an idea of which ones would be worth joining in on before you plan your next trip:
#MexMonday (all day Mondays): Check this one out if you're planning a trip to Mexico 
#TravelTuesday (all day Tuesdays): Chat about all things travel-related
#CruiseChat (2pm EST Tuesdays): Whether you're a veteran cruiser or new to boat-bound travel, find out all you need to know in this chat
#NUTS (Not-so-usual-therapy-session, aka travel and specifically roadtrips) seems to be used more as a generic hashtag than a travel related chat, but you can still check out the session recaps on their site.
#TTOT (5:30 am/pm EST Tuesdays): standing for Travel Talk on Tuesdays, you can check out the topic ahead of time on their Facebook page.
#LuxChat (2:30pm PST every 3rd Wednesday): While #LuxChat doesn't always cover travel, keep an eye on the month's chosen topic if treating yourself while you travel is your goal. You can find recaps of their chats on their Tumblr.
#TourismChat (2:00pm CST bi-weekly on Thursdays): Check the @tourismchat account for topics and transcripts.
#FriFotos (all day Fridays): You can find out each week's theme from @EpsteinTravels
Other chats to check out:
Aren't sure how to participate in a Twitter chat, or want to host your own? Check out our posts about how to get the most out of a chat as a participant or as a host.
Other social media travel resources
All of our holiday travel tips from last year still hold true, and if you're looking at how to get the most out of travel blogging on Tumblr we've covered that too. (You can see all of our travel-related Tumblr posts here.)
We still recommend Pinterest for planning what you're going to pack, what sites you want to see at your destination, and more. Instagram is an amazing way to catalog your travels that lets everyone at home follow along with you and avoids overwhelming them with an album of 200 new photos to parse when you get home.
But what about using Instagram for inspiring and planning your next trip? Stay tuned. We'll have that for you soon!
If you've got any social media travel resources we missed, leave them in the comments, or let us know on Twitter.
Photo courtesy NYPL Digital Gallery. 

The state of our health isn't deemed polite conversation by most of society. Navigating the line between getting support from friends and family when you're going through a hard time and not being the weird uncle who always talks about their colon at Christmas dinner can take some adept balancing.
Fortunately, just as social platforms can serve as support networks for those making physical changes aimed at fitness, they can also serve as support networks for those living with health issues from the temporary (How do I work out with a broken leg?) to those living with chronic illness (How do I restructure my life with this?).
Reaching out on Twitter
Building a supportive community on Twitter is one of the things that makes the platform the most worthwhile, and it can make a huge difference when a recently diagnosed person is able to surround themselves with supportive people dealing with similar health issues a few tweets away. Reaching out can start with browsing this master list of tweet chats and joining in whichever feel most comfortable; general health chats might point to more specific ones, and it's hard not to find someone to connect with in most tweet chats. Doctors and other medical professionals sometimes host tweet chats in order to help answer questions from the general public. Building twitter lists of who participates in which chats, or is the most helpful in pointing out resources can help sort a barrage of new information.
There are also specific accounts dedicated to any number of health issues; Invisible Illness Wk, for example, connects those living with invisible illnesses in addition to raising awareness of the issues those will invisible, chronic illnesses face to those who are unfamiliar.
On other platforms
Sometimes there's nothing more helpful than reading about someone else's experience dealing with what you're currently going through. Tumblr offers the same capabilities as a blog, but socially enhanced with reblogging and private messaging options, allowing one blog to draw from and connect with another easily, building up a support network without ever leaving the site.
For particular chronic illnesses, medical professionals will often point those newly diagnosed to message boards specific to a certain condition or related conditions. Inspire.com has a range of different communities that offer support, for example.
YouTube is also a popular platform for sharing experiences and getting feedback. Popular YouTuber Hank Green has shared his experience of living with a chronic illness, and the comments show many viewers grateful to see their own experiences mirrored in his video, especially from someone well-regarded and popular.
The bottom line
Ultimately social media helps connect those whose health might keep them from being able to attend a physical support group, and to supplement and organize the information and support they might receive from other sources.
Social networks evolved out of a desire to connect and share in a new way with people already in our lives, then further evolved as a way to reach out to new people we want to add to our lives, sometimes both online and off. Using these networks to seek out those with similar goals and struggles for both accountability and support is a natural extension of this; finding advice, commiseration, or just about anything else having to do with health and fitness is now just a couple of clicks away.
Every social network is what you make of it, and we wanted to take a look at how people are using them for support networks.
Using Twitter to support fitness endeavors 

January is the month we all promise ourselves we're going to get back into shape after an extensive treat-yourself-holiday-season, but most of us don't follow through even though support is just a tweet or post away. In fact, one study showed that Twitter helped participants lose more weight. Fitness bloggers create Twitter lists of other fitness-centric accounts to follow, and join in fitness tweet chats like #FitBlog and #FitStudio.
And what about other social media?
Communities of fitness enthusiasts exist on every platform. On Tumblr and Instagram you can find like-minded fitness folks to follow, particularly through exploring hashtags related to fitness. Fitness-focused Pinterest boards cover everything from suggested workouts of the day to healthy meal recipes, desired fitness equipment, and more.
One of the most popular fitness-related tags on any site is #fitspo, meaning fitness inspiration. A quick search on Instagram alone shows over 6 million #fitspo-tagged photos, and we've looked at the size of the Tumblr fitness community- or "fitblr"- before as well. While the basic premise behind fitspo is to stay motivated by sharing inspiring photos of fit models, athletes, or regular people (along with meals, progress, inspirational/motivational phrases, and more), the practice has come under fire for focusing more on the aesthetics of the bodies being shown rather than the physical work and accomplishments of the people to whom the bodies belong.
A social media counter-culture has arisen to combat this, however. For example, Tumblr user The Exercist works to combat problematic fitspo by using a tag the blog invented- #reclaimingfitspo- and encouraging other Tumblr users to post photos that show athletes or other people in action and relating their accomplishments below. The Exercist also writes posts to combat harmful or dangerous fitness myths, shares sources so readers can find more information, and points out when popular fitspo images have been Photoshopped.
On Instagram, many fitspo posters will share photos with those who belong to the same gym or running group as them with the tag #fitfam, meaning "fitness family". This brings real world support in the form of workout buddies to social media; your fitfam might now include people who are several states or even countries away, offering an extra dose of support. Other tags often used for fitness include: #MondayMotivation, #TuesdayTransformation, #WednesdayWorkout, #Fitness, and #FitnessAddict.
As for social platforms that solely focus on fitness, there are options like Fitocracy (which has both a site and an app), MyFitnessPal, or the new Instagram-compatible app FitSnap that adds workout stats to your photos you can then share on Instagram or elsewhere. Wearables with social aspects are also hitting the market: Fitbit, Nike+ FuelBand, Jawbone Up, and a host of others. You can even put your money where your mouth is with GymPact and earn cash for your workouts– or pay out when you don't.  CNN covered a whole range of fitness devices and apps in an article last summer, along with discussing the psychological motivation that comes from social fitness shares.
If it's accountability you're looking for in your fitness journey, you no longer have to look much further than the device screen nearest you.
With the holiday season just behind us, it's easy to forget that what is commonplace behavior now- bookmarking wanted items onto wishlists to share with friends and family, or using Twitter to give and receive product recommendations both spontaneous and prompted- were only just beginning to blossom five years ago.
The new year is the time most businesses write up their reviews of the past year and put together their predictions for what's coming next. These reflections and predictions don't have much weight without context, however, and that's what we aim to provide here: A brief history of social commerce that can hopefully shed more light on why everything that worked in 2013 did so, and give us a better foundation for looking ahead to 2014. As social platforms become more integrated into our lives, social commerce becomes something every company must address, if only from a support perspective.
Social Commerce in 2008
The term "social commerce" was actually first introduced on Yahoo in 2005, but it wasn't until three years later, in 2008, that it really began to build the foundations of what we recognize now as modern social commerce. 2008 was the year that expectations and suggestions around social media and e-commerce started to actually become business practices. However, the thinking was that social platforms were only good for increasing brand awareness and general marketing; the potential for revenue remained unrealized. Most companies thought of social ventures as a bonus activity, and not a requirement for success. (x)
2009
In 2009 as new technologies become ubiquitous- Twitter, smartphones- online and offline shopping begin to blend together more. Companies take notice of their customer's changing behavior and build communities for them to interact and share information in. (x)
An argument grows about what exactly social commerce is: A revolution from e-commerce, or an evolution of it? Others argue that social commerce is something that shoppers do together (social shopping) while e-commerce is businesses being in a social space together. (x) This debate will continue to evolve over the next several years, without a final clear answer (though currently e-commerce and social commerce seem to be used pretty interchangeably with the term social shopping being differentiated).
2010
2010 found social commerce really beginning to pick up steam around the world– however marked cultural differences become clear between those who turn to social outlets for shopping in order to save money, and those who come primarily for the fun, social aspect of it (x). An all-encompassing global strategy therefore isn't going to cut it; brands wanting to engage in social commerce will have to develop targeted, regional approaches.
Group buying endeavors like the aptly named Groupon hit their heyday in 2010, and Facebook begins to turn a real profit, getting skeptics seriously excited about the future possibilities with social commerce. Twitter users follow brands for deals and are often motivated to click through to a site where they can make a purchase, but a click-through doesn't guarantee a purchase and shopping cart abandonment is an issue. Consequently, this is also the year that stores work harder via social to retain customers and keep them coming back to the physical store to shop (x).
2011
Pinterest, launched in 2010, sees explosive growth in 2011. Its image-based design with easy click-throughs to sources makes it perfect for showcasing products.  Facebook gets its own term for social commerce on the platform: F-Commerce. Options range from built-in storefronts that lead off-site to make purchases, but that include varying levels of social engagement ("ask a friend" about a product, for example) to complete in-Facebook purchasing with companies like 1-800-Flowers. The future of F-commerce is uncertain, but seems promising if some kinks- like having to go off-site to complete purchases- can be ironed out.
Since 2011
A lot shifts as e-commerce picks up steam in conjunction with social platforms, from 2011 onward. F-commerce sees decline from clumsy design; big stores like Gap, Nordstrom and J.C. Penney close their Facebook shops. A few tweaks could revitalize F-commerce, however, since Facebook's core user group remains loyal and users still consult their social networks when shopping.
Pinterest continues to gain market share (possibly in part due to its long tail sales cycle), but may have a solid challenger in relative newcomer Polyvore, a social commerce site that allows users to build "sets" to express their style, then buy.  Other platforms- like photo sharing site Instagram and blogging site Tumblr- begin to experiment with advertising, which may eventually lead to e-commerce efforts. Google+ has potential too, from the sheer size of the user base and potential SEO benefits.
With the "Internet of Things" fast approaching on the horizon, 2014 looks to be the debut of things such as t-commerce, or buying H&M underwear via your smart TV during the Super Bowl. What about Twitter commerce; shouldn't that be t-commerce? In 2013, Twitter hires its first Head of Commerce to help enable shopping directly via its 140-character posts.
Overall, online retail is only expected to grow, with Forrester predicting sales of $370 billion by 2017. Increasing portions of the population use the mobile and tablet devices they use for social platforms to shop as well, which reinforces the idea of growing social commerce. It will be interesting to see how quickly being able to buy something directly from whatever platform- or object- you happen to be using becomes ubiquitous, and whether one platform or object will be able to rule the lion's share of the social commerce field.
So, with all of that, what are your predictions?
Note: The Evolution of Social Commerce: The People, Management, Technology, and Information Dimensions by Chingning Wang & Ping Zhang (pre-publication version)- was a tremendous help in forming the basis of this research, especially in the summaries of the years before 2010. Paragraphs and sentences built from its ideas have been marked and linked (x).
It's that time of year again – awards season! The 71st Golden Globe Awards are this Sunday, and as usual, we'll be there to track the social media conversation around the event and help out on the #redcarpet.
So, we were wondering… In the days leading up to the first major awards show in Hollywood this season, which movies, TV shows and actors are Twitter and Tumblr buzzing about?

Well, Tumblr can't get enough of Amy Poehler and Tina Fey, who are coming back for a second year as hosts of the show. Most of the top posts about the Golden Globes right now are GIFs of the comedic duo, taken mostly from the commercials for the upcoming broadcast (like this one from gillianjacobs).
After Tina and Amy, Twitter and Tumblr are both excited about Tatiana Maslany from BBC America's Orphan Black and Jennifer Lawrence - or JLaw, if you prefer, which we do – from American Hustle. And there's a lot of talk about Jared Leto from Dallas Buyers Club, Leonardo DiCaprio from The Wolf of Wall Street, and Bradley Cooper from American Hustle.
As far as movies and shows go, Tumblr's favorite films right now are American Hustle, 12 Years a Slave, and Dallas Buyers Club. Twitter also loves Catching Fire, partly because Taylor Swift's song from the film was nominated. And Orphan Black is wildly popular on both networks. Breaking Bad and Scandal are getting some attention on Twitter, while American Horror Story is popular on Tumblr.
Want to follow along with the conversation this week? Find @GoldenGlobes on Twitter and on Instagram, and participate in the conversation with the #GoldenGlobes tag. And stay tuned here, as we'll update with more social data about the show next week!
First we want to thank you for reading and sharing our posts this past year, and we look forward to 2014.
Happy New Year from all of us at Union Metrics!
As we like to do every year around this time, we're checking into what Twitter is saying about holiday shopping, particularly around Black Friday. This past weekend- a full week before Black Friday officially starts- things were starting to really accelerate on Twitter, with an average of about 5,000 tweets an hour posted about Black Friday over the past two days. And so far this month, 780k people have posted 1.3 million tweets about the biggest shopping weekend of the year.
Which upcoming Black Friday sales was Twitter most excited about over the weekend? Amazon was the most talked about sale, with Walmart a close second. And so far, the product topping everyone's wish list is the Xbox One.
We're tracking all Black Friday tweets this week, so we'll keep you posted!