Archive for the 'twitter' tag
Speaking of events that happen this time of year, it's CES week in Las Vegas. (You may recall that we've analyzed CES tweets before.) We'll write more on this as the event continues over the next few days, but we wanted to check on what Twitter thinks about CES so far. Here's a quick rundown of early CES tweets.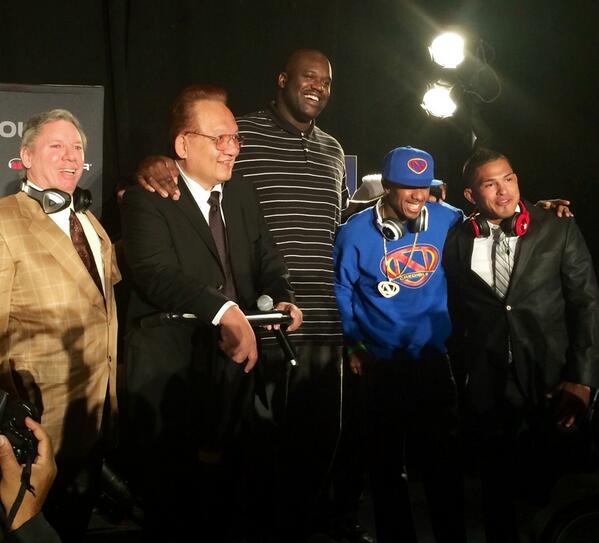 Most retweeted accounts:
Most buzzed about brands:
Intel
Samsung
Sony
Biggest celebrity endorsements:
@Shaq (Monster)
@NickCannon (Monster)
@LeVarBurton (AMD)
There were nearly 100,000 tweets using the official #CES2014 hashtag posted yesterday (January 6) and today – the first official full day of the conference – is on track to beat that. More CES updates throughout the week, so check back in later!
Want help tracking tweets about your next conference or event? Let us know!
It's that time of year again – awards season! The 71st Golden Globe Awards are this Sunday, and as usual, we'll be there to track the social media conversation around the event and help out on the #redcarpet.
So, we were wondering… In the days leading up to the first major awards show in Hollywood this season, which movies, TV shows and actors are Twitter and Tumblr buzzing about?

Well, Tumblr can't get enough of Amy Poehler and Tina Fey, who are coming back for a second year as hosts of the show. Most of the top posts about the Golden Globes right now are GIFs of the comedic duo, taken mostly from the commercials for the upcoming broadcast (like this one from gillianjacobs).
After Tina and Amy, Twitter and Tumblr are both excited about Tatiana Maslany from BBC America's Orphan Black and Jennifer Lawrence - or JLaw, if you prefer, which we do – from American Hustle. And there's a lot of talk about Jared Leto from Dallas Buyers Club, Leonardo DiCaprio from The Wolf of Wall Street, and Bradley Cooper from American Hustle.
As far as movies and shows go, Tumblr's favorite films right now are American Hustle, 12 Years a Slave, and Dallas Buyers Club. Twitter also loves Catching Fire, partly because Taylor Swift's song from the film was nominated. And Orphan Black is wildly popular on both networks. Breaking Bad and Scandal are getting some attention on Twitter, while American Horror Story is popular on Tumblr.
Want to follow along with the conversation this week? Find @GoldenGlobes on Twitter and on Instagram, and participate in the conversation with the #GoldenGlobes tag. And stay tuned here, as we'll update with more social data about the show next week!
Hashtags are a delightful, double-edged sword. On one hand, they enable you to organize your tweets so they can be found by others interested in the same type of content. On the other hand, they can be hijacked by those looking to capitalize on the popularity of particular hashtag. With that in mind, you'll want to go through a checklist of several hashtag best practices to get the most out of using them without wasting a good tweet on a bad hashtag.
Create your hashtag
Keep it short, relevant, and simple. If you use a really long hashtag, people won't have as much room to add their thoughts. For example: #MMchat stands for #MarketingMondays (a Twitter chat*), but the full version is too long to use in an interactive Twitter event. You want attendees to be able to add as much as possible to the conversation.
Test your hashtag
Once you've come up with a snappy hashtag, you need to find out: Is it already being used? Is this particular hashtag routinely spammed by random, unrelated accounts? (If you're using a general hashtag to increase reach on a post- which we cover in the next section- you'll want to avoid hashtags that get spammed by unrelated accounts.) Do a quick search on Twitter to see if a hashtag is already being used and, if so, how. For example, searching #socialchat turns up that it's already a popular hashtag in use for a tweet chat which means you'd want to pick something different for your chat or event. The general hashtag #socialmedia is fast moving and full of information, but also routinely gets spammed. You might test out using it, but know that it's easy for your post to get lost in the flow of information.
For a more detailed look at how to maximize your hashtag use for both tweet chats (similar to Twitter parties, but reoccurring) and events such as conferences, you might want to check out these other posts:
16 ways to use Twitter to improve your next conference
7 tips to maximize your conference attendance using Twitter
Miss a conference? 5 tips for getting the most out of the hashtag on Twitter
The key to a successful Twitter party? Planning ahead.
9 tips for getting the most out of Twitter chats: As a host
10 tips for getting the most out of Twitter chats: As a participant
Get more out of a hashtag
You can extend the reach of a post by using more popular and general hashtags– in moderation. For example: If you're talking about analytics, #measure and #msure are great hashtags to use in order to expose your post to a larger audience of people interested in data measurement. We don't recommend using more than three hashtags in the majority of your tweets, however; too many hashtags look spammy.
Searching broader hashtags related to your industry will also help you find interesting content to learn from and share on your own accounts, in addition to surfacing interesting influencers to follow.
Hashtags are also a great way to find people who share similar interests to you outside of work, particularly with the rise of social television:
9 tips for watching TV on Twitter
Track your hashtag: Includes TweetReach-specific tips
You can track hashtags using our tools- either to get an idea of a conversation in a snapshot report (free, or a $20 full report) or monitor an ongoing conversation in a TweetReach Pro Tracker. Why would you want to do this? Hashtags can give you a great idea of the conversation around specific topics or events that are affecting the general population– or you in particular, if it's a campaign hashtag you want to know the reach and results of.
How do you make sure you're getting all the information you need? Check out:
What to do when your campaign hashtag gets hijacked on Twitter
In conclusion
Have a hashtag question we didn't address? Leave it in the comments, or find us on Twitter. Happy hashtagging!
*Twitter chats, or tweet chats, are reoccurring virtual events where people meet to discuss various topics using a hashtag to connect the conversation. They're a great way to network, and increase or share your knowledge on a topic. 
It's Friday, so that means it's time for This Week in Social Analytics and our favorite posts of the past week in the world of measurement, analytics, and social media. See a great piece we missed? Link to it in the comments, or tell us about it on Twitter or Facebook.
Social Data Market Momentum: It's Not About the Firehose [from Thought Experiments; written by Susan Etlinger]
"But this market, as it's evolving, is not just a game of 'Capture the Firehose'; it's about taking this enormously complex, rich and challenging data set and turning it into insight that can be used to suggest trends that real people in real organizations can act on. It's not about the firehose; it's not even about the water. It's about the fires the water can put out, and the things it can cause to grow."
Nine Valuable Marketing Lessons From a Nonprofit – Charitywater.org [from KISSMetrics; written by Chloe Gray]
These lessons are equally applicable to for-profit businesses.
"Through a commitment to storytelling, beautiful design, broadcasting a unique value proposition, putting donors at the center of their strategy, and creating highly sharable content, the nonprofit has built a brand that incites the kind of loyalty, excitement, and inspiration most companies dream of."
How To Build The Perfect Tumblr Profile For Business [from MarketingThink; written by Gerry Moran]
"Tumblr needs to be considered for every brand's picture-perfect content marketing strategy in 2014. With native buying behavior focusing on the visual experience, brands need to be presenting their story at the multitude of customer touchpoints. This content consumption behavior demands that brands evolve into a curator and syndicator of their content assets on visual and graphical platforms like Tumblr, Instagram and Pinterest."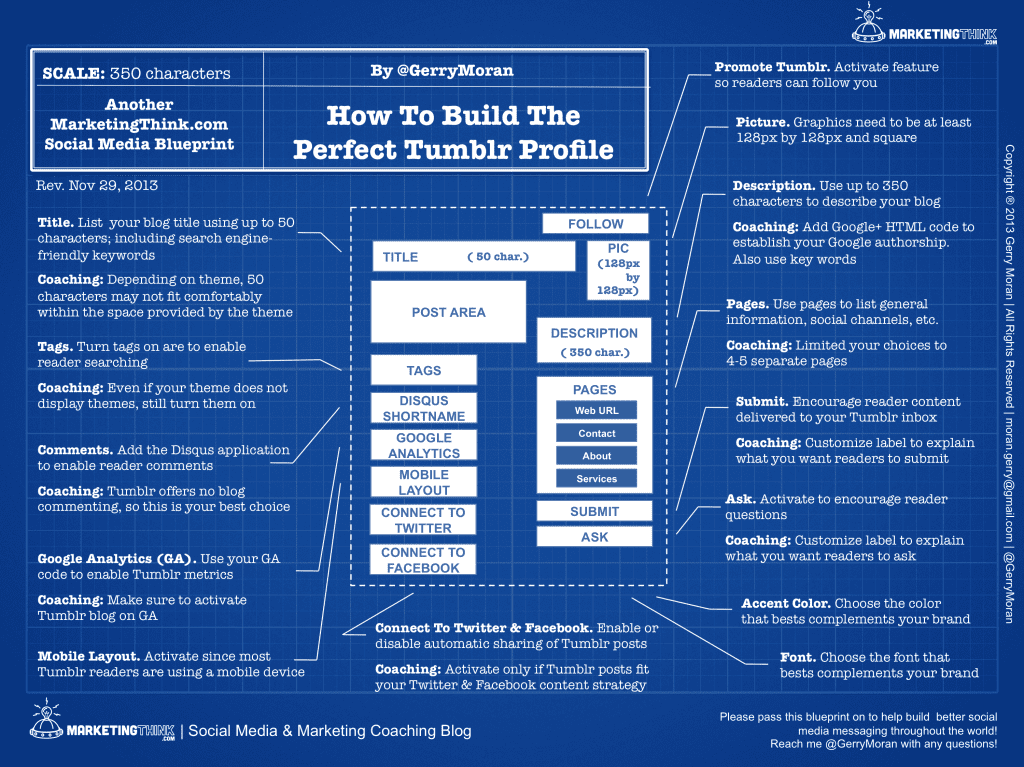 4 Creative Instagram Brand Campaigns [from Business 2 Community; written by Theo Schmidt]
Check out four of the most interesting uses of Instagram for brand campaigns.
(And you can find us here on Instagram, if you're so inclined.)
STUDY: It Only Takes 76 Seconds to Secure or Lose Brand Loyalty [from PR Newser; written by Elizabeth S. Mitchell]
"And assistance doesn't only need to be fast — it also needs to be direct and personal. The survey revealed that 69% of consumers are more likely to be loyal to a brand that provides live, human assistance at critical moments, and 82% say their perception of a brand improves when live chat is available."
Avoid a social crisis with one simple question [from Social Media Explorer; written by Tracey Parsons]
Before publishing something on a social account, say it out loud.
"In real time, the Out-Loud Voice litmus test it is a quick affirmation that could be the last check before something is posted online. And let's be honest, what you post on social as a brand is very much out loud even if it is only written word. And without a doubt, most branded social media gaffes could have been prevented with this test."
Social Business is not Dead: New charts and data reveal the real evolution of social businesses [from Brian Solis]
"Along the way, I've also learned that pushing for social adoption because of technology misses the point of change. The true catalyst isn't whatever the latest trend in social media is this week. That's reactive and almost impossible to leapfrog. The truth is that change is fueled by the affect that social media, mobile, and other forms of disruptive technologies have on customer behavior. Whether it's B2B, B2C, B2B2C, or whatever model you prefer, as long as we're talking about connected human beings, you can bet that social and digital in general are influencing discovery, decision-making, and impressions in every moment of truth."
5 Tips to Help Busy Small Business Owners Better Manage their Social Media [from Eli Rose; written by Liz Jostes]
". . .adjust your expectations to a level you can confidently maintain."
What Do You Get With A Social Media Audit? [Top Rank Online Marketing; written by Lee Odden]
"Ultimately, the results of a social media marketing audit should reconcile the difference between the current situation and where the brand social media efforts need to be. Just like the other online marketing audits companies will perform, a social media audit is not a "one and done" situation. They should be repeated periodically as part of being accountable for the social media investment."
B2B Experts: The Difference Between Social Media and Content Marketing [from Social Media B2B; written by Jeffrey L. Cohen]
"Your neighbor isn't going to talk to you about those darn teenagers and their content marketing. But there's plenty of discussion by businesses and citizens alike about social media."
What to Do When Your Twitter Handle is Taken But Isn't in Use [from Social Media Today; written by Deborah Sweeney]
Helpful guidelines for a 140-character crisis.
History Retweets: How Ancient Romans Created Social Media [from the Wall Street Journal; written by Tom Standage]
"Who invented social media? It wasn't the founders of Facebook, or Twitter, or even MySpace or Friendster. Social media—the exchange of media within networks of friends and acquaintances—is much older than the Internet. A social-media environment requires two things: a certain level of literacy, and the ability to copy and deliver information cheaply and quickly. This combination first arose in the late Roman republic of the 1st century BC, more than 2,000 years ago."
Emphasis added.
As we like to do every year around this time, we're checking into what Twitter is saying about holiday shopping, particularly around Black Friday. This past weekend- a full week before Black Friday officially starts- things were starting to really accelerate on Twitter, with an average of about 5,000 tweets an hour posted about Black Friday over the past two days. And so far this month, 780k people have posted 1.3 million tweets about the biggest shopping weekend of the year.
Which upcoming Black Friday sales was Twitter most excited about over the weekend? Amazon was the most talked about sale, with Walmart a close second. And so far, the product topping everyone's wish list is the Xbox One.
We're tracking all Black Friday tweets this week, so we'll keep you posted!
What airlines should look for on Twitter and what to measure, before, during, and after a crisis
Social media is both a blessing and a curse in a time of crisis. While companies are able to rapidly disseminate information, share updates, and directly interact with the public in real time, misinformation can also spread like crazy on platforms like Twitter.
For something as high stakes as air travel, it's important for airlines and travel companies to have a plan in place should a crisis arise, particularly during the stressful holiday travel season. We have some advice for creating just such a plan, or reassessing it if you already have one.
What to look for on Twitter during a crisis
First, you need to set up a monitoring plan for Twitter. Exactly what you're looking for will depend on the nature of the crisis you're dealing with and your communication goals around each type of crisis.
In case of common crisis
For flight delays and stranded, angry customers, for example, you'll definitely want to focus on catching every mention of your brand on Twitter and doing everything you possibly can to make affected customers feel listened to and understood. If possible, give your customer service representatives on Twitter the power to offer reconciliations: everything from drink tickets, to discounts on future flights, full or partial refunds; even free tickets for a future flight if the situation is bad enough.
This is vital for turning an angry person who swears they will never fly with you again- whether the circumstances of the situation were under your control or not- and someone who will brag about your customer service on the same forum they just used to share their unhappiness, while remaining a customer.
In case of not-so-common crisis
If the situation is more serious- like the recent shooting that happened at Los Angeles International Airport, or a natural disaster like an earthquake- you don't have to bother to look for misinformation; it will already be out there. Use Twitter as a way to let everyone know you're aware of the situation, the safety of your employees and passengers, and any updates you can make on the situation, waiting as long as possible to confirm new information before you send it out while still making any corrections as necessary.
In both cases- and the rest of the time, as a general rule of thumb- you should be monitoring not only direct replies to your brand's handle on Twitter, but also mentions of your company name in any variety of spelling imaginable, any well-known nicknames your brand has (official or not), and the airports you operate from. Depending on your resources, you might want to include the names of prominent employees, such as founders, board members and c-level executives. Something like our TweetReach Pro Trackers will allow you to do this. (We'll talk more about what to measure in the next section.)
Go the extra mile
Monitoring mentions of the airports you operate from will be vital should a tragic incident such as the LAX shooting occur again, and the rest of the time it will give you an advantage in listening to and addressing problems you might not have caught otherwise. Is a passenger stranded, and you have room on a flight? Even if they weren't booked on your airline, you've probably just won a new loyal customer. If you make someone's day, you've reversed their story of a bad trip gone awry and be more likely to be the first brand on their mind the next time they travel.
What to measure on Twitter in times of crisis, and after
Now that you know what to look for, you need to have a plan in place for how to measure it. What, exactly, should you be measuring on Twitter as a crisis unfolds?
Before; or what you should have set up right now
Ideally you will already have Trackers set up to capture what we mentioned above- tweets directly to your official handle, mentions of your brand in any variety of spelling imaginable, any well-known nicknames your brand has (official or not), and the airports you operate from. If you're not already doing that, now is the time to implement Trackers or take frequent snapshots (using something like our aptly named snapshot reports) around those terms once a situation arises and begins to unfold.
During a crisis
Often during a crisis situation, a hashtag will be born organically. If you're being proactive about communicating via Twitter, however, don't hesitate to create one of your own and immediately set up a Tracker to measure it, or take continual snapshots of the situation. If another hashtag emerges organically, use that one in your messaging as well and be sure you're tracking both.
After a crisis
If everything flies by too quickly and you're a small enough team not to have time to set up Trackers or take frequent enough snapshots of the situation, a historical option to capture the entire incident is available. This can also be used to fill in any noticeable gaps in your data once you've begun to look through everything you've gathered.
In the aftermath of the event, you might also want to track a specific news story (using specific key words from the title if it's unique enough not to return a lot of noise, or you can track via a specific URL) that went around if it directly involved comments from your brand, or got a lot of circulation with commentary from people passing it around. This will give you a much more accurate read on the sentiment around your crisis messaging, and let you see any missed opportunities as well as highlight every win.
Go the extra mile
Once you have all of this data and you can clearly see how the situation unfolded and evaluate the strength of your response, take it a step further: What can you plan better next time, with this experience? What did you and your team do really well, that you should be sure to praise and also pass on as protocol to new team members? This knowledge can be distilled and turned into training and on-boarding materials for any new communications employees in the future.
If you're not an airline a lot of these tactics still apply to you; if you're a hotel, for example, you can offer to put up stranded travelers or victims of a natural disaster or other tragedy. Car rental companies and car sharing services can work out deals to get stranded people home if they don't have far to go. Tour companies can even offer to keep stranded passengers entertained with local sites while they're waiting for delayed travel to get sorted out.
The takeaway
The bottom line is to listen and step in where you're needed, even if you're not expected to.
It's Friday, so that means it's time for This Week in Social Analytics and our favorite posts of the past week in the world of measurement, analytics, and social media. See a great piece we missed? Link to it in the comments, or tell us about it on Twitter or Facebook.
Social Media Fears, Tips, and Strategies for Small Businesses [from Soshable; written by Chastity Mansfield]
An infographic that highlights the anxieties felt by many small businesses approaching social media, along with tips and strategies for successfully implementing a social program despite them.
Full infographic at the link above.  
Saving the world through social media? How development is going digital [from The Guardian; written by Maeve Shearlaw]
"From tracking World Bank projects to Twitter conversations with Rwanda's health minister, technology is driving innovation."
Social media for social good. Pair with Tumblr's effort to help with relief aid in the Philippines.
18 Social Media Marketing Tips From the Pros [from Social Media Examiner; written by Cindy King]
Strategies from pros that they use to boost their social media marketing.
The First Tweets of 16 B2B Brands (and a Few Familiar Faces) [from Ann Handley]
A look at some of the first B2B tweets is amusing, and shows just how far Twitter has come since its inception and eventual widespread adoption by businesses.
How Twitter Hijacked My Mind [from New York Magazine; written by Kathryn Schulz]
"Collectively, the people I follow on Twitter — book nerds, science nerds, journalists, the uncategorizably interesting — come pretty close to my dream community. They also function as by far the best news source I've ever used: more panoptic, more in-depth, more likely to teach me something, much more timely, cumulatively more self-correcting and sophisticated."
Defending Your Personal Brand Online – When Should You Respond? [from Forbes; written by Dorie Clark]
"A study from Stanford's Graduate School of Business indicates that bad publicity harms the reputation of established players, as you might expect. But it can actually help lesser-known figures, because it raises their brand awareness among the public."
Social Serves Many Purposes for Restaurant Industry Marketers [from eMarketer; written by staff]
"Among US restaurants in March 2013, 80% used social media—17 percentage points higher than email, which was the next most popular choice. Social's ubiquity is likely because it's viewed as less expensive than traditional forms of marketing."
A Girl Who Codes [from FastCompany; written by Jillian Goodman]
"'It showed me that if I have an idea or something that I want to make, I shouldn't be afraid to go ahead and make it. I think computer science allows you to make your dreams come true.'"
The tech industry's woman problem: Statistics show it's worse than you think [from Quartz; written by Lauren Bacon]
"The numbers, while preliminary, are revealing: tech companies employ an average of 12.33% women engineers."
The Common Sense Guide For Brands That Want to Show Support Without Looking Like Asshats [from Mack Collier]
No-nonsense advice from Mack Collier.
15 Brands Rocking Tumblr [from Mashable; written by Taylor Casti]
Mashable highlights brands who have really taken to Tumblr's unique possibilities for connecting with customers.
3 in 10 SMBs Advertising on Twitter Seeing "Excellent" or "Extraordinary" ROI [from Marketing Charts; written by staff]
". . . this year, 31.1% of those advertising on Twitter perceived their ROI as "excellent" (10-19 times spend; 18.8%) or "extraordinary" (20+ times spend; 12.3%), up from 25% of advertisers in last year's survey and 17.1% in 2011."
And two bonus resources:
9 Twitter Chats Every Digital Marketer Should Participate In [from Business to Community; written by Cassie Gray]
We have to add #MMchat to this list. Mondays at 8pm ET.
Which Social Media Icons and Logos Can I Print on Promo Items? [from Quality Logo Products; written by Mandy Kilinskis]
Helpful when you're creating promo items for the next conference etc your brand plans to attend.
It's Friday, so that means it's time for This Week in Social Analytics and our favorite posts of the past week in the world of measurement, analytics, and social media. See a great piece we missed? Link to it in the comments, or tell us about it on Twitter or Facebook.
Twitter News Consumers: Young, Mobile and Educated [Pew Research Journalism Project; written by Amy Mitchell and Emily Guskin]
"Nearly one-in-ten U.S. adults (8%) get news through Twitter, according to a new report by the Pew Research Center, in collaboration with the John S. and James L. Knight Foundation. Compared with the 30% of Americans who get news on Facebook, Twitter news consumers stand out as younger, more mobile and more educated."
Ten Ways in Which Your Tumblr Blog Can Help in SEO [from Social Media Today; written by Mark Scott]
"Tumblr essentially functions as a secondary blog you can use solely for the purpose of SEO. You can send optimized links back to the main website, allowing your website's reach to expand and incoming traffic to multiply. What makes Tumblr great for SEO is the inbuilt promotion and SEO-friendly features that it comes packed with by default."
And here's a response on that from JD Rucker on Soshable: Tumblr as an SEO Tool.
Our Tumblrs, Our Teenage Selves [from New York Magazine; written by Ann Friedman]
"Way back in 1977, Susan Sontag wrote that  'industrial societies turn their citizens into image-junkies; it is the most irresistible form of mental pollution.' And the notion has persisted. The never-ending stream of social-media images is routinely declared a symptom of our collective narcissism or intellectual weakness. Again, perhaps we can take a cue from teenage girls. They're quite aware that they're seen as frivolous and self-absorbed, but on a deeper level they know they're engaged in an important project: figuring out who they are and what they want to be. If we took our Instagrams and Snapchats and reblogs half as seriously as they do, perhaps we'd reach some new insight about our adult selves, too."
LinkedIn and Tumblr: Tips for Effective Video Marketing [from OnlineVideo.net; written by Shelley M. Johnson]
"This is the art of becoming ubiquitous as a brand. When marketing video, there are more networks to rely on than just YouTube, Twitter, and Vine. Some marketers see this as unchartered territory, but what they fail to realize is that other platforms can be just as effective, if not more."
It's a Wide, Wide, Wide, Wide Social Media World: 4 Things You Probably Didn't Know [from The Measurement Standard]
"Despite being blocked in China, the major social networks still have many millions of Chinese active users who use various stratagems to access these services. Google+ has 100 million users in China, Twitter has 80 million, and YouTube has 60 million."
The Evolution of Visual Storytelling [from The Buzz Bin; written by Erin Hurley-Brown]
"Our current students see no difference between working traditionally and digitally, they simply see them as different media. Where 10 years ago, an illustrator might have chosen to work in gouache or oils, they now choose to work traditionally or digitally, and that may switch from one assignment to the next."
Cats Are Over: Social Media in the Post Cat Economy [from The Webby Awards]
Say it ain't so! The Webby Awards presents their first social media report and presents the notion that we're living in a post-cat economy. Regardless of whether you agree, it's a great read with a lot of examples and tips from top brands in social media.
Instagram ads and the future of brand advertising [from Gigaom; written by  Om Malik]
"Systrom explained that in order for companies and their brands to be successful, they need to create Instagram-like content for the advertising campaigns. If the brands veer away from Instagram-i-ness, Systrom said they will run the risk of losing impact in a what is a very high-touch environment. The kind of ads and the number of times they will be shown to us will be key to community acceptance (or rejection) of advertising."
Unlock the Potential of Real-Time Marketing [from Marketing Profs; written by Jenn Deering Davis]
"And there is good reason to take notice: Regardless of product or category, marketers who engage in real-time marketing can expect a 21% increase in positive brand perceptions and 18% increase in likelihood to buy (Golin Harris).

Real-time is not some marketing fad, but a natural progression of social media marketing and a great way for marketers to capitalize on the immense volume of social conversations. And a key part of unlocking the potential of real-time marketing is implementing social analytics that can help guide your media strategies."
Do Retailers Understand Millennials? Are They Even Trying To? [from Marketing Charts; written by staff]
"Abstaining from any kind of research into this demographic – no matter how difficult it is to decipher – seems curious."
Consumers Say They Respond to Online Ads With Actions Other Than Clicks [from Marketing Charts; written by staff]
"Indeed, when respondents were asked how long they would generally wait until they researched a company or product whose ad they found interesting but did not click, a majority indicated they would wait longer than one hour, with a significant number doing so 'days later.'"
A Twitter Quick Tip. 
Twitter now allows you to enable emergency alerts from certain participating organizations. These alerts are meant to complement, not replace, traditional emergency alerts and you can opt in or out at any point.
You can find the alerts page for each organization by adding /alerts to the end of their Twitter URL; for example https://twitter.com/redcross/alerts which you can see the page for above. It will prompt you to add a mobile phone to your account if you haven't done so already.
Want more tips? Click here. 
Whether you travel for business or pleasure, you want the best information possible to plan your trip. So where do you get it?
Twitter has a host of accounts that offer up travel advice, suggestions and more, from those on a budget to those who want the best possible luxury accommodations. Below we've rounded up resources so you don't have to take the time to do the research yourself.
Suggested travel accounts to follow (hat tip to Mashable for a lot of these):
If you want more than just reading the advice and resources provided by travel experts with occasional interaction, check out some tweet chats! Tweet chats give you the ability to weigh in with your own opinions and experiences, as well as ask questions of hosts, guests, and your fellow chatters. You can read through a past chat by looking at the hashtag for it, or feel free to introduce yourself and jump right in on your first one. Tweet chats are meant to be open, friendly and interactive. (Read more about how to get the most out of a tweet chat as a participant here.)
Try these out (hat tip to Travel Bites for these recommendations):
#MexMonday: happens all day on Monday
#TravelTuesday: all day Tuesdays
#CruiseChat: 2pm EST Tuesdays
#NUTS: Tuesdays at 3:30pm EST
#TTOT: 5:30 am/pm EST Tuesdays
#LuxChat: 2:30pm PST every 3rd Wednesday
#TourismChat: 2:00pm CST bi-weekly on Thursdays
#FriFotos: all day Fridays