Archive for the 'social media' tag
Social networks evolved out of a desire to connect and share in a new way with people already in our lives, then further evolved as a way to reach out to new people we want to add to our lives, sometimes both online and off. Using these networks to seek out those with similar goals and struggles for both accountability and support is a natural extension of this; finding advice, commiseration, or just about anything else having to do with health and fitness is now just a couple of clicks away.
Every social network is what you make of it, and we wanted to take a look at how people are using them for support networks.
Using Twitter to support fitness endeavors 
January is the month we all promise ourselves we're going to get back into shape after an extensive treat-yourself-holiday-season, but most of us don't follow through even though support is just a tweet or post away. In fact, one study showed that Twitter helped participants lose more weight. Fitness bloggers create Twitter lists of other fitness-centric accounts to follow, and join in fitness tweet chats like #FitBlog and #FitStudio.
And what about other social media?
Communities of fitness enthusiasts exist on every platform. On Tumblr and Instagram you can find like-minded fitness folks to follow, particularly through exploring hashtags related to fitness. Fitness-focused Pinterest boards cover everything from suggested workouts of the day to healthy meal recipes, desired fitness equipment, and more.
One of the most popular fitness-related tags on any site is #fitspo, meaning fitness inspiration. A quick search on Instagram alone shows over 6 million #fitspo-tagged photos, and we've looked at the size of the Tumblr fitness community- or "fitblr"- before as well. While the basic premise behind fitspo is to stay motivated by sharing inspiring photos of fit models, athletes, or regular people (along with meals, progress, inspirational/motivational phrases, and more), the practice has come under fire for focusing more on the aesthetics of the bodies being shown rather than the physical work and accomplishments of the people to whom the bodies belong.
A social media counter-culture has arisen to combat this, however. For example, Tumblr user The Exercist works to combat problematic fitspo by using a tag the blog invented- #reclaimingfitspo- and encouraging other Tumblr users to post photos that show athletes or other people in action and relating their accomplishments below. The Exercist also writes posts to combat harmful or dangerous fitness myths, shares sources so readers can find more information, and points out when popular fitspo images have been Photoshopped.
On Instagram, many fitspo posters will share photos with those who belong to the same gym or running group as them with the tag #fitfam, meaning "fitness family". This brings real world support in the form of workout buddies to social media; your fitfam might now include people who are several states or even countries away, offering an extra dose of support. Other tags often used for fitness include: #MondayMotivation, #TuesdayTransformation, #WednesdayWorkout, #Fitness, and #FitnessAddict.
As for social platforms that solely focus on fitness, there are options like Fitocracy (which has both a site and an app), MyFitnessPal, or the new Instagram-compatible app FitSnap that adds workout stats to your photos you can then share on Instagram or elsewhere. Wearables with social aspects are also hitting the market: Fitbit, Nike+ FuelBand, Jawbone Up, and a host of others. You can even put your money where your mouth is with GymPact and earn cash for your workouts– or pay out when you don't.  CNN covered a whole range of fitness devices and apps in an article last summer, along with discussing the psychological motivation that comes from social fitness shares.
If it's accountability you're looking for in your fitness journey, you no longer have to look much further than the device screen nearest you.
It's Friday, so that means it's time for This Week in Social Analytics and our favorite posts of the past week in the world of measurement, analytics, and social media. See a great piece we missed? Link to it in the comments, or tell us about it on Twitter or Facebook.
More than Half of Social Media Ads Spending Will Go to Native In-stream Ads [from Social Media Today; written by Aaron Elliott]
"A study conducted by BI Intelligence shows that among all social media sites, the ones that will find natural ads most valuable are the ones that focus on photo sharing, like Pinterest, Snapchat and Instagram."
6 Tips for Instagram Marketing Mastery [from Jeff Bullas]
"What might be the biggest hurdle for the more business-minded individual is the understanding that Instagram is not just about selling.  In fact, using your account as a megaphone to promote your product or service is a surefire way to lose followers and leave you feeling like you are shouting into a deserted room."
Brand Journalism: Breathe New Life into Old Content [from Spin Sucks; written by Gini Dietrich]
Relevant to this past Monday's #MMchat; a fantastic resource for digital marketers or anyone interested in marketing and social media
How to Mobilize Your Brand Advocates through Storytelling [from Mack Collier]
"The most powerful thing about organic advocacy is the story behind customer's experience. And because the endorsement is not paid for by the brand, and the story is something others can truly connect with, it becomes a great motivator in getting others to act on the endorsement. Advocacy, done right, becomes true influence. And influence is what impacts behaviors." 
Emphasis original.
Update from the FDA on Social Media Guidance [from Common Sense; written by Aaron Strout]
"It's been a long time coming, but it looks like the FDA is getting around to providing guidance to the healthcare industry around social media. Granted that realtime online conversations and the heavily regulated drug industry aren't the most obvious of bedfellows, but it's a reality and it's here to stay."
Cool or Uncool? Consumers Weigh in on Social Media Behavior [from Marketing Charts; written by staff]
"Brands ought to be wary of overstepping boundaries: two-thirds of respondents feel that a brand's use of their content on its social media site without permission is 'uncool.' Also uncool? Brands calling with automated personalized messages, according to 57% of respondents."
The Few, The Fervent: Fans Of 'Supernatural' Redefine TV Success [from NPR; written by Neda Ulaby]
"'Nielsen has done a lot of research as to whether social media is helping people to tune in to TV,' he says, noting that a show's traction on Twitter and Tumblr is starting to affect how networks pitch shows to the all-important advertisers. 'They're no longer just including Nielsen ratings. They're also including social TV data.'"
HBO Hedges on Social Media to Reach 'Challenging' Demographic [from Entrepreneur; written by Geoff Weiss]
"The HBO smash Girls, for instance, is making a full-court press in the digital sphere to hype its third season, which premiered last night. The network is prioritizing micro video apps like Snapchat and Vine over traditional advertising formats to galvanize its sizable digital audience."
It's Friday, so that means it's time for This Week in Social Analytics and our favorite posts of the past week in the world of measurement, analytics, and social media. See a great piece we missed? Link to it in the comments, or tell us about it on Twitter or Facebook.
Five Social Media Measurement Questions I Hope (NOT) To See in 2014 [from Metrics Man; written by Don Bartholomew]
"'I don't measure 'social media', I measure what you are trying to accomplish with social media'. . .the distinction is very important. Measurement is fundamentally about performance against objectives. So, we measure our performance against the objectives established in the social media plan. A lot of what passes for measurement in social media is really data collection – tracking Followers or Likes, blog traffic or consumer engagement on Facebook. Unless you have measurable objectives and targets in each of these areas, you are collecting data not measuring. What do you want to happen as a result of your social media campaign or initiative? Measure that."
Social Media Update 2013 [from Pew Internet; written by Maeve Duggan & Aaron Smith]
"Some 73% of online adults now use a social networking site of some kind. Facebook is the dominant social networking platform in the number of users, but a striking number of users are now diversifying onto other platforms. Some 42% of online adults now use multiple social networking sites. In addition, Instagram users are nearly as likely as Facebook users to check in to the site on a daily basis."
3 Social Media Trends You Should Know About [from Mashable; written by Alex Honeysett]
"If you haven't mastered Vine or Instagram's video feature yet, now is the time to get comfortable. If the prediction is correct, making compelling short videos will be as important as writing in 140 characters. The earlier you can master the trend, the better."
2014 Marketing Measurement Predictions [from Social Media Explorer; written by Nichole Kelly]
"This is a fundamental shift in how we've thought about measuring marketing for decades. It's not about the campaign, it's not about the channel, it's not about the content, it's about how all of those efforts combined to create revenue."
Anatomy of a Tumblr [from Medium; written by Daniel Dalton]
"8 Tips for making a successful Tumblr:

1. Do one thing. Do it well. Be consistent. Find your niche and own it.
2. Think different. There are millions of blogs. Find a way to be unique.
3. Make it visual. 60% of shares on Tumblr are images. Show, don't tell.
4. Get good help. If you can't write or design, find someone who can.
5. Be a part of the community. Ask for suggestions, take requests. Listen.
6. Fail hard. This isn't my first dance at the Tumblr party. It's trial & error.
7. Be excellent to each other. Seriously. This.
8. Tumblr. Because Tumblr."
Emphasis original.
A Nice Collection of B2B Marketing Stats and Videos [from Paul Gillin]
"Here's its latest collection of recent trends and statistics: This is the year that was in B2B Marketing crunched. Be sure to check out the links to some of the year's best B2B videos on slide 37."
It's Friday, so that means it's time for This Week in Social Analytics and our favorite posts of the past week in the world of measurement, analytics, and social media. See a great piece we missed? Link to it in the comments, or tell us about it on Twitter or Facebook.
11 News Sources Using Instagram Video [from Mashable; written by Rebecca Hiscott]
"Just as Twitter heralded a brave new world for bite-size storytelling, Instagram Video now challenges digital innovators — and traditional news outlets — to use the platform to its full potential, packing 15-second video segments with vital information and titillating tidbits."
Not a bad way to get some inspiring ideas for your own short video content.
Women Up Time Spent on Social Platforms [from eMarketer; written by staff]
"But it's platforms like Pinterest and Instagram that are garnering an ever-greater share of time from those women who do use them. Nearly half of women surveyed who visited social networks regularly said they had increased the amount of time they spent on Pinterest or blogging platforms in the past year—and more than two-thirds said the same of Instagram. A comparatively small 30% said they were using Facebook more frequently."
How to generate sales with social media in an underground business [from Web Ink Now; written by David Meerman Scott]
"Social media is everything for us," Liza says. "It enables us to spread the word."
3 Metrics to Measure Year-End Social Media Results [from Business 2 Community; written by Maria Peagler]
"I'm a huge advocate of the 80/20 rule: 20% of your effort generates 80% of your business.

So we'll be measuring the top 20% of your promotional tactics to see what drove the most results." 
Social Media Year in Review: 13 Must-Know Statistics from 2013 (Infographic) [from Entrepreneur; written by Brian Honigman]
"With the multitude of social channels on the market and the growing need to create content at scale to fuel these networks, it's important to have actionable data to help better focus your social media-marketing efforts. Take these 13 fascinating social-media statistics about SlideShare, Snapchat, Instagram, Pinterest, Facebook, Twitter, Vine, LinkedIn and Google+ into mind when formulating your marketing strategy for 2014:"

Click through for the full infographic from Sparefoot, or see it directly on their site.
The Ultimate Social Media Tip Sheet [from Heidi Cohen]
101 tactics from Heidi Cohen's top 5 articles.
2014 Will Be the Year to Lead With Analytics [from Social Media Today; written by Michael Brito]
"This is more than a prediction. It's a fact.  Marketers need to make smarter decisions moving into 2014; and they can only do so by looking at data."
Five Ways to Win Trust [from Social Media Examiner; written by Tracey Parsons]
"About 86% of people make an active effort to hide their digital footprint. The #1 reason is hackers. . .But #2 was marketers."
The Best Social Media Campaigns Of The Recent Past [from Soshable; written by Anita Reid]
"Today's companies and organizations use the campaigns that integrate their offline marketing with social media channels, their own site and paid advertising."
Check out some of the most recent clever and integrated campaigns to get inspired for 2014.
Friday was expected to be the biggest travel day of the year, but a lot of you are still headed home for the holidays and maybe still scrambling to book last minute New Year's plans. Whether it's something fairly local, or that big trip abroad you've always wanted to take that you're finally booking as a New Year's resolution, we've got some tips and resources to help make traveling easier on you:
Your network: Get information about experiences from those who have been there that you trust by talking to your network on Twitter, Tumblr, and more to see what you should splurge on, what you should skip, and what to expect in different cities and countries. A Twitter friend might even offer to show you around, or point you to someone who can help with local recommendations. (Want to grow that network? Check out our list of Twitter travel resources.)

Check out the social accounts of locals: Headed to Paris, or Perth? Check out the accounts of some locals to get an idea of the kinds of non-touristy activities and places to eat and drink around around your destination. Strike up a conversation and ask questions if they seem open to it; a lot of people love to share hidden gems of their own town so visitors enjoy themselves.

Connect with companies: Is the place you're staying on Instagram? Is the rental company you're getting a car from on Twitter? Does the airline you're flying on have a Tumblr? Get familiar with their services through these channels– and you might even stumble onto a social-media-only deal or two!

Utilize Pinterest for Planning: Start a Pinterest board for ideas for your trip: sites you want to see, things you don't want to forget to pack, places you want to eat. Search the site to see if anyone has made such a board already, and you might pick up some unexpected and handy tips. Same goes for boards from locals; their fashion board might tell you more about what to pack than any weather report could.

Catalog: Instagram is a great way to share snapshots of your trip as you're on it. Limit yourself to one to two photos a day so you've got a little something to let friends and family know what you're up to without distracting yourself from enjoying the moment.

Save some pennies: Couchsurfing and Airbnb have both become popular alternatives to hotels. Couchsurfing in particular is a free service, where hosts give travelers a place to stay out of the kindness of their hearts in the spirit of travel. Airbnb lets you choose from a variety of accommodation options that give you a more local feel than a hotel. If you decide to use either service, be sure you check out the reviews of the host and/or space to make sure you know what you're getting into

YouTube Travel Channels: If you like your travel advice in video form with the possibility of inappropriate jokes, then YouTube travel channels are just for you. The channel Maila AuParis has a series on CouchSurfing in addition to a lot of other travel videos. The Expert Vagabond and Mashable both have roundups of YouTube travel channels to inspire, instruct, and more. And don't forget about the big guys: Lonely Planet and The Travel Channel both have YouTube channels of their own.

Traveling with pets: BlogPaws has a travel category with safety tips and more for traveling with pets. Keep track of pet-friendly hotels at PetsWelcome, and be sure to check the TSA guidelines for flying with pets if that's in your plan. You'll want to see specifically what your airline says about traveling with pets as well.

Traveling with children: Last year the New York Times covered innovative travel products to ease the burden of packing for and hauling around quick-to-tire small children.  The CDC has health and safety tips while the TSA goes over what is expected of your child in airline security lines. If you're sending a minor unaccompanied on a flight, check with your particular airline to see what the procedures and expectations are.

Apps to check out: CNN has a whole category on their site covering travel apps of all descriptions. If you're a lover of travel guides, check to see if they offer apps to go along with them. That way you'll have information on the ground without carrying around the guide itself, and many also have a social component. Also consider downloading a few language apps if you're traveling to a foreign country, so you can practice common words and phrases.
Got any tips we missed? Leave 'em in the comments, or tell us about them on Twitter. Safe travels, and happy holidays!
It's Friday, so that means it's time for This Week in Social Analytics and our favorite posts of the past week in the world of measurement, analytics, and social media. See a great piece we missed? Link to it in the comments, or tell us about it on Twitter or Facebook.
Social Media Image Dimensions: The Ultimate Guide [from Pamorama; written by Pam Dyer]
"Brands experience almost 50% more audience engagement when sharing an image or video on their social media platforms, which is why social networks are increasingly featuring and promoting visual content. Optimizing your visual space online is key to achieving maximum exposure for your name and your brand, and helps build your fan base."
Time to Grow Up! Social businesses mature, yet many still lack a strategic foundation | Infographic [from Brian Solis]
"The number one thing we learned this year is that no matter how much we celebrate the case studies and best practices of the most social brands, they are far from perfect. You can replicate campaigns but you can't replicate how the efforts of others cultivate ideal experiences and relationships with your customers…in a meaningful way."
5 Biggest Social Media Lessons of 2013 [from Mashable; written by Katy Finneran]
"Witnessing a single tweet swing the pendulum of markets proved that social media is every bit as valuable to day traders as it is to newsmakers."
Lessons on everything from social's influence on markets, to its increasingly visual nature, the growth and evolution of social media advertising, and the continued rise of social TV.
How a single Tumblr post turned this unknown book into a bestseller [from The Daily Dot; written by Aja Romano]
"But anyone who dismisses the value of Tumblr as a promotional and marketing tool might want to ask author Cory O'Brien what he thinks. When Tumblr discovered his book, Zeus Grants Stupid Wishes, the community turned  it into a viral sensation and overnight bestseller."
Social Media Engagement: The Surprising Facts About How Much Time People Spend On The Major Social Networks [from Business Insider; written by Emily Adler]
"Social is now the top Internet activity: Americans spend an average of 37 minutes daily on social media, a higher time-spend than any other major Internet activity, including email."
Second screen study shows 72% of viewers engaging with a show's social media are encouraged to watch again [from Social Media Influence; written by staff]
"According to the study:
40% of respondents have engaged with a TV shows second screen app.
72% of those engaging with a TV show's social media page or app say doing so encourages to watch the show again.
62% of respondents say they use social media 'sometimes' or 'always' while watching TV."
2 in 3 Millennials Share Social Experiences Online [from Marketing Charts; written by staff]
"Shared web experiences have implications for how Millennials process information and trust its sources, and the researchers also note that many Millennials are establishing global networks online that make it more complex for marketers to create messages that vary significantly from one country to the next."
The Facts and Figures on the Power of Visual Content Marketing [from Jeff Bullas]
"Competitors have emerged driven by the social web and includes Instagram, Pinterest and Vine. If we look at the global impact of these we get some rather staggering numbers.

Pinterest debuted in May 2011
Pinterest saw a growth of 1047% in unique visitors from 2011 to 2012
Instagram started in 2010
Instagram has 130 million users
Instagram photos have 1 billion likes a day
More than 16 billion photos are hosted through the service."
Click through for more stats plus an infographic.
Six Ways Brands Can Use Instagram Direct For Marketing [from Business 2 Community; written by Nicole Rose Dion]
"Not only is this a great feature for individuals, Instagram Direct has the potential to be especially useful for brands. It allows brands the chance to provide sneak peeks to loyal followers, send coupons and encourage e-commerce."
Instagram Says First Ad Results Are "Promising" With Recall Up 32%, Shows It Wants TV Brand Dollars [from Tech Crunch; written by Josh Constine]
"Brands saw average ad recall up 3X while brand message awareness was up 10% across four campaigns, with Levi's reaching 7.4 million US 18-34 year olds in 9 days while Ben & Jerry's reached 9.8 million US 18-35 year olds in 8 days."
It's Friday, so that means it's time for This Week in Social Analytics and our favorite posts of the past week in the world of measurement, analytics, and social media. See a great piece we missed? Link to it in the comments, or tell us about it on Twitter or Facebook.
More Than 70% Of Under 35s Research, Post And Talk About Brands On Social Media | Study [from All Twitter; written by Shea Bennett]
"More than seven out of ten millennials (internet users aged between 15 and 34, aka Generation Y) consult, react to or post about products and brands on social media, with almost two-thirds saying that positive – and negative – experiences shared by others impact their purchase decisions."
Click through for full infographic.
Digital Marketing And Analytics: Two Ladders For Magnificent Success [from Occam's Razor; written by Avinash Kaushik]
"The world's greatest social media strategy: 1. Entertain Me 2. Inform Me. 3. Provide Utility. Nothing else works."
12 Tips for Holiday Instagram Marketing: Last-Minute Instagram Tips [from Social Media Today; written by Krista Bunskoek]
Tip 5: Cross-promote Contests with Videos. Pair with B2B Marketers Use Stories for Successful Digital Video, from eMarketer:
"B2B marketers are investing in video marketing because, like most internet users, B2B clients and prospects are devoting more time to watching digital video. Businesspeople are drawn to B2B video for pretty much the same reason consumers watch video—it's entertaining."
The 5 Best Instagram Ads [from Social Media Today; written by Alan Cassinelli]
Ben & Jerry's: so good, they made the list twice.
5 Content Marketing Lessons from 2013′s Most Popular Tumblr Blogs [from Carrot & Stick; written by Kyle Psaty]
"If the content you share doesn't challenge the expectations of your market, then you're not differentiating yourself; you're simply marketing your industry."
What Made 2013′s Top Tumblr Ad Successful? [from Mobile Marketing Magazine; written by Alex Spencer]
You might be tempted to say the answer is "GIFs" but the deeper answer is understanding the platform.
Top 10 Influential Social Media Marketing Campaigns Of 2013 [from Business 2 Community; written by Eunice David]
'Tis the season for roundups– what were your picks for 2013?
Instagram the 10th-Largest US Smartphone App by Reach [from Marketing Charts; written by staff]
"Granted, the figures are for adult iOS and Android users only – but those 2 platforms combined represent more than 90% of the smartphone market. And when it comes to Instagram's position, including the younger audience would probably boost its reach figure, given its young user base."
Are Efforts to Recruit Women in Technology Sexist? [from Dame Magazine; written by Lisa Wirthman]
"Ultimately, Verou and Horvath share a similar sentiment. Says the latter, 'I don't just want to hire more badass women—I'm focused on keeping them.'"
Dame Steve Shirley, the World's First Freelance Programmer [from Brain Pickings; written by Maria Popova]
"Steve Shirley went on to become the world's first freelance programmer and founded the software company F.I. Group in 1962, one of the UK's earliest startups. It was a revolutionary company, writing software only — an outrageous proposition at the time. It was managed and operated by highly skilled female engineers ('We hired men. If they were good enough.'), who worked from home — also unthinkable amidst the era's gender biases and social norms. And yet they forged forward, forever changing the course of entrepreneurship and women in technology. When F.I. was eventually floated on the London Stock Exchange in 1996, it earned hundred of millions of pounds."
CODE2040′S Latest Mission: Make Tech Internships More Accessible to All [from Fast Company; written by Liam Matthews]
"The nonprofit places promising black and Latino STEM students at summer internships with companies including Facebook, Etsy, and Jawbone, among others. While the program has had success with the interns it's placed–90% of last summer's fellows received full-time job offers–one challenge has been that the interview skills of potential fellows didn't match their technical abilities."
It's Friday, so that means it's time for This Week in Social Analytics and our favorite posts of the past week in the world of measurement, analytics, and social media. See a great piece we missed? Link to it in the comments, or tell us about it on Twitter or Facebook.
Social Data Market Momentum: It's Not About the Firehose [from Thought Experiments; written by Susan Etlinger]
"But this market, as it's evolving, is not just a game of 'Capture the Firehose'; it's about taking this enormously complex, rich and challenging data set and turning it into insight that can be used to suggest trends that real people in real organizations can act on. It's not about the firehose; it's not even about the water. It's about the fires the water can put out, and the things it can cause to grow."
Nine Valuable Marketing Lessons From a Nonprofit – Charitywater.org [from KISSMetrics; written by Chloe Gray]
These lessons are equally applicable to for-profit businesses.
"Through a commitment to storytelling, beautiful design, broadcasting a unique value proposition, putting donors at the center of their strategy, and creating highly sharable content, the nonprofit has built a brand that incites the kind of loyalty, excitement, and inspiration most companies dream of."
How To Build The Perfect Tumblr Profile For Business [from MarketingThink; written by Gerry Moran]
"Tumblr needs to be considered for every brand's picture-perfect content marketing strategy in 2014. With native buying behavior focusing on the visual experience, brands need to be presenting their story at the multitude of customer touchpoints. This content consumption behavior demands that brands evolve into a curator and syndicator of their content assets on visual and graphical platforms like Tumblr, Instagram and Pinterest."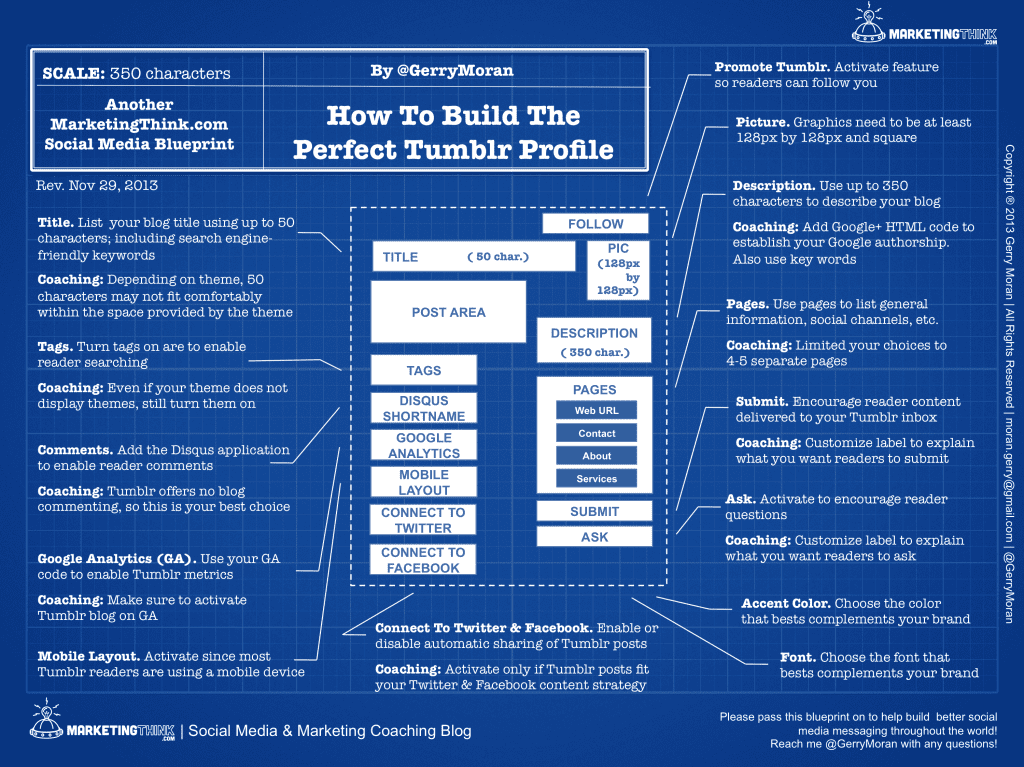 4 Creative Instagram Brand Campaigns [from Business 2 Community; written by Theo Schmidt]
Check out four of the most interesting uses of Instagram for brand campaigns.
(And you can find us here on Instagram, if you're so inclined.)
STUDY: It Only Takes 76 Seconds to Secure or Lose Brand Loyalty [from PR Newser; written by Elizabeth S. Mitchell]
"And assistance doesn't only need to be fast — it also needs to be direct and personal. The survey revealed that 69% of consumers are more likely to be loyal to a brand that provides live, human assistance at critical moments, and 82% say their perception of a brand improves when live chat is available."
Avoid a social crisis with one simple question [from Social Media Explorer; written by Tracey Parsons]
Before publishing something on a social account, say it out loud.
"In real time, the Out-Loud Voice litmus test it is a quick affirmation that could be the last check before something is posted online. And let's be honest, what you post on social as a brand is very much out loud even if it is only written word. And without a doubt, most branded social media gaffes could have been prevented with this test."
Social Business is not Dead: New charts and data reveal the real evolution of social businesses [from Brian Solis]
"Along the way, I've also learned that pushing for social adoption because of technology misses the point of change. The true catalyst isn't whatever the latest trend in social media is this week. That's reactive and almost impossible to leapfrog. The truth is that change is fueled by the affect that social media, mobile, and other forms of disruptive technologies have on customer behavior. Whether it's B2B, B2C, B2B2C, or whatever model you prefer, as long as we're talking about connected human beings, you can bet that social and digital in general are influencing discovery, decision-making, and impressions in every moment of truth."
5 Tips to Help Busy Small Business Owners Better Manage their Social Media [from Eli Rose; written by Liz Jostes]
". . .adjust your expectations to a level you can confidently maintain."
What Do You Get With A Social Media Audit? [Top Rank Online Marketing; written by Lee Odden]
"Ultimately, the results of a social media marketing audit should reconcile the difference between the current situation and where the brand social media efforts need to be. Just like the other online marketing audits companies will perform, a social media audit is not a "one and done" situation. They should be repeated periodically as part of being accountable for the social media investment."
B2B Experts: The Difference Between Social Media and Content Marketing [from Social Media B2B; written by Jeffrey L. Cohen]
"Your neighbor isn't going to talk to you about those darn teenagers and their content marketing. But there's plenty of discussion by businesses and citizens alike about social media."
What to Do When Your Twitter Handle is Taken But Isn't in Use [from Social Media Today; written by Deborah Sweeney]
Helpful guidelines for a 140-character crisis.
History Retweets: How Ancient Romans Created Social Media [from the Wall Street Journal; written by Tom Standage]
"Who invented social media? It wasn't the founders of Facebook, or Twitter, or even MySpace or Friendster. Social media—the exchange of media within networks of friends and acquaintances—is much older than the Internet. A social-media environment requires two things: a certain level of literacy, and the ability to copy and deliver information cheaply and quickly. This combination first arose in the late Roman republic of the 1st century BC, more than 2,000 years ago."
Emphasis added.
It's Friday- but a day-after-a-holiday Friday here in the US, so this week is short and sweet!- and that means it's time for This Week in Social Analytics and our favorite posts of the past week in the world of measurement, analytics, and social media. See a great piece we missed? Link to it in the comments, or tell us about it on Twitter or Facebook.
Three Ways to Break Through on Social Media [from The Wall Street Journal; written by Gary Vaynerchuk]
"Make something funny, or thoughtful, or provocative that nobody else is making (or, maybe more importantly, that is just better than what everybody else is making)."
Emphasis original.
What Marketing/Analytics Can Learn from Mythbusters [from Demystified; written by Tim Wilson]
"To be clear, the marketer (Jamie) is complicit here. He is the one who expects the analyst to simply dig into the data and 'find insights.' But, week in and week out, month in and month out, he gets the report, the report includes 'analysis' of the anomalies in the data and other scattershot true-but-not-immediately-relevant findings, but he doesn't get information that he can immediately and directly act on. (At which point we invoke Einstein's definition of insanity: "doing the same thing over and over again and expecting different results.')

'Insights' that are found this way, more often than not, have a perfectly logical and non-actionable explanation. This is what analysis becomes when the analyst is told to simply dig into the data and produce a monthly report with 'analysis and insights.'"
31 Ways To Thank Your Customers [via Heidi Cohen]
Not just for the Thanksgiving holiday.
20 Statistics That Will Drive 2014 Marketing Strategies | INFOGRAPHIC [from Social Media Today; written by Pam Dyer]
The year-in-review and prediction posts are starting to roll in; what are you expecting in 2014?
What Tumblr Taught Me About Writing [from Publishers Weekly; written by Tim Manley]
"The most important insight I gained by forgoing an M.F.A. program in favor of launching a Tumblr was learning that to be successful, I didn't need a particular degree, or any specific family background or life experience. I didn't have to apply to a writing program or have a friend who knew somebody. All I needed to do was make good content."
Marketers Remain Wary of 'Holiday Creep' Backlash [from eMarketer; written by staff]
"Respondents indicated that they did not suffer from Black Friday and Cyber Monday tunnel vision in planning their promotions. Half of those polled said they would spread most of their promotions across the holiday shopping season, while only 13% said they would focus the majority of them on Black Friday and the following weekend."
Also of note:
"The poll found that social media promotions, in particular, had grown substantially, increasing by 43% over the previous year."
It's Friday, so that means it's time for This Week in Social Analytics and our favorite posts of the past week in the world of measurement, analytics, and social media. See a great piece we missed? Link to it in the comments, or tell us about it on Twitter or Facebook.
The Complete Guide to Tumblr Etiquette [from Mashable; written by Sara Roncero-Menendez]
"Whether you want to maximize your Tumblr experience or just want to learn how to participate in activities on this popular social network, here's a complete guide to Tumblr etiquette."
While more of a guide for personal Tumblr use than for brands, it still has some helpful tips on how communities within Tumblr operate; valuable information to any brand that wants to understand and connect to their customers.
How Whole Foods Has Commandeered Tumblr [from Business 2 Community; written by Tree Treacy]
"Dark Rye has a website, but also hosts an analogous Tumblr blog. This is a smart move on the part of Whole Foods for a couple of reasons. The first, of course, is that having multiple venues for content is a great way to reach a wider audience. Tumblr users who may not otherwise be keeping up with Dark Rye are much more likely to follow the online magazine's blog more casually when it is on this blogging site."
Your Field Guide to What it Means When Someone Complains About Your Brand Online [via Mack Collier]
"But before you can respond appropriately, you need to properly assess who you are responding to!"
How To Generate B2B Leads With Content Marketing [from Marketing Land; written by Arnie Kuenn]
"There are numerous tactics that can be leveraged to generate B2B leads with content marketing. In fact, 28 percent of B2B marketers reported using between five and nine content marketing tactics to drive leads, while 64 percent reported using more than nine. As you can see from these statistics, a successful B2B content marketing strategy includes a variety of methods and there is no one-size-fits-all solution."
10 Surprising Social Media Statistics That Will Make You Rethink Your Social Strategy [from Fast Company; written by Belle Beth Cooper]
"1. THE FASTEST GROWING DEMOGRAPHIC ON TWITTER IS THE 55–64 YEAR AGE BRACKET.

This demographic has grown 79% since 2012.

The 45–54 year age bracket is the fastest growing demographic on both Facebook and Google+.

For Facebook, this group has jumped 46%.

For Google+, 56%."
India Leads Worldwide Social Networking Growth [eMarketer; written by staff]
"This year, eMarketer estimates, 1.61 billion people will log in to social networking sites at least monthly, from any electronic device. That's a 14.2% gain on social networker numbers from 2012, and double-digit growth is expected to continue for another year. By 2017, 2.33 billion people will use social networks."
5 forthcoming social media advances you should know about [from iMedia Connection; written by Elisabeth Crane]
"Developing Niche Platforms

Although sites like Google, LinkedIn, and Instagram are major platforms for social media in a bigger context, niche marketing has its place in social media. In fact, many of these niche platforms will be playing a role in specific interests and activities in daily life. Applications will be considered unique to the individual user, such as connecting DIY-saavy designers or those curious to start a new cause."
Which Social and Mobile Platforms Are Older Teens Using? [from Marketing Charts; written by staff]
If teens are leaving Facebook, where are they going? (Older teens aren't leaving, it seems.)
"Given all the fuss about teens leaving Facebook, GlobalWebIndex has taken a look at the most widely-used social platforms and mobile applications by 16-19-year-olds around the world. The global survey finds that Facebook remains the most commonly used social platform, with 56% of respondents claiming to have used it in the past month. Facebook's mobile app is next, at 43% of respondents, followed closely by YouTube's mobile app (39%) and site (35%). There are some surprises on the list."