Archive for the 'content marketing' tag
It's Friday, so that means it's time for This Week in Social Analytics and our favorite posts of the past week in the world of measurement, analytics, and social media. See a great piece we missed? Link to it in the comments, or tell us about it on Twitter or Facebook.
Social Data Market Momentum: It's Not About the Firehose [from Thought Experiments; written by Susan Etlinger]
"But this market, as it's evolving, is not just a game of 'Capture the Firehose'; it's about taking this enormously complex, rich and challenging data set and turning it into insight that can be used to suggest trends that real people in real organizations can act on. It's not about the firehose; it's not even about the water. It's about the fires the water can put out, and the things it can cause to grow."
Nine Valuable Marketing Lessons From a Nonprofit – Charitywater.org [from KISSMetrics; written by Chloe Gray]
These lessons are equally applicable to for-profit businesses.
"Through a commitment to storytelling, beautiful design, broadcasting a unique value proposition, putting donors at the center of their strategy, and creating highly sharable content, the nonprofit has built a brand that incites the kind of loyalty, excitement, and inspiration most companies dream of."
How To Build The Perfect Tumblr Profile For Business [from MarketingThink; written by Gerry Moran]
"Tumblr needs to be considered for every brand's picture-perfect content marketing strategy in 2014. With native buying behavior focusing on the visual experience, brands need to be presenting their story at the multitude of customer touchpoints. This content consumption behavior demands that brands evolve into a curator and syndicator of their content assets on visual and graphical platforms like Tumblr, Instagram and Pinterest."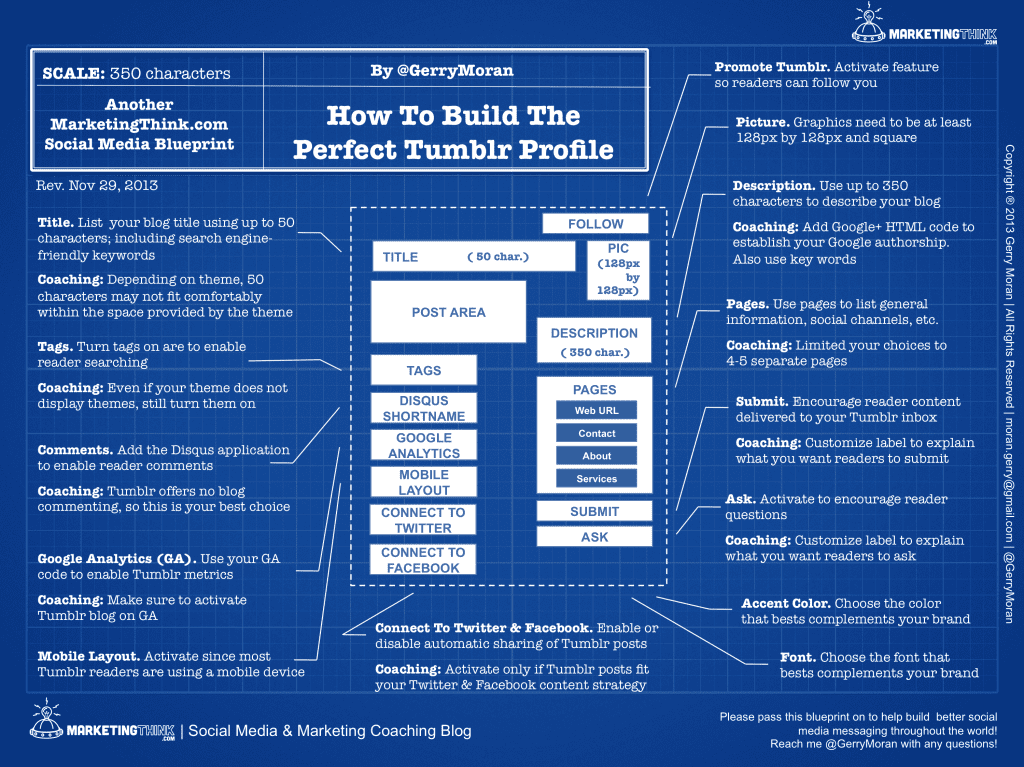 4 Creative Instagram Brand Campaigns [from Business 2 Community; written by Theo Schmidt]
Check out four of the most interesting uses of Instagram for brand campaigns.
(And you can find us here on Instagram, if you're so inclined.)
STUDY: It Only Takes 76 Seconds to Secure or Lose Brand Loyalty [from PR Newser; written by Elizabeth S. Mitchell]
"And assistance doesn't only need to be fast — it also needs to be direct and personal. The survey revealed that 69% of consumers are more likely to be loyal to a brand that provides live, human assistance at critical moments, and 82% say their perception of a brand improves when live chat is available."
Avoid a social crisis with one simple question [from Social Media Explorer; written by Tracey Parsons]
Before publishing something on a social account, say it out loud.
"In real time, the Out-Loud Voice litmus test it is a quick affirmation that could be the last check before something is posted online. And let's be honest, what you post on social as a brand is very much out loud even if it is only written word. And without a doubt, most branded social media gaffes could have been prevented with this test."
Social Business is not Dead: New charts and data reveal the real evolution of social businesses [from Brian Solis]
"Along the way, I've also learned that pushing for social adoption because of technology misses the point of change. The true catalyst isn't whatever the latest trend in social media is this week. That's reactive and almost impossible to leapfrog. The truth is that change is fueled by the affect that social media, mobile, and other forms of disruptive technologies have on customer behavior. Whether it's B2B, B2C, B2B2C, or whatever model you prefer, as long as we're talking about connected human beings, you can bet that social and digital in general are influencing discovery, decision-making, and impressions in every moment of truth."
5 Tips to Help Busy Small Business Owners Better Manage their Social Media [from Eli Rose; written by Liz Jostes]
". . .adjust your expectations to a level you can confidently maintain."
What Do You Get With A Social Media Audit? [Top Rank Online Marketing; written by Lee Odden]
"Ultimately, the results of a social media marketing audit should reconcile the difference between the current situation and where the brand social media efforts need to be. Just like the other online marketing audits companies will perform, a social media audit is not a "one and done" situation. They should be repeated periodically as part of being accountable for the social media investment."
B2B Experts: The Difference Between Social Media and Content Marketing [from Social Media B2B; written by Jeffrey L. Cohen]
"Your neighbor isn't going to talk to you about those darn teenagers and their content marketing. But there's plenty of discussion by businesses and citizens alike about social media."
What to Do When Your Twitter Handle is Taken But Isn't in Use [from Social Media Today; written by Deborah Sweeney]
Helpful guidelines for a 140-character crisis.
History Retweets: How Ancient Romans Created Social Media [from the Wall Street Journal; written by Tom Standage]
"Who invented social media? It wasn't the founders of Facebook, or Twitter, or even MySpace or Friendster. Social media—the exchange of media within networks of friends and acquaintances—is much older than the Internet. A social-media environment requires two things: a certain level of literacy, and the ability to copy and deliver information cheaply and quickly. This combination first arose in the late Roman republic of the 1st century BC, more than 2,000 years ago."
Emphasis added.
It's Friday, so that means it's time for This Week in Social Analytics and our favorite posts of the past week in the world of measurement, analytics, and social media. See a great piece we missed? Link to it in the comments, or tell us about it on Twitter or Facebook.
The Complete Guide to Tumblr Etiquette [from Mashable; written by Sara Roncero-Menendez]
"Whether you want to maximize your Tumblr experience or just want to learn how to participate in activities on this popular social network, here's a complete guide to Tumblr etiquette."
While more of a guide for personal Tumblr use than for brands, it still has some helpful tips on how communities within Tumblr operate; valuable information to any brand that wants to understand and connect to their customers.
How Whole Foods Has Commandeered Tumblr [from Business 2 Community; written by Tree Treacy]
"Dark Rye has a website, but also hosts an analogous Tumblr blog. This is a smart move on the part of Whole Foods for a couple of reasons. The first, of course, is that having multiple venues for content is a great way to reach a wider audience. Tumblr users who may not otherwise be keeping up with Dark Rye are much more likely to follow the online magazine's blog more casually when it is on this blogging site."
Your Field Guide to What it Means When Someone Complains About Your Brand Online [via Mack Collier]
"But before you can respond appropriately, you need to properly assess who you are responding to!"
How To Generate B2B Leads With Content Marketing [from Marketing Land; written by Arnie Kuenn]
"There are numerous tactics that can be leveraged to generate B2B leads with content marketing. In fact, 28 percent of B2B marketers reported using between five and nine content marketing tactics to drive leads, while 64 percent reported using more than nine. As you can see from these statistics, a successful B2B content marketing strategy includes a variety of methods and there is no one-size-fits-all solution."
10 Surprising Social Media Statistics That Will Make You Rethink Your Social Strategy [from Fast Company; written by Belle Beth Cooper]
"1. THE FASTEST GROWING DEMOGRAPHIC ON TWITTER IS THE 55–64 YEAR AGE BRACKET.

This demographic has grown 79% since 2012.

The 45–54 year age bracket is the fastest growing demographic on both Facebook and Google+.

For Facebook, this group has jumped 46%.

For Google+, 56%."
India Leads Worldwide Social Networking Growth [eMarketer; written by staff]
"This year, eMarketer estimates, 1.61 billion people will log in to social networking sites at least monthly, from any electronic device. That's a 14.2% gain on social networker numbers from 2012, and double-digit growth is expected to continue for another year. By 2017, 2.33 billion people will use social networks."
5 forthcoming social media advances you should know about [from iMedia Connection; written by Elisabeth Crane]
"Developing Niche Platforms

Although sites like Google, LinkedIn, and Instagram are major platforms for social media in a bigger context, niche marketing has its place in social media. In fact, many of these niche platforms will be playing a role in specific interests and activities in daily life. Applications will be considered unique to the individual user, such as connecting DIY-saavy designers or those curious to start a new cause."
Which Social and Mobile Platforms Are Older Teens Using? [from Marketing Charts; written by staff]
If teens are leaving Facebook, where are they going? (Older teens aren't leaving, it seems.)
"Given all the fuss about teens leaving Facebook, GlobalWebIndex has taken a look at the most widely-used social platforms and mobile applications by 16-19-year-olds around the world. The global survey finds that Facebook remains the most commonly used social platform, with 56% of respondents claiming to have used it in the past month. Facebook's mobile app is next, at 43% of respondents, followed closely by YouTube's mobile app (39%) and site (35%). There are some surprises on the list."
It's Friday, so that means it's time for This Week in Social Analytics and our favorite posts of the past week in the world of measurement, analytics, and social media. See a great piece we missed? Link to it in the comments!
7 social media lessons from the Grammys for organizers of other events [from CNET news; written by Sree Sreenivasan]
What the Grammys did well, and what they could do better.
Big Data And The Landfills Of The Digital Enterprise [from ReadWrite; written by Matt Asay]
It's okay not to have The Big Data Answer.
Marketing Analytics: 4 techniques to discuss with your data analysts [from Marketing Experiments Blog; written by Daniel Burstein]
"Recent research in the MarketingSherpa 2013 Marketing Analytics Benchmark Report indicates 48% of marketers are using analytics platforms to customize reports, but only 24% are creating and testing hypotheses."
How US Consumers Value Online Media [PDF from The Boston Consulting Group; authored by Jean-Manuel Izaret, John Rose, Neal Zuckerman & Paul Zwillenberg]
"U.S. consumers realize large and growing value from online media. In fact, they now derive more value from online media—net of the associated costs— than they receive from offline media, according to new research by The Boston Consulting Group. We call this measure of value 'consumer surplus' and, for online media, it amounts on average to approximately $970 per U.S. connected consumer, or online user, per year—or about 2.5 percent of the average annual income in the U.S.

The highest surplus ($311), accounting for about one-third of the online total, comes from UGC and social networks accessed through such platforms as Facebook and YouTube."
Great Social Media Requires a Bigger Trash Can [from Social Media Explorer; written by Nichole Kelly]
 "That's right, I said it. Twitter, Facebook, YouTube, LinkedIn, Vine or any other social media channel you are using will NOT generate success for your company. Ridiculously amazing content is what generates success."
26 Ways to Market Your Business With Tumblr [from Social Media Examiner; written by Debbie Hemley]
SME's post takes a look at 26 businesses with a presence on Tumblr and discusses the techniques they use on the platform, in addition to breaking down some of Tumblr's features and lexicon. (Of course, we disagree with the assertion that only visually based brands belong on Tumblr.)
Social Media, Take Note of the Echograph Acquisition [from Social Media Today; written by Ioannis Tsiokos]
Echograph: somewhere between Vine and the GIF?