Archive for the 'ces' tag
We took an early look at the #CES2014 tweets last week, and now we're back to give you the bigger picture of everything that happened in Vegas (it doesn't stay there if you put it on Twitter, and especially if you hashtag it).
From the lead up to the show- we started tracking on January 5th and the show officially began on the 7th- until it ended on January 10th, there were 457.2k tweets made by 163.8k contributors, reaching 170 million people. The first official day saw the biggest spike in tweets: 119.6k, beating out the previous day's just-under-100k. That's an average of just under 5k tweets an hour.
The most retweeted tweet was posted on the first day of CES, from PlayStation, and saw over 5k retweets and 141 replies:
4.2 million PS4s sold. Four. Point. Two. Million. #CES2014  pic.twitter.com/TXLA3FElQh

— PlayStation (@PlayStation) January 7, 2014
The rest of the most retweeted tweets were from other brands and an agency, with one or two independent reporters in the mix:
1. @intel
2. @cmithun (Campbell Mithun, agency)
3. @chippy (Chippy, tech writer)
4. @Windows
6. @byandreachang (Andrea Chang, tech writer)
7. @Logitech
8. @Audi
9. @WWE
10. @BMWi
This is a departure from the past, when CES was ruled by tech bloggers rather than brands. Since 2011, however, more brands have fully embraced social media and in-depth social strategy, joining the conversation that was already happening around them. Their increased presence in the conversation- especially their ability to direct it- shows the results this investment has brought. Brands aren't just responding to various levels of coverage from tech bloggers, they're creating, participating in, and growing the conversation themselves.
That is a powerful presence to have at the biggest consumer electronics show in the world.
This isn't just in terms of retweets either; the top contributors to the overall CES conversation also included brands:
1. Endgadget
2. Microsoft
3. Mashable
4. CNET
5. Intel
6. WSJ
7. YouTube
9. WWE
10. intlCES
That's four brands in the top ten contributors when three years ago there was only one. Based on this activity, influence from brands can only be expected to grow in the coming years.
Want help tracking tweets about your next conference or event? Let us know!
Speaking of events that happen this time of year, it's CES week in Las Vegas. (You may recall that we've analyzed CES tweets before.) We'll write more on this as the event continues over the next few days, but we wanted to check on what Twitter thinks about CES so far. Here's a quick rundown of early CES tweets.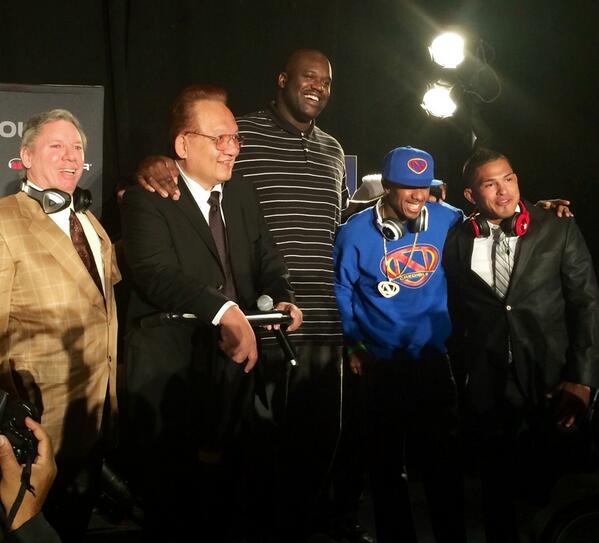 Most retweeted accounts:
Most buzzed about brands:
Intel
Samsung
Sony
Biggest celebrity endorsements:
@Shaq (Monster)
@NickCannon (Monster)
@LeVarBurton (AMD)
There were nearly 100,000 tweets using the official #CES2014 hashtag posted yesterday (January 6) and today – the first official full day of the conference – is on track to beat that. More CES updates throughout the week, so check back in later!
Want help tracking tweets about your next conference or event? Let us know!
"Marketers are definitely looking to other social networks beyond Facebook," said a spokesman for eMarketer to the Post, "not because Facebook is ineffective but because the digital audience is more fragmented than ever before."
"But I want to really discover. Maybe it gets better when you add friends, I think. Maybe then, like Spotify, you can peer into what other people are listening to. Otherwise, I'm probably going to end up playing 90′s rock, reminiscing, hoping for a grunge comeback."
"Facebook says Graph Search will make it easier for people to discover your Page and learn more about your business. Whether that will indeed be the case remains to be seen, but if you want to stay ahead of the game then you should take the new feature seriously."
"For marketers, though, this evolution of the Facebook ecosystem of utility means one thing: You should have been investing in social media marketing all along. Without a strong social presence, particularly on Facebook, your business is not going to have the requisite recommendations, referrals and content necessary to trip this new search mechanism. If you don't have much presence or traction there now, you'd better get some and fast."
"For perspective, Facebook itself has 37,037 combined Likes and comments per second, according to stats released by the company in August when you break down the daily average they reported at the time. Instagram's 9,500 similar actions per second definitely trail, but are nonetheless impressive given that Instagram is mobile-only and a much younger service."
"Among other findings, the study revealed that sociability of world's largest company CEOs has nearly doubled – from 36% in 2010 to 66% in 2012."
"In 2013 and beyond, social proof will gain in importance because customers are becoming more informed all the time."
Last week, we tracked tweets about CES, the Consumer Electronics Show, which ran from January 6 – January 9 in Las Vegas, Nevada. More than 140,000 people from around the world attended this enormous technology and electronics event.
And when we say enormous, we really do mean enormous. We used the TweetReach Tracker to monitor tweets for one week around CES (the two days leading up to the event, the four days of the event, and the day after the event). And during that week, we tracked:
443,290 tweets
from 136,738 contributors
generating 1,112,409,883 impressions
reaching 42,200,045 people
That's more than 1.1 billion impressions delivered to a potential unique audience of more than 42 million people. Nearly half a million tweets were posted about CES, from more than 135 thousand different Twitter accounts. That's pretty enormous.
The number of tweets about CES reached a high point on January 7, the second day of the event, resulting in more than 130,000 tweets posted that day.
During the main hours of the event on January 7 (from 8 a.m. to 7 p.m. PST), an average of 7,162 tweets were posted every hour, with a maximum of 8,429 between 10 a.m. and 11 a.m. During the four days of the trade show, an average of 3,700 tweets were posted every hour, with generally higher volumes in the afternoons.

We expected to see a lot of tweets from – and retweets of – major tech and electronics brands. And while there were definitely plenty of tweets about CES from accounts like @BlackBerry (and @BlackBerryHelp), @SamsungTweets, @kodakCB, and @Sony, most high-impact tweets came from other sources. The most influential contributors in this Tracker were mostly mainstream media outlets, tech blogs, and geeky celebrities, with only a couple tech companies making a big impact. Here's a list of the top 12 most influential contributors to the CES Tracker. These 12 accounts contributed the top 50 tweets by overall exposure (our impressions metric) and accounted for 148 million of those 1.1 billion total impressions.
This was definitely one of the biggest events we've ever tracked tweets about, especially in terms of overall impressions generated. We're curious what will top it. Maybe the Academy Awards? Guess we'll see next month.
PS – If you're interested in how we calculate reach, exposure and our metrics, we explain it all here. Also, we've been tracking tweets about the Verizon iPhone and wrote up an analysis of those tweets here. If you think this CES data is impressive, check out the iPhone data.