It's Friday, so that means it's time for This Week in Social Analytics and our favorite posts of the past week in the world of measurement, analytics, and social media. See a great piece we missed? Link to it in the comments, or tell us about it on Twitter or Facebook.
More than Half of Social Media Ads Spending Will Go to Native In-stream Ads [from Social Media Today; written by Aaron Elliott]
"A study conducted by BI Intelligence shows that among all social media sites, the ones that will find natural ads most valuable are the ones that focus on photo sharing, like Pinterest, Snapchat and Instagram."
6 Tips for Instagram Marketing Mastery [from Jeff Bullas]
"What might be the biggest hurdle for the more business-minded individual is the understanding that Instagram is not just about selling.  In fact, using your account as a megaphone to promote your product or service is a surefire way to lose followers and leave you feeling like you are shouting into a deserted room."
Brand Journalism: Breathe New Life into Old Content [from Spin Sucks; written by Gini Dietrich]
Relevant to this past Monday's #MMchat; a fantastic resource for digital marketers or anyone interested in marketing and social media
How to Mobilize Your Brand Advocates through Storytelling [from Mack Collier]
"The most powerful thing about organic advocacy is the story behind customer's experience. And because the endorsement is not paid for by the brand, and the story is something others can truly connect with, it becomes a great motivator in getting others to act on the endorsement. Advocacy, done right, becomes true influence. And influence is what impacts behaviors." 
Emphasis original.
Update from the FDA on Social Media Guidance [from Common Sense; written by Aaron Strout]
"It's been a long time coming, but it looks like the FDA is getting around to providing guidance to the healthcare industry around social media. Granted that realtime online conversations and the heavily regulated drug industry aren't the most obvious of bedfellows, but it's a reality and it's here to stay."
Cool or Uncool? Consumers Weigh in on Social Media Behavior [from Marketing Charts; written by staff]
"Brands ought to be wary of overstepping boundaries: two-thirds of respondents feel that a brand's use of their content on its social media site without permission is 'uncool.' Also uncool? Brands calling with automated personalized messages, according to 57% of respondents."
The Few, The Fervent: Fans Of 'Supernatural' Redefine TV Success [from NPR; written by Neda Ulaby]
"'Nielsen has done a lot of research as to whether social media is helping people to tune in to TV,' he says, noting that a show's traction on Twitter and Tumblr is starting to affect how networks pitch shows to the all-important advertisers. 'They're no longer just including Nielsen ratings. They're also including social TV data.'"
HBO Hedges on Social Media to Reach 'Challenging' Demographic [from Entrepreneur; written by Geoff Weiss]
"The HBO smash Girls, for instance, is making a full-court press in the digital sphere to hype its third season, which premiered last night. The network is prioritizing micro video apps like Snapchat and Vine over traditional advertising formats to galvanize its sizable digital audience."
With the holiday season just behind us, it's easy to forget that what is commonplace behavior now- bookmarking wanted items onto wishlists to share with friends and family, or using Twitter to give and receive product recommendations both spontaneous and prompted- were only just beginning to blossom five years ago.
The new year is the time most businesses write up their reviews of the past year and put together their predictions for what's coming next. These reflections and predictions don't have much weight without context, however, and that's what we aim to provide here: A brief history of social commerce that can hopefully shed more light on why everything that worked in 2013 did so, and give us a better foundation for looking ahead to 2014. As social platforms become more integrated into our lives, social commerce becomes something every company must address, if only from a support perspective.
Social Commerce in 2008
The term "social commerce" was actually first introduced on Yahoo in 2005, but it wasn't until three years later, in 2008, that it really began to build the foundations of what we recognize now as modern social commerce. 2008 was the year that expectations and suggestions around social media and e-commerce started to actually become business practices. However, the thinking was that social platforms were only good for increasing brand awareness and general marketing; the potential for revenue remained unrealized. Most companies thought of social ventures as a bonus activity, and not a requirement for success. (x)
2009
In 2009 as new technologies become ubiquitous- Twitter, smartphones- online and offline shopping begin to blend together more. Companies take notice of their customer's changing behavior and build communities for them to interact and share information in. (x)
An argument grows about what exactly social commerce is: A revolution from e-commerce, or an evolution of it? Others argue that social commerce is something that shoppers do together (social shopping) while e-commerce is businesses being in a social space together. (x) This debate will continue to evolve over the next several years, without a final clear answer (though currently e-commerce and social commerce seem to be used pretty interchangeably with the term social shopping being differentiated).
2010
2010 found social commerce really beginning to pick up steam around the world– however marked cultural differences become clear between those who turn to social outlets for shopping in order to save money, and those who come primarily for the fun, social aspect of it (x). An all-encompassing global strategy therefore isn't going to cut it; brands wanting to engage in social commerce will have to develop targeted, regional approaches.
Group buying endeavors like the aptly named Groupon hit their heyday in 2010, and Facebook begins to turn a real profit, getting skeptics seriously excited about the future possibilities with social commerce. Twitter users follow brands for deals and are often motivated to click through to a site where they can make a purchase, but a click-through doesn't guarantee a purchase and shopping cart abandonment is an issue. Consequently, this is also the year that stores work harder via social to retain customers and keep them coming back to the physical store to shop (x).
2011
Pinterest, launched in 2010, sees explosive growth in 2011. Its image-based design with easy click-throughs to sources makes it perfect for showcasing products.  Facebook gets its own term for social commerce on the platform: F-Commerce. Options range from built-in storefronts that lead off-site to make purchases, but that include varying levels of social engagement ("ask a friend" about a product, for example) to complete in-Facebook purchasing with companies like 1-800-Flowers. The future of F-commerce is uncertain, but seems promising if some kinks- like having to go off-site to complete purchases- can be ironed out.
Since 2011
A lot shifts as e-commerce picks up steam in conjunction with social platforms, from 2011 onward. F-commerce sees decline from clumsy design; big stores like Gap, Nordstrom and J.C. Penney close their Facebook shops. A few tweaks could revitalize F-commerce, however, since Facebook's core user group remains loyal and users still consult their social networks when shopping.
Pinterest continues to gain market share (possibly in part due to its long tail sales cycle), but may have a solid challenger in relative newcomer Polyvore, a social commerce site that allows users to build "sets" to express their style, then buy.  Other platforms- like photo sharing site Instagram and blogging site Tumblr- begin to experiment with advertising, which may eventually lead to e-commerce efforts. Google+ has potential too, from the sheer size of the user base and potential SEO benefits.
With the "Internet of Things" fast approaching on the horizon, 2014 looks to be the debut of things such as t-commerce, or buying H&M underwear via your smart TV during the Super Bowl. What about Twitter commerce; shouldn't that be t-commerce? In 2013, Twitter hires its first Head of Commerce to help enable shopping directly via its 140-character posts.
Overall, online retail is only expected to grow, with Forrester predicting sales of $370 billion by 2017. Increasing portions of the population use the mobile and tablet devices they use for social platforms to shop as well, which reinforces the idea of growing social commerce. It will be interesting to see how quickly being able to buy something directly from whatever platform- or object- you happen to be using becomes ubiquitous, and whether one platform or object will be able to rule the lion's share of the social commerce field.
So, with all of that, what are your predictions?
Note: The Evolution of Social Commerce: The People, Management, Technology, and Information Dimensions by Chingning Wang & Ping Zhang (pre-publication version)- was a tremendous help in forming the basis of this research, especially in the summaries of the years before 2010. Paragraphs and sentences built from its ideas have been marked and linked (x).
Join us for a short demo where we'll walk you through TweetReach Pro, our historical analytics and our snapshot reports. Demos usually take 15-20 minutes followed by an open Q&A session. At the end, attendees will receive a discount code that can be applied to a TweetReach Pro subscription.
The demo starts at 11am CT, tomorrow. You can register here.
And we promise it won't be like this:
We took an early look at the #CES2014 tweets last week, and now we're back to give you the bigger picture of everything that happened in Vegas (it doesn't stay there if you put it on Twitter, and especially if you hashtag it).
From the lead up to the show- we started tracking on January 5th and the show officially began on the 7th- until it ended on January 10th, there were 457.2k tweets made by 163.8k contributors, reaching 170 million people. The first official day saw the biggest spike in tweets: 119.6k, beating out the previous day's just-under-100k. That's an average of just under 5k tweets an hour.
The most retweeted tweet was posted on the first day of CES, from PlayStation, and saw over 5k retweets and 141 replies:
4.2 million PS4s sold. Four. Point. Two. Million. #CES2014  pic.twitter.com/TXLA3FElQh

— PlayStation (@PlayStation) January 7, 2014
The rest of the most retweeted tweets were from other brands and an agency, with one or two independent reporters in the mix:
1. @intel
2. @cmithun (Campbell Mithun, agency)
3. @chippy (Chippy, tech writer)
4. @Windows
6. @byandreachang (Andrea Chang, tech writer)
7. @Logitech
8. @Audi
9. @WWE
10. @BMWi
This is a departure from the past, when CES was ruled by tech bloggers rather than brands. Since 2011, however, more brands have fully embraced social media and in-depth social strategy, joining the conversation that was already happening around them. Their increased presence in the conversation- especially their ability to direct it- shows the results this investment has brought. Brands aren't just responding to various levels of coverage from tech bloggers, they're creating, participating in, and growing the conversation themselves.
That is a powerful presence to have at the biggest consumer electronics show in the world.
This isn't just in terms of retweets either; the top contributors to the overall CES conversation also included brands:
1. Endgadget
2. Microsoft
3. Mashable
4. CNET
5. Intel
6. WSJ
7. YouTube
9. WWE
10. intlCES
That's four brands in the top ten contributors when three years ago there was only one. Based on this activity, influence from brands can only be expected to grow in the coming years.
Want help tracking tweets about your next conference or event? Let us know!
The 71st Annual Golden Globes aired last night, and we were there as usual in conjunction with mhCarter Consulting and the Hollywood Foreign Press Association to help out on the red carpet and keep track of the social conversation. (Those of us at home did it with our shoes off and our beverage of choice in hand, just like Emma Thompson.)

During the 3-hour show there were 1.59 million tweets, and the awards predictions, red carpet fashion reviews, and general commentary brought the total up to 2.59 million over the course of the entire day. 875k Twitter users generated these tweets, reaching 296.4 million people overall– its biggest year on Twitter yet!
Actor Aaron Paul from Breaking Bad tweeted the most retweeted tweet of the night, with 30k retweets and 530 replies:
Breaking Bad for the win bitches!! Yeah Mr. White! Yeah science! #GoldenGlobes

— Aaron Paul (@aaronpaul_8) January 12, 2014
The most retweeted tweet from the official @GoldenGlobes Twitter account was a photo of actress Jennifer Lawrence on the red carpet, and it earned 3800 retweets and 550 replies:
It's Jennifer Lawrence on the @goldenglobes #redcarpet! pic.twitter.com/L6DxsOZ4XJ

— Golden Globe Awards (@goldenglobes) January 13, 2014
Further proof that the Internet still loves Our Lady JLaw (even at the moments when she's not sneaking up on Taylor Swift).
How does this compare to last year?
The 2013 Golden Globes saw 1.7 million tweets from 598.5k contributors, reaching 184.8 million people and earning 8.1 billion impressions.  This means tweets increased more than 1.5x this year over last year, with nearly 300k more contributors reaching over 100 million more people and doubling in total impressions.
We have to say, we're looking forward to what the 2015 Golden Globes bring us under the returning helm of hosts Tina Fey and Amy Poehler.
It's Friday, so that means it's time for This Week in Social Analytics and our favorite posts of the past week in the world of measurement, analytics, and social media. See a great piece we missed? Link to it in the comments, or tell us about it on Twitter or Facebook.
The end-of-year wrap-ups for 2013 and predictions for what's to come in 2014 are rolling in:
What Can 2013 Tell Us About Future Instagram Trends? [from Viral Blog; written by Rosie Scott]
This piece covers the trends on Instagram and highlight's the platform's high level of engagement– and what these things mean for the coming year.
Marketing Charts' Top 10 Charts of 2013 [from Marketing Charts; written by staff]
The first five charts deal with youth demographics; a fair indicator of what information marketers are interested in.
Which content marketing formats work best? [from eConsultancy; written by Graham Charlton]
A survey of content marketers asking what trends ruled the industry in 2013.
Social, Digital & Mobile in 2014 [from We Are Social; written by Simon Kemp]
Check out the whole, extensive deck or just the highlights they've pulled at the bottom of the post.
Social Media Marketing 2014: Where Your Audience Is [from Heidi Coehn]
Includes 5 actionable tips based on the research.
Have you come across any good wrap-up or prediction posts that we missed? Let us know!
Timeline of Instagram from 2010 to Present | INFOGRAPHIC [from Social Media Today; written by Irfan Ahmad]
"In fact, it had 1,000,000 accounts in just 2 months after its launch. After launching the Videos in June 2013, introducing Instagram Direct Message and with the power of 150 million monthly active users the social network may have established a destiny for itself that will last for many years to come."
User Demographic Highlights From 5 Major – and Growing – Social Networks [from Marketing Charts; written by staff]
"The latest social networking survey [pdf] from the Pew Research Center's Internet & American Life Project provides some insights into which online adults are most drawn to 5 key platforms – Facebook, LinkedIn, Pinterest, Twitter, and Instagram – each of which has grown in penetration over the past year. The results are both intuitive (Pinterest adoption is higher among women) and intriguing (the strong appeal of Instagram and Twitter to black Americans)."
The 6 Most Important Ways To Generate And Use Social Proof To Increase Online Sales [from Social Media Today; written by Steve Olenski]
"Basically if someone else has done it or used it and talked about it online, that's social proof. As a B2B or B2C company, how do you go about getting people to talk about you or your product? And more importantly what do you do with that social proof once you get it?"
There has been plenty of coverage around Monday night's BCS Championship Game between Florida State and Auburn; everything from fan to brand reactions on Twitter. On the surface these tweets strike as funny, impassioned, angry, or incredulous– not unexpected reactions when it comes to something fans connect with as deeply as their favorite sports teams. Looking at how people talk about sports on social media like Twitter can tell us more than just which team they're a fan of, however; it gives us insight into their actions and behaviors. And if you know what it is that a fan is doing with their spare time, then you have a better idea of how to approach them, and talk to them. For brands this is invaluable. As for fans, they get the chance of an individualized approach to putting things in front of them that they'll want to connect with.
The Action: A favorite game gets rewatched like a favorite movie.
I will never ever delete the #BCSChampionship game off of my DVR. EVER.

— Melina Vastola (@melinasphotos) January 8, 2014
Rewatching the #BCSChampionship game and I just got mad at Jalen Ramsey all over again for missing that tackle on Mason

— Rod Williams (@Rodistotle) January 8, 2014
The Implication.
What's the point in rewatching a sports game you already know the outcome of? It's not that different from rewatching a favorite movie or television show, really: while you already know what's going to happen, now you can watch to see how it happens, and gain a deeper understanding of the thing that you love. While you're likely experiencing the same emotions of elation at a great play or sadness in a defeat, it's also likely not as strong as when you watched the game live. It's easier to spot a certain player's motivations, or how a play completely unraveled, because you're not sitting on the edge of your seat with your teeth clenched, or screaming at the ref.
For brands whose demographic includes sports fans, this is helpful information. People who save a game to rewatch it are exhibiting behavior that's planned, thoughtful, and deeply engaging– and that's the kind of approach any brand wanting to build a relationship with them should take when reaching out to them. That fan behavior shows the kind of loyalty companies are lucky to find in a customer. Reach out the right way, with understanding, and you stand to be rewarded.
The Action: Not holding back feelings about a new way to watch the game.
ESPN debuted their Megacast for the BCS Championship, and like all things on the Internet viewers were not shy about sharing their feelings.
I really have grown to dislike ESPN over the years but the BCS Championship Game megacast cast was brilliant #Megacast #BCSChampionship

— Nathan Winder (@nAtr0nBomB) January 7, 2014
Wait, I just discovered the #MegaCast on ESPN2. restart the game! #BCSChampionship

— BrockKoller (@BrockK) January 7, 2014
So, I tried the #MegaCast. Not working for me. Just give me the football. No…not literally. #BCSChampionship

— Pigskin 'N Pearls™ (@PigskinNPearls) January 7, 2014
The implication.
Sometimes it's the simplest lessons that bear repeating: Listen to your audience. Obviously ESPN will never be able to make every single sports fan happy with a magical coverage design, but they can find ways to tweak their Megacast for future games by paying attention to the things their watchers are saying about it. This is also an opportunity to shine a spotlight on certain fans; if you incorporate their idea, highlight the tweet they shared it in on a future broadcast and say thank you. Nothing could spell out clearer that you do care what viewers have to say.
And some of their ideas are pretty entertaining.
New #MegaCast idea: Find the guy who bet the most on the game (legally) and put a camera on him. #BCSChampionship

— Michael T (@STLMetsFan5) January 7, 2014
Speaking of events that happen this time of year, it's CES week in Las Vegas. (You may recall that we've analyzed CES tweets before.) We'll write more on this as the event continues over the next few days, but we wanted to check on what Twitter thinks about CES so far. Here's a quick rundown of early CES tweets.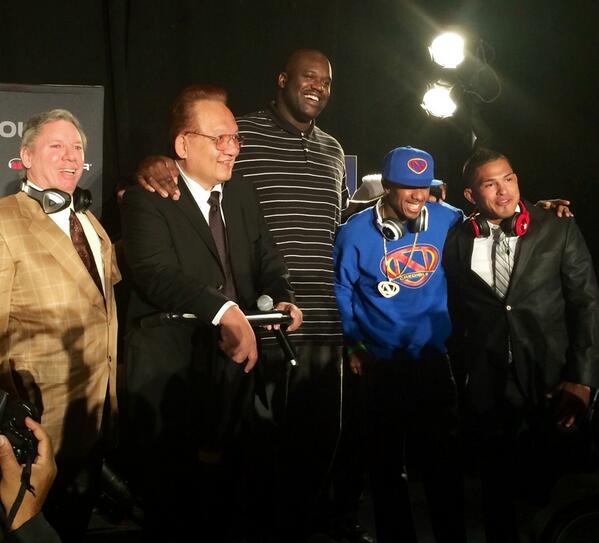 Most retweeted accounts:
Most buzzed about brands:
Intel
Samsung
Sony
Biggest celebrity endorsements:
@Shaq (Monster)
@NickCannon (Monster)
@LeVarBurton (AMD)
There were nearly 100,000 tweets using the official #CES2014 hashtag posted yesterday (January 6) and today – the first official full day of the conference – is on track to beat that. More CES updates throughout the week, so check back in later!
Want help tracking tweets about your next conference or event? Let us know!
It's that time of year again – awards season! The 71st Golden Globe Awards are this Sunday, and as usual, we'll be there to track the social media conversation around the event and help out on the #redcarpet.
So, we were wondering… In the days leading up to the first major awards show in Hollywood this season, which movies, TV shows and actors are Twitter and Tumblr buzzing about?

Well, Tumblr can't get enough of Amy Poehler and Tina Fey, who are coming back for a second year as hosts of the show. Most of the top posts about the Golden Globes right now are GIFs of the comedic duo, taken mostly from the commercials for the upcoming broadcast (like this one from gillianjacobs).
After Tina and Amy, Twitter and Tumblr are both excited about Tatiana Maslany from BBC America's Orphan Black and Jennifer Lawrence - or JLaw, if you prefer, which we do – from American Hustle. And there's a lot of talk about Jared Leto from Dallas Buyers Club, Leonardo DiCaprio from The Wolf of Wall Street, and Bradley Cooper from American Hustle.
As far as movies and shows go, Tumblr's favorite films right now are American Hustle, 12 Years a Slave, and Dallas Buyers Club. Twitter also loves Catching Fire, partly because Taylor Swift's song from the film was nominated. And Orphan Black is wildly popular on both networks. Breaking Bad and Scandal are getting some attention on Twitter, while American Horror Story is popular on Tumblr.
Want to follow along with the conversation this week? Find @GoldenGlobes on Twitter and on Instagram, and participate in the conversation with the #GoldenGlobes tag. And stay tuned here, as we'll update with more social data about the show next week!
It's Friday, so that means it's time for This Week in Social Analytics and our favorite posts of the past week in the world of measurement, analytics, and social media. See a great piece we missed? Link to it in the comments, or tell us about it on Twitter or Facebook.
Five Social Media Measurement Questions I Hope (NOT) To See in 2014 [from Metrics Man; written by Don Bartholomew]
"'I don't measure 'social media', I measure what you are trying to accomplish with social media'. . .the distinction is very important. Measurement is fundamentally about performance against objectives. So, we measure our performance against the objectives established in the social media plan. A lot of what passes for measurement in social media is really data collection – tracking Followers or Likes, blog traffic or consumer engagement on Facebook. Unless you have measurable objectives and targets in each of these areas, you are collecting data not measuring. What do you want to happen as a result of your social media campaign or initiative? Measure that."
Social Media Update 2013 [from Pew Internet; written by Maeve Duggan & Aaron Smith]
"Some 73% of online adults now use a social networking site of some kind. Facebook is the dominant social networking platform in the number of users, but a striking number of users are now diversifying onto other platforms. Some 42% of online adults now use multiple social networking sites. In addition, Instagram users are nearly as likely as Facebook users to check in to the site on a daily basis."
3 Social Media Trends You Should Know About [from Mashable; written by Alex Honeysett]
"If you haven't mastered Vine or Instagram's video feature yet, now is the time to get comfortable. If the prediction is correct, making compelling short videos will be as important as writing in 140 characters. The earlier you can master the trend, the better."
2014 Marketing Measurement Predictions [from Social Media Explorer; written by Nichole Kelly]
"This is a fundamental shift in how we've thought about measuring marketing for decades. It's not about the campaign, it's not about the channel, it's not about the content, it's about how all of those efforts combined to create revenue."
Anatomy of a Tumblr [from Medium; written by Daniel Dalton]
"8 Tips for making a successful Tumblr:

1. Do one thing. Do it well. Be consistent. Find your niche and own it.
2. Think different. There are millions of blogs. Find a way to be unique.
3. Make it visual. 60% of shares on Tumblr are images. Show, don't tell.
4. Get good help. If you can't write or design, find someone who can.
5. Be a part of the community. Ask for suggestions, take requests. Listen.
6. Fail hard. This isn't my first dance at the Tumblr party. It's trial & error.
7. Be excellent to each other. Seriously. This.
8. Tumblr. Because Tumblr."
Emphasis original.
A Nice Collection of B2B Marketing Stats and Videos [from Paul Gillin]
"Here's its latest collection of recent trends and statistics: This is the year that was in B2B Marketing crunched. Be sure to check out the links to some of the year's best B2B videos on slide 37."