It's Friday, so that means it's time for This Week in Social Analytics and our favorite posts of the past week in the world of measurement, analytics, and social media. See a great piece we missed? Link to it in the comments, or tell us about it on Twitter or Facebook.
More Than 70% Of Under 35s Research, Post And Talk About Brands On Social Media | Study [from All Twitter; written by Shea Bennett]
"More than seven out of ten millennials (internet users aged between 15 and 34, aka Generation Y) consult, react to or post about products and brands on social media, with almost two-thirds saying that positive – and negative – experiences shared by others impact their purchase decisions."
Click through for full infographic.
Digital Marketing And Analytics: Two Ladders For Magnificent Success [from Occam's Razor; written by Avinash Kaushik]
"The world's greatest social media strategy: 1. Entertain Me 2. Inform Me. 3. Provide Utility. Nothing else works."
12 Tips for Holiday Instagram Marketing: Last-Minute Instagram Tips [from Social Media Today; written by Krista Bunskoek]
Tip 5: Cross-promote Contests with Videos. Pair with B2B Marketers Use Stories for Successful Digital Video, from eMarketer:
"B2B marketers are investing in video marketing because, like most internet users, B2B clients and prospects are devoting more time to watching digital video. Businesspeople are drawn to B2B video for pretty much the same reason consumers watch video—it's entertaining."
The 5 Best Instagram Ads [from Social Media Today; written by Alan Cassinelli]
Ben & Jerry's: so good, they made the list twice.
5 Content Marketing Lessons from 2013′s Most Popular Tumblr Blogs [from Carrot & Stick; written by Kyle Psaty]
"If the content you share doesn't challenge the expectations of your market, then you're not differentiating yourself; you're simply marketing your industry."
What Made 2013′s Top Tumblr Ad Successful? [from Mobile Marketing Magazine; written by Alex Spencer]
You might be tempted to say the answer is "GIFs" but the deeper answer is understanding the platform.
Top 10 Influential Social Media Marketing Campaigns Of 2013 [from Business 2 Community; written by Eunice David]
'Tis the season for roundups– what were your picks for 2013?
Instagram the 10th-Largest US Smartphone App by Reach [from Marketing Charts; written by staff]
"Granted, the figures are for adult iOS and Android users only – but those 2 platforms combined represent more than 90% of the smartphone market. And when it comes to Instagram's position, including the younger audience would probably boost its reach figure, given its young user base."
Are Efforts to Recruit Women in Technology Sexist? [from Dame Magazine; written by Lisa Wirthman]
"Ultimately, Verou and Horvath share a similar sentiment. Says the latter, 'I don't just want to hire more badass women—I'm focused on keeping them.'"
Dame Steve Shirley, the World's First Freelance Programmer [from Brain Pickings; written by Maria Popova]
"Steve Shirley went on to become the world's first freelance programmer and founded the software company F.I. Group in 1962, one of the UK's earliest startups. It was a revolutionary company, writing software only — an outrageous proposition at the time. It was managed and operated by highly skilled female engineers ('We hired men. If they were good enough.'), who worked from home — also unthinkable amidst the era's gender biases and social norms. And yet they forged forward, forever changing the course of entrepreneurship and women in technology. When F.I. was eventually floated on the London Stock Exchange in 1996, it earned hundred of millions of pounds."
CODE2040′S Latest Mission: Make Tech Internships More Accessible to All [from Fast Company; written by Liam Matthews]
"The nonprofit places promising black and Latino STEM students at summer internships with companies including Facebook, Etsy, and Jawbone, among others. While the program has had success with the interns it's placed–90% of last summer's fellows received full-time job offers–one challenge has been that the interview skills of potential fellows didn't match their technical abilities."
When you're setting up a Tracker in your Pro account we want to make sure you get the best results possible. One thing that can be tricky is words with accent marks, such as crêpe, doppelgänger, or crème brûlée. Twitter treats accented letters as completely different letters from their unaccented counterparts. If you are searching for a hashtag or keyword that's accented, it's best to set up your Tracker terms to include both the accented and un-accented spelling (but only in Trackers; snapshot reports will return both results regardless of which you search and you can see an example of one at the end of this post), like this:
For more specific results, there are two ways to filter by language in a Tracker to help capture more relevant tweets. For example, let's say you're tracking crêpe as the keyword for a contest for a French company, but you think some English speakers participating might leave off the accent marks. You can select the Universal language filters to only return results in French, like this:
Or you can set it up to return accented results in French and non-accented results in English by putting a separate language filter at the end of each query line, like this:
If you're keeping it simple just to get an idea of the conversation around crêpes, a snapshot report would look like this.
Are you new to TweetReach or want to learn more about our products? 
First, run a free snapshot report about your Twitter account, hashtag, keywords or URL on tweetreach.com. If you have any questions about our metrics, read this.
Second, if you'd like to set up ongoing monitoring for any Twitter account or keyword-based topic, check ourTweetReach Pro. Starting at just $84 per month, it's a great and affordable way to start tracking and analyzing your tweets in real time. Contact our sales team if you have any questions at all.
Hashtags are a delightful, double-edged sword. On one hand, they enable you to organize your tweets so they can be found by others interested in the same type of content. On the other hand, they can be hijacked by those looking to capitalize on the popularity of particular hashtag. With that in mind, you'll want to go through a checklist of several hashtag best practices to get the most out of using them without wasting a good tweet on a bad hashtag.
Create your hashtag
Keep it short, relevant, and simple. If you use a really long hashtag, people won't have as much room to add their thoughts. For example: #MMchat stands for #MarketingMondays (a Twitter chat*), but the full version is too long to use in an interactive Twitter event. You want attendees to be able to add as much as possible to the conversation.
Test your hashtag
Once you've come up with a snappy hashtag, you need to find out: Is it already being used? Is this particular hashtag routinely spammed by random, unrelated accounts? (If you're using a general hashtag to increase reach on a post- which we cover in the next section- you'll want to avoid hashtags that get spammed by unrelated accounts.) Do a quick search on Twitter to see if a hashtag is already being used and, if so, how. For example, searching #socialchat turns up that it's already a popular hashtag in use for a tweet chat which means you'd want to pick something different for your chat or event. The general hashtag #socialmedia is fast moving and full of information, but also routinely gets spammed. You might test out using it, but know that it's easy for your post to get lost in the flow of information.
For a more detailed look at how to maximize your hashtag use for both tweet chats (similar to Twitter parties, but reoccurring) and events such as conferences, you might want to check out these other posts:
16 ways to use Twitter to improve your next conference
7 tips to maximize your conference attendance using Twitter
Miss a conference? 5 tips for getting the most out of the hashtag on Twitter
The key to a successful Twitter party? Planning ahead.
9 tips for getting the most out of Twitter chats: As a host
10 tips for getting the most out of Twitter chats: As a participant
Get more out of a hashtag
You can extend the reach of a post by using more popular and general hashtags– in moderation. For example: If you're talking about analytics, #measure and #msure are great hashtags to use in order to expose your post to a larger audience of people interested in data measurement. We don't recommend using more than three hashtags in the majority of your tweets, however; too many hashtags look spammy.
Searching broader hashtags related to your industry will also help you find interesting content to learn from and share on your own accounts, in addition to surfacing interesting influencers to follow.
Hashtags are also a great way to find people who share similar interests to you outside of work, particularly with the rise of social television:
9 tips for watching TV on Twitter
Track your hashtag: Includes TweetReach-specific tips
You can track hashtags using our tools- either to get an idea of a conversation in a snapshot report (free, or a $20 full report) or monitor an ongoing conversation in a TweetReach Pro Tracker. Why would you want to do this? Hashtags can give you a great idea of the conversation around specific topics or events that are affecting the general population– or you in particular, if it's a campaign hashtag you want to know the reach and results of.
How do you make sure you're getting all the information you need? Check out:
What to do when your campaign hashtag gets hijacked on Twitter
In conclusion
Have a hashtag question we didn't address? Leave it in the comments, or find us on Twitter. Happy hashtagging!
*Twitter chats, or tweet chats, are reoccurring virtual events where people meet to discuss various topics using a hashtag to connect the conversation. They're a great way to network, and increase or share your knowledge on a topic. 
It's Friday, so that means it's time for This Week in Social Analytics and our favorite posts of the past week in the world of measurement, analytics, and social media. See a great piece we missed? Link to it in the comments, or tell us about it on Twitter or Facebook.
Social Data Market Momentum: It's Not About the Firehose [from Thought Experiments; written by Susan Etlinger]
"But this market, as it's evolving, is not just a game of 'Capture the Firehose'; it's about taking this enormously complex, rich and challenging data set and turning it into insight that can be used to suggest trends that real people in real organizations can act on. It's not about the firehose; it's not even about the water. It's about the fires the water can put out, and the things it can cause to grow."
Nine Valuable Marketing Lessons From a Nonprofit – Charitywater.org [from KISSMetrics; written by Chloe Gray]
These lessons are equally applicable to for-profit businesses.
"Through a commitment to storytelling, beautiful design, broadcasting a unique value proposition, putting donors at the center of their strategy, and creating highly sharable content, the nonprofit has built a brand that incites the kind of loyalty, excitement, and inspiration most companies dream of."
How To Build The Perfect Tumblr Profile For Business [from MarketingThink; written by Gerry Moran]
"Tumblr needs to be considered for every brand's picture-perfect content marketing strategy in 2014. With native buying behavior focusing on the visual experience, brands need to be presenting their story at the multitude of customer touchpoints. This content consumption behavior demands that brands evolve into a curator and syndicator of their content assets on visual and graphical platforms like Tumblr, Instagram and Pinterest."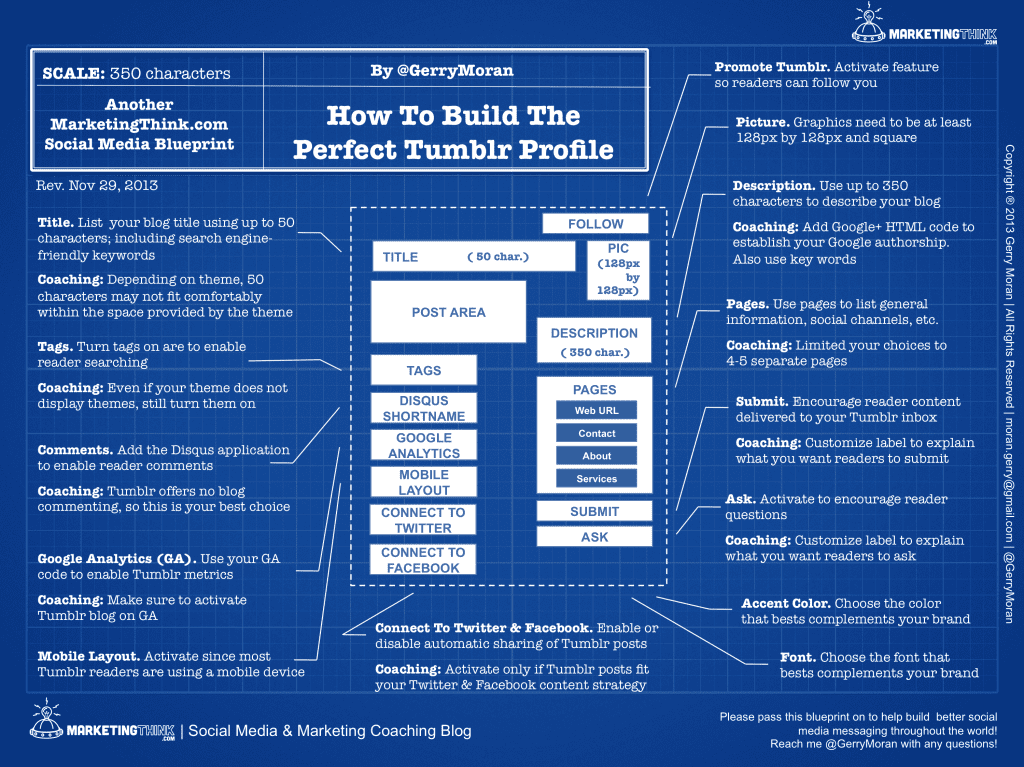 4 Creative Instagram Brand Campaigns [from Business 2 Community; written by Theo Schmidt]
Check out four of the most interesting uses of Instagram for brand campaigns.
(And you can find us here on Instagram, if you're so inclined.)
STUDY: It Only Takes 76 Seconds to Secure or Lose Brand Loyalty [from PR Newser; written by Elizabeth S. Mitchell]
"And assistance doesn't only need to be fast — it also needs to be direct and personal. The survey revealed that 69% of consumers are more likely to be loyal to a brand that provides live, human assistance at critical moments, and 82% say their perception of a brand improves when live chat is available."
Avoid a social crisis with one simple question [from Social Media Explorer; written by Tracey Parsons]
Before publishing something on a social account, say it out loud.
"In real time, the Out-Loud Voice litmus test it is a quick affirmation that could be the last check before something is posted online. And let's be honest, what you post on social as a brand is very much out loud even if it is only written word. And without a doubt, most branded social media gaffes could have been prevented with this test."
Social Business is not Dead: New charts and data reveal the real evolution of social businesses [from Brian Solis]
"Along the way, I've also learned that pushing for social adoption because of technology misses the point of change. The true catalyst isn't whatever the latest trend in social media is this week. That's reactive and almost impossible to leapfrog. The truth is that change is fueled by the affect that social media, mobile, and other forms of disruptive technologies have on customer behavior. Whether it's B2B, B2C, B2B2C, or whatever model you prefer, as long as we're talking about connected human beings, you can bet that social and digital in general are influencing discovery, decision-making, and impressions in every moment of truth."
5 Tips to Help Busy Small Business Owners Better Manage their Social Media [from Eli Rose; written by Liz Jostes]
". . .adjust your expectations to a level you can confidently maintain."
What Do You Get With A Social Media Audit? [Top Rank Online Marketing; written by Lee Odden]
"Ultimately, the results of a social media marketing audit should reconcile the difference between the current situation and where the brand social media efforts need to be. Just like the other online marketing audits companies will perform, a social media audit is not a "one and done" situation. They should be repeated periodically as part of being accountable for the social media investment."
B2B Experts: The Difference Between Social Media and Content Marketing [from Social Media B2B; written by Jeffrey L. Cohen]
"Your neighbor isn't going to talk to you about those darn teenagers and their content marketing. But there's plenty of discussion by businesses and citizens alike about social media."
What to Do When Your Twitter Handle is Taken But Isn't in Use [from Social Media Today; written by Deborah Sweeney]
Helpful guidelines for a 140-character crisis.
History Retweets: How Ancient Romans Created Social Media [from the Wall Street Journal; written by Tom Standage]
"Who invented social media? It wasn't the founders of Facebook, or Twitter, or even MySpace or Friendster. Social media—the exchange of media within networks of friends and acquaintances—is much older than the Internet. A social-media environment requires two things: a certain level of literacy, and the ability to copy and deliver information cheaply and quickly. This combination first arose in the late Roman republic of the 1st century BC, more than 2,000 years ago."
Emphasis added.
You don't have to go Pro to save your TweetReach snapshot reports. As long as you've registered for a free TweetReach account - and you're logged in! – you can save every report you run for future access in your My Reports archive. That applies to both free, 50-tweet snapshots, as well as full, $20 snapshots.  Just be sure to log in to your account before you run your next snapshot report.
And whenever you purchase  a full snapshot report, you'll still receive an email copy and a receipt. If you happen to purchase a report while you were logged out, just send us an email and we'll be happy to move it into your account.
Are you new to TweetReach or want to learn more about our products? 
First, run a free snapshot report about your Twitter account, hashtag, keywords or URL on tweetreach.com. If you have any questions about our metrics, read this.
Second, if you'd like to set up ongoing monitoring for any Twitter account or keyword-based topic, check our TweetReach Pro. Starting at just $84 per month, it's a great and affordable way to start tracking and analyzing your tweets in real time. Contact our sales team if you have any questions at all.
It's Friday- but a day-after-a-holiday Friday here in the US, so this week is short and sweet!- and that means it's time for This Week in Social Analytics and our favorite posts of the past week in the world of measurement, analytics, and social media. See a great piece we missed? Link to it in the comments, or tell us about it on Twitter or Facebook.
Three Ways to Break Through on Social Media [from The Wall Street Journal; written by Gary Vaynerchuk]
"Make something funny, or thoughtful, or provocative that nobody else is making (or, maybe more importantly, that is just better than what everybody else is making)."
Emphasis original.
What Marketing/Analytics Can Learn from Mythbusters [from Demystified; written by Tim Wilson]
"To be clear, the marketer (Jamie) is complicit here. He is the one who expects the analyst to simply dig into the data and 'find insights.' But, week in and week out, month in and month out, he gets the report, the report includes 'analysis' of the anomalies in the data and other scattershot true-but-not-immediately-relevant findings, but he doesn't get information that he can immediately and directly act on. (At which point we invoke Einstein's definition of insanity: "doing the same thing over and over again and expecting different results.')

'Insights' that are found this way, more often than not, have a perfectly logical and non-actionable explanation. This is what analysis becomes when the analyst is told to simply dig into the data and produce a monthly report with 'analysis and insights.'"
31 Ways To Thank Your Customers [via Heidi Cohen]
Not just for the Thanksgiving holiday.
20 Statistics That Will Drive 2014 Marketing Strategies | INFOGRAPHIC [from Social Media Today; written by Pam Dyer]
The year-in-review and prediction posts are starting to roll in; what are you expecting in 2014?
What Tumblr Taught Me About Writing [from Publishers Weekly; written by Tim Manley]
"The most important insight I gained by forgoing an M.F.A. program in favor of launching a Tumblr was learning that to be successful, I didn't need a particular degree, or any specific family background or life experience. I didn't have to apply to a writing program or have a friend who knew somebody. All I needed to do was make good content."
Marketers Remain Wary of 'Holiday Creep' Backlash [from eMarketer; written by staff]
"Respondents indicated that they did not suffer from Black Friday and Cyber Monday tunnel vision in planning their promotions. Half of those polled said they would spread most of their promotions across the holiday shopping season, while only 13% said they would focus the majority of them on Black Friday and the following weekend."
Also of note:
"The poll found that social media promotions, in particular, had grown substantially, increasing by 43% over the previous year."
The Union Metrics support team will be around to answer all of your questions throughout the Thanksgiving holiday. However, please allow us a little extra time to return your calls and emails on Thursday, November 28 and Friday, November 29, as we're likely to be stuffing our faces with turkey and cranberry sauce (or sleeping off our resulting food comas).
During this time, we will return all urgent requests as soon as possible and non-urgent requests within 24 hours. As always, you can get in touch with us in many ways, but email is the best way to reach us over the holiday (aren't smartphones great?).
Happy Thanksgiving!
If you buy one of our full snapshot reports (up to 1500 tweets, posted up to one week ago), then we'll send you an email with your snapshot report, as well as a receipt for your purchase.
In that report email, you'll have links to access your report and receipt online, download a PDF, export a CSV file and find our support contact information. Here's an example of that email:
So, when you order your report, don't lose this email! It has your receipt and report info, in case you need it later. But if you do lose the email, call or email us and we'll be happy to send you another copy!
As we like to do every year around this time, we're checking into what Twitter is saying about holiday shopping, particularly around Black Friday. This past weekend- a full week before Black Friday officially starts- things were starting to really accelerate on Twitter, with an average of about 5,000 tweets an hour posted about Black Friday over the past two days. And so far this month, 780k people have posted 1.3 million tweets about the biggest shopping weekend of the year.
Which upcoming Black Friday sales was Twitter most excited about over the weekend? Amazon was the most talked about sale, with Walmart a close second. And so far, the product topping everyone's wish list is the Xbox One.
We're tracking all Black Friday tweets this week, so we'll keep you posted!
It's Friday, so that means it's time for This Week in Social Analytics and our favorite posts of the past week in the world of measurement, analytics, and social media. See a great piece we missed? Link to it in the comments, or tell us about it on Twitter or Facebook.
The Complete Guide to Tumblr Etiquette [from Mashable; written by Sara Roncero-Menendez]
"Whether you want to maximize your Tumblr experience or just want to learn how to participate in activities on this popular social network, here's a complete guide to Tumblr etiquette."
While more of a guide for personal Tumblr use than for brands, it still has some helpful tips on how communities within Tumblr operate; valuable information to any brand that wants to understand and connect to their customers.
How Whole Foods Has Commandeered Tumblr [from Business 2 Community; written by Tree Treacy]
"Dark Rye has a website, but also hosts an analogous Tumblr blog. This is a smart move on the part of Whole Foods for a couple of reasons. The first, of course, is that having multiple venues for content is a great way to reach a wider audience. Tumblr users who may not otherwise be keeping up with Dark Rye are much more likely to follow the online magazine's blog more casually when it is on this blogging site."
Your Field Guide to What it Means When Someone Complains About Your Brand Online [via Mack Collier]
"But before you can respond appropriately, you need to properly assess who you are responding to!"
How To Generate B2B Leads With Content Marketing [from Marketing Land; written by Arnie Kuenn]
"There are numerous tactics that can be leveraged to generate B2B leads with content marketing. In fact, 28 percent of B2B marketers reported using between five and nine content marketing tactics to drive leads, while 64 percent reported using more than nine. As you can see from these statistics, a successful B2B content marketing strategy includes a variety of methods and there is no one-size-fits-all solution."
10 Surprising Social Media Statistics That Will Make You Rethink Your Social Strategy [from Fast Company; written by Belle Beth Cooper]
"1. THE FASTEST GROWING DEMOGRAPHIC ON TWITTER IS THE 55–64 YEAR AGE BRACKET.

This demographic has grown 79% since 2012.

The 45–54 year age bracket is the fastest growing demographic on both Facebook and Google+.

For Facebook, this group has jumped 46%.

For Google+, 56%."
India Leads Worldwide Social Networking Growth [eMarketer; written by staff]
"This year, eMarketer estimates, 1.61 billion people will log in to social networking sites at least monthly, from any electronic device. That's a 14.2% gain on social networker numbers from 2012, and double-digit growth is expected to continue for another year. By 2017, 2.33 billion people will use social networks."
5 forthcoming social media advances you should know about [from iMedia Connection; written by Elisabeth Crane]
"Developing Niche Platforms

Although sites like Google, LinkedIn, and Instagram are major platforms for social media in a bigger context, niche marketing has its place in social media. In fact, many of these niche platforms will be playing a role in specific interests and activities in daily life. Applications will be considered unique to the individual user, such as connecting DIY-saavy designers or those curious to start a new cause."
Which Social and Mobile Platforms Are Older Teens Using? [from Marketing Charts; written by staff]
If teens are leaving Facebook, where are they going? (Older teens aren't leaving, it seems.)
"Given all the fuss about teens leaving Facebook, GlobalWebIndex has taken a look at the most widely-used social platforms and mobile applications by 16-19-year-olds around the world. The global survey finds that Facebook remains the most commonly used social platform, with 56% of respondents claiming to have used it in the past month. Facebook's mobile app is next, at 43% of respondents, followed closely by YouTube's mobile app (39%) and site (35%). There are some surprises on the list."