Speaking of events that happen this time of year, it's CES week in Las Vegas. (You may recall that we've analyzed CES tweets before.) We'll write more on this as the event continues over the next few days, but we wanted to check on what Twitter thinks about CES so far. Here's a quick rundown of early CES tweets.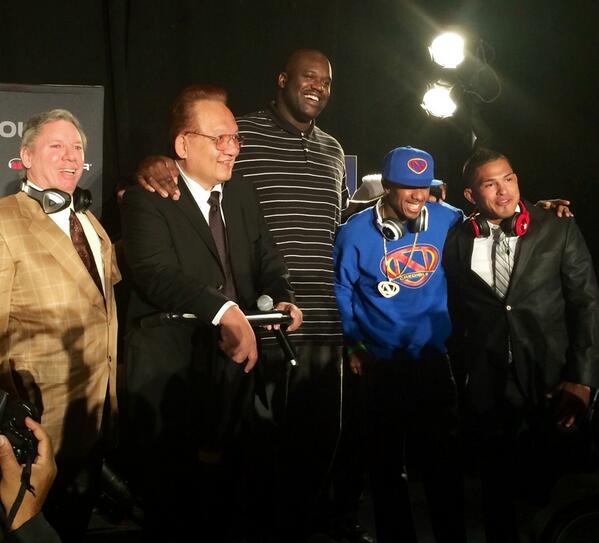 Most retweeted accounts:
Most buzzed about brands:
Intel
Samsung
Sony
Biggest celebrity endorsements:
@Shaq (Monster)
@NickCannon (Monster)
@LeVarBurton (AMD)
There were nearly 100,000 tweets using the official #CES2014 hashtag posted yesterday (January 6) and today – the first official full day of the conference – is on track to beat that. More CES updates throughout the week, so check back in later!
Want help tracking tweets about your next conference or event? Let us know!
It's that time of year again – awards season! The 71st Golden Globe Awards are this Sunday, and as usual, we'll be there to track the social media conversation around the event and help out on the #redcarpet.
So, we were wondering… In the days leading up to the first major awards show in Hollywood this season, which movies, TV shows and actors are Twitter and Tumblr buzzing about?

Well, Tumblr can't get enough of Amy Poehler and Tina Fey, who are coming back for a second year as hosts of the show. Most of the top posts about the Golden Globes right now are GIFs of the comedic duo, taken mostly from the commercials for the upcoming broadcast (like this one from gillianjacobs).
After Tina and Amy, Twitter and Tumblr are both excited about Tatiana Maslany from BBC America's Orphan Black and Jennifer Lawrence - or JLaw, if you prefer, which we do – from American Hustle. And there's a lot of talk about Jared Leto from Dallas Buyers Club, Leonardo DiCaprio from The Wolf of Wall Street, and Bradley Cooper from American Hustle.
As far as movies and shows go, Tumblr's favorite films right now are American Hustle, 12 Years a Slave, and Dallas Buyers Club. Twitter also loves Catching Fire, partly because Taylor Swift's song from the film was nominated. And Orphan Black is wildly popular on both networks. Breaking Bad and Scandal are getting some attention on Twitter, while American Horror Story is popular on Tumblr.
Want to follow along with the conversation this week? Find @GoldenGlobes on Twitter and on Instagram, and participate in the conversation with the #GoldenGlobes tag. And stay tuned here, as we'll update with more social data about the show next week!
It's Friday, so that means it's time for This Week in Social Analytics and our favorite posts of the past week in the world of measurement, analytics, and social media. See a great piece we missed? Link to it in the comments, or tell us about it on Twitter or Facebook.
Five Social Media Measurement Questions I Hope (NOT) To See in 2014 [from Metrics Man; written by Don Bartholomew]
"'I don't measure 'social media', I measure what you are trying to accomplish with social media'. . .the distinction is very important. Measurement is fundamentally about performance against objectives. So, we measure our performance against the objectives established in the social media plan. A lot of what passes for measurement in social media is really data collection – tracking Followers or Likes, blog traffic or consumer engagement on Facebook. Unless you have measurable objectives and targets in each of these areas, you are collecting data not measuring. What do you want to happen as a result of your social media campaign or initiative? Measure that."
Social Media Update 2013 [from Pew Internet; written by Maeve Duggan & Aaron Smith]
"Some 73% of online adults now use a social networking site of some kind. Facebook is the dominant social networking platform in the number of users, but a striking number of users are now diversifying onto other platforms. Some 42% of online adults now use multiple social networking sites. In addition, Instagram users are nearly as likely as Facebook users to check in to the site on a daily basis."
3 Social Media Trends You Should Know About [from Mashable; written by Alex Honeysett]
"If you haven't mastered Vine or Instagram's video feature yet, now is the time to get comfortable. If the prediction is correct, making compelling short videos will be as important as writing in 140 characters. The earlier you can master the trend, the better."
2014 Marketing Measurement Predictions [from Social Media Explorer; written by Nichole Kelly]
"This is a fundamental shift in how we've thought about measuring marketing for decades. It's not about the campaign, it's not about the channel, it's not about the content, it's about how all of those efforts combined to create revenue."
Anatomy of a Tumblr [from Medium; written by Daniel Dalton]
"8 Tips for making a successful Tumblr:

1. Do one thing. Do it well. Be consistent. Find your niche and own it.
2. Think different. There are millions of blogs. Find a way to be unique.
3. Make it visual. 60% of shares on Tumblr are images. Show, don't tell.
4. Get good help. If you can't write or design, find someone who can.
5. Be a part of the community. Ask for suggestions, take requests. Listen.
6. Fail hard. This isn't my first dance at the Tumblr party. It's trial & error.
7. Be excellent to each other. Seriously. This.
8. Tumblr. Because Tumblr."
Emphasis original.
A Nice Collection of B2B Marketing Stats and Videos [from Paul Gillin]
"Here's its latest collection of recent trends and statistics: This is the year that was in B2B Marketing crunched. Be sure to check out the links to some of the year's best B2B videos on slide 37."
Keep it simple with TweetReach snapshot reports! Here are a few things to keep in mind when you're running a snapshot report:
1. Snapshots will analyze tweets up to one week old. Snapshots pull tweets from up to 7 days ago, so be sure you run them as soon as you can after your event. Older tweets are only available through our premium historical analytics.
2. Full snapshots will include up to 1,500 tweets. Due to restrictions from Twitter's Search API (more on that below), a full snapshot report is limited to about 1500 tweets from the past week. If your topic or hashtag had more tweets than that, we'll go back until we hit that limit, but won't be able to pull them all into a snapshot report. For higher-volume topics, try our historical analytics or ongoing Pro Trackers.
3. A snapshot report is just that – a snapshot. We use the Twitter Search API for our snapshot report data, and it operates more on relevancy than on completeness. This means it will pull everything that Twitter considers most relevant to your search query from the past seven days, so some tweets or users might be missing from your results. For more complete results, try our Pro Tracker, which has access to the full-fidelity, real-time Twitter stream.

4. Narrow your snapshot search dates with filters. If you want more specific results for a snapshot report, you can include date filters. The since: and until: operators allow you to select a specific date range within the past week for your search. For example, let's say you want to see all #TBT tweets for December 12, 2013 through December 17, 2013. Search for #TBT since:2013-12-12 until:2013-12-18 (use the YYYY-MM-DD format, which is tied to 00:00 for each date). Like this:
5. Tweets in our snapshot reports are displayed in the Universal Coordinated Time zone (UTC). This is to simplify and standardize our reporting across all time zones. If you need help converting UTC to your time zone, try this converter.
First we want to thank you for reading and sharing our posts this past year, and we look forward to 2014.
Happy New Year from all of us at Union Metrics!
It's Friday, so that means it's time for This Week in Social Analytics and our favorite posts of the past week in the world of measurement, analytics, and social media. See a great piece we missed? Link to it in the comments, or tell us about it on Twitter or Facebook.
11 News Sources Using Instagram Video [from Mashable; written by Rebecca Hiscott]
"Just as Twitter heralded a brave new world for bite-size storytelling, Instagram Video now challenges digital innovators — and traditional news outlets — to use the platform to its full potential, packing 15-second video segments with vital information and titillating tidbits."
Not a bad way to get some inspiring ideas for your own short video content.
Women Up Time Spent on Social Platforms [from eMarketer; written by staff]
"But it's platforms like Pinterest and Instagram that are garnering an ever-greater share of time from those women who do use them. Nearly half of women surveyed who visited social networks regularly said they had increased the amount of time they spent on Pinterest or blogging platforms in the past year—and more than two-thirds said the same of Instagram. A comparatively small 30% said they were using Facebook more frequently."
How to generate sales with social media in an underground business [from Web Ink Now; written by David Meerman Scott]
"Social media is everything for us," Liza says. "It enables us to spread the word."
3 Metrics to Measure Year-End Social Media Results [from Business 2 Community; written by Maria Peagler]
"I'm a huge advocate of the 80/20 rule: 20% of your effort generates 80% of your business.

So we'll be measuring the top 20% of your promotional tactics to see what drove the most results." 
Social Media Year in Review: 13 Must-Know Statistics from 2013 (Infographic) [from Entrepreneur; written by Brian Honigman]
"With the multitude of social channels on the market and the growing need to create content at scale to fuel these networks, it's important to have actionable data to help better focus your social media-marketing efforts. Take these 13 fascinating social-media statistics about SlideShare, Snapchat, Instagram, Pinterest, Facebook, Twitter, Vine, LinkedIn and Google+ into mind when formulating your marketing strategy for 2014:"

Click through for the full infographic from Sparefoot, or see it directly on their site.
The Ultimate Social Media Tip Sheet [from Heidi Cohen]
101 tactics from Heidi Cohen's top 5 articles.
2014 Will Be the Year to Lead With Analytics [from Social Media Today; written by Michael Brito]
"This is more than a prediction. It's a fact.  Marketers need to make smarter decisions moving into 2014; and they can only do so by looking at data."
Five Ways to Win Trust [from Social Media Examiner; written by Tracey Parsons]
"About 86% of people make an active effort to hide their digital footprint. The #1 reason is hackers. . .But #2 was marketers."
The Best Social Media Campaigns Of The Recent Past [from Soshable; written by Anita Reid]
"Today's companies and organizations use the campaigns that integrate their offline marketing with social media channels, their own site and paid advertising."
Check out some of the most recent clever and integrated campaigns to get inspired for 2014.
Friday was expected to be the biggest travel day of the year, but a lot of you are still headed home for the holidays and maybe still scrambling to book last minute New Year's plans. Whether it's something fairly local, or that big trip abroad you've always wanted to take that you're finally booking as a New Year's resolution, we've got some tips and resources to help make traveling easier on you:
Your network: Get information about experiences from those who have been there that you trust by talking to your network on Twitter, Tumblr, and more to see what you should splurge on, what you should skip, and what to expect in different cities and countries. A Twitter friend might even offer to show you around, or point you to someone who can help with local recommendations. (Want to grow that network? Check out our list of Twitter travel resources.)

Check out the social accounts of locals: Headed to Paris, or Perth? Check out the accounts of some locals to get an idea of the kinds of non-touristy activities and places to eat and drink around around your destination. Strike up a conversation and ask questions if they seem open to it; a lot of people love to share hidden gems of their own town so visitors enjoy themselves.

Connect with companies: Is the place you're staying on Instagram? Is the rental company you're getting a car from on Twitter? Does the airline you're flying on have a Tumblr? Get familiar with their services through these channels– and you might even stumble onto a social-media-only deal or two!

Utilize Pinterest for Planning: Start a Pinterest board for ideas for your trip: sites you want to see, things you don't want to forget to pack, places you want to eat. Search the site to see if anyone has made such a board already, and you might pick up some unexpected and handy tips. Same goes for boards from locals; their fashion board might tell you more about what to pack than any weather report could.

Catalog: Instagram is a great way to share snapshots of your trip as you're on it. Limit yourself to one to two photos a day so you've got a little something to let friends and family know what you're up to without distracting yourself from enjoying the moment.

Save some pennies: Couchsurfing and Airbnb have both become popular alternatives to hotels. Couchsurfing in particular is a free service, where hosts give travelers a place to stay out of the kindness of their hearts in the spirit of travel. Airbnb lets you choose from a variety of accommodation options that give you a more local feel than a hotel. If you decide to use either service, be sure you check out the reviews of the host and/or space to make sure you know what you're getting into

YouTube Travel Channels: If you like your travel advice in video form with the possibility of inappropriate jokes, then YouTube travel channels are just for you. The channel Maila AuParis has a series on CouchSurfing in addition to a lot of other travel videos. The Expert Vagabond and Mashable both have roundups of YouTube travel channels to inspire, instruct, and more. And don't forget about the big guys: Lonely Planet and The Travel Channel both have YouTube channels of their own.

Traveling with pets: BlogPaws has a travel category with safety tips and more for traveling with pets. Keep track of pet-friendly hotels at PetsWelcome, and be sure to check the TSA guidelines for flying with pets if that's in your plan. You'll want to see specifically what your airline says about traveling with pets as well.

Traveling with children: Last year the New York Times covered innovative travel products to ease the burden of packing for and hauling around quick-to-tire small children.  The CDC has health and safety tips while the TSA goes over what is expected of your child in airline security lines. If you're sending a minor unaccompanied on a flight, check with your particular airline to see what the procedures and expectations are.

Apps to check out: CNN has a whole category on their site covering travel apps of all descriptions. If you're a lover of travel guides, check to see if they offer apps to go along with them. That way you'll have information on the ground without carrying around the guide itself, and many also have a social component. Also consider downloading a few language apps if you're traveling to a foreign country, so you can practice common words and phrases.
Got any tips we missed? Leave 'em in the comments, or tell us about them on Twitter. Safe travels, and happy holidays!
It's Friday, so that means it's time for This Week in Social Analytics and our favorite posts of the past week in the world of measurement, analytics, and social media. See a great piece we missed? Link to it in the comments, or tell us about it on Twitter or Facebook.
Social Media Image Dimensions: The Ultimate Guide [from Pamorama; written by Pam Dyer]
"Brands experience almost 50% more audience engagement when sharing an image or video on their social media platforms, which is why social networks are increasingly featuring and promoting visual content. Optimizing your visual space online is key to achieving maximum exposure for your name and your brand, and helps build your fan base."
Time to Grow Up! Social businesses mature, yet many still lack a strategic foundation | Infographic [from Brian Solis]
"The number one thing we learned this year is that no matter how much we celebrate the case studies and best practices of the most social brands, they are far from perfect. You can replicate campaigns but you can't replicate how the efforts of others cultivate ideal experiences and relationships with your customers…in a meaningful way."
5 Biggest Social Media Lessons of 2013 [from Mashable; written by Katy Finneran]
"Witnessing a single tweet swing the pendulum of markets proved that social media is every bit as valuable to day traders as it is to newsmakers."
Lessons on everything from social's influence on markets, to its increasingly visual nature, the growth and evolution of social media advertising, and the continued rise of social TV.
How a single Tumblr post turned this unknown book into a bestseller [from The Daily Dot; written by Aja Romano]
"But anyone who dismisses the value of Tumblr as a promotional and marketing tool might want to ask author Cory O'Brien what he thinks. When Tumblr discovered his book, Zeus Grants Stupid Wishes, the community turned  it into a viral sensation and overnight bestseller."
Social Media Engagement: The Surprising Facts About How Much Time People Spend On The Major Social Networks [from Business Insider; written by Emily Adler]
"Social is now the top Internet activity: Americans spend an average of 37 minutes daily on social media, a higher time-spend than any other major Internet activity, including email."
Second screen study shows 72% of viewers engaging with a show's social media are encouraged to watch again [from Social Media Influence; written by staff]
"According to the study:
40% of respondents have engaged with a TV shows second screen app.
72% of those engaging with a TV show's social media page or app say doing so encourages to watch the show again.
62% of respondents say they use social media 'sometimes' or 'always' while watching TV."
2 in 3 Millennials Share Social Experiences Online [from Marketing Charts; written by staff]
"Shared web experiences have implications for how Millennials process information and trust its sources, and the researchers also note that many Millennials are establishing global networks online that make it more complex for marketers to create messages that vary significantly from one country to the next."
The Facts and Figures on the Power of Visual Content Marketing [from Jeff Bullas]
"Competitors have emerged driven by the social web and includes Instagram, Pinterest and Vine. If we look at the global impact of these we get some rather staggering numbers.

Pinterest debuted in May 2011
Pinterest saw a growth of 1047% in unique visitors from 2011 to 2012
Instagram started in 2010
Instagram has 130 million users
Instagram photos have 1 billion likes a day
More than 16 billion photos are hosted through the service."
Click through for more stats plus an infographic.
Six Ways Brands Can Use Instagram Direct For Marketing [from Business 2 Community; written by Nicole Rose Dion]
"Not only is this a great feature for individuals, Instagram Direct has the potential to be especially useful for brands. It allows brands the chance to provide sneak peeks to loyal followers, send coupons and encourage e-commerce."
Instagram Says First Ad Results Are "Promising" With Recall Up 32%, Shows It Wants TV Brand Dollars [from Tech Crunch; written by Josh Constine]
"Brands saw average ad recall up 3X while brand message awareness was up 10% across four campaigns, with Levi's reaching 7.4 million US 18-34 year olds in 9 days while Ben & Jerry's reached 9.8 million US 18-35 year olds in 8 days."
The Union Metrics support team will be around to answer all of your questions throughout the final weeks of 2013. However, please allow us a little extra time to return your calls and emails on the following dates, as we might be stuffing ourselves with holiday treats and spending time with our families.
Tuesday, December 24 – Friday, December 27
Tuesday, December 31 – Thursday, January 2
On these days, we will return all non-urgent requests within 24 hours and urgent requests as soon as possible. As always, you can get in touch with us in many ways. Email is the fastest way to get through to us during the holidays.
Happy holidays from Union Metrics!
Good native advertising isn't about blending so seamlessly into the platform you're advertising on that you trick consumers into clicking on your ad– it's showing them that you've taken the time to deeply understand the place they choose to spend their time by crafting an original piece of content that fits the form and spirit of it. You don't just want to appear to be a part of the community; you want to take the time to become part of the community, and show that you have something to offer it just like any other member.
The holidays in particular are a time brands should be mindful of how they approach the communities their customers have built on different platforms. In the stream of continual "BUY! GIFTS! SPEND!" you don't want to come across as pushing into a formerly free, personal space with an aggressively out of place advertisement. Take the time to do it right, like these examples that follow, or rethink doing it at all.
Instagram.
Although Instagram ads haven't been around very long, they're already showing a lot of promise, which likely has a lot to do with Instagram's commitment to rolling ads out slowly and working with brands that are taking the time to understand what users enjoy about the platform: Interesting visuals, a way to examine and showcase the things they love with friends they know in real life, and the virtual ones they've made.
Instagram also feels more intimate and candid than a press photo of a celebrity, allowing users who follow their "faves" to feel a little like they have an inside look at the life of who they admire. This can extend to brands, who have an opportunity to share a creative, more personal side not achievable in other forms of advertising; smart brands are taking advantage of this.
Ben & Jerry's has been celebrated for doing it right on Instagram by posting creative images simply sharing their enthusiastic love for ice cream while also incorporating timely themes. According to AdWeek, they've gone from an "average daily follower growth [of] 429, pre-ads, to more than 7,200, post-ads."
Tie-in ad with the new Anchorman movie: 250k+ Likes
Likes and follows might be dismissed by many as vanity metrics, but they're the perfect jumping off point. Growing your audience is the first step to getting more eyeballs on your products, but a lot of ad formats can achieve that. Social platforms go further by increasing engagement with customers and potential customers, especially if brands reach out with questions and contests that reward participation.
Tumblr.
Tumblr recently released its 2013 Year in Review, including a look at which sponsored posts performed the best. The top posts from the Tumblr Radar also included some promotional content; namely Beyoncé from the Super Bowl (we wrote about her Super Bowl popularity over on our Tumblr). Sponsored Radar posts were the first form of Tumblr advertising, and seeing a promotional post in the top posts of the year is important as it means users loved the content enough to share it as many times as the original content that came out of every other community on the site.
The most popular sponsored post on Tumblr was from streaming site Hulu and featured a gif from a movie they were showing from the Criterion Collection, free for a weekend: The Red Balloon. Visual elements like gifs perform consistently well on Tumblr, and the copy had the kind of slightly off-beat sense of humor Tumblr users are known for.
This gif post saw 326.2k+ notes
Hulu didn't just slap a gif on a site known for using them; they spent the time to create and share something they hoped members of the film community- and anyone else who came across it- on Tumblr would genuinely enjoy. It seems they succeeded.
The takeaway.
Brands are entering the social spaces where people have been exchanging ideas, creations, friendship, and more for years. In approaching that with respect, brands can become meaningful contributors to the communities full of the customers they hope to reach, rather than resented traveling salesmen.
Adding a little festive cheer in this time of year won't hurt, either.
Just follow the lead of the ice cream men.