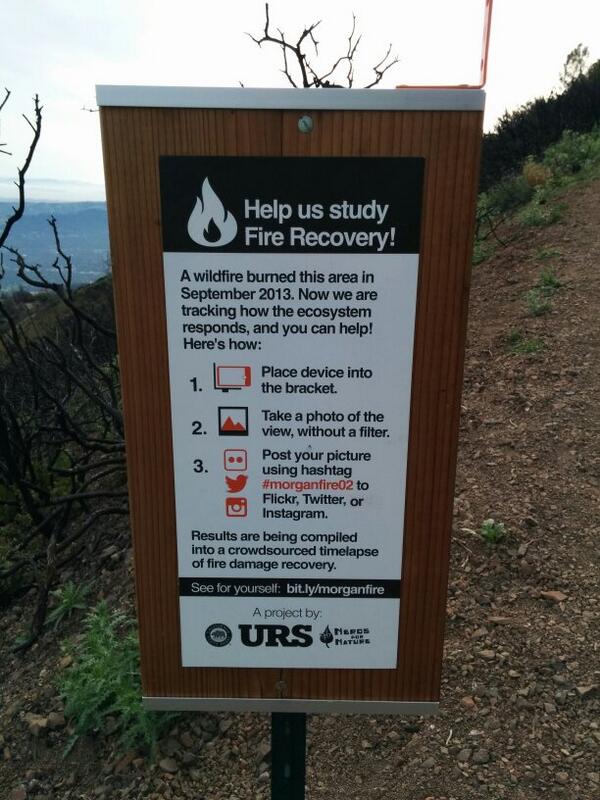 Any headlines predicting the "end of Twitter" or fearing that "everyone is bored with [social platform] now" fail to recognize that humanity is pretty good at coming up with innovative uses for the tools at our disposal, and that Twitter and other social media platforms are no exception to this. Case in point: A fire recovery study project currently underway in Mt. Diablo State Park done by URS and Nerds for Nature after the Morgan Fire burned 3,000 acres last year in September.
How does this work?
By setting up a series of fixed vantage points around the park- there are brackets to put your smartphone in so all the photos are taken from the same angle- the project is able to gather reliable, gradual photographic evidence of the recovery of the park's different ecosystems. Each site has its own hashtag to distinguish it: #morganfire01, #morganfire02, #morganfire03, #morganfire04.
Looking at the snapshot reports for each of these vantage points, you can see which ones are more commonly frequented by hikers. This gives citizen scientists as well as the projects heads themselves an idea of which areas could use more visits and photo captures, and enables them to quickly and easily spread the message and make plans about where to go. Park ranger resources can also be used more efficiently this way.
The overall conversation on Twitter.
Once a news cycle on an event like this gradually shuts down in the days or weeks after it happens, it's rare to hear much more about it; projects like this are just one way social media is changing the landscape of journalism with crowdsourcing. It also gives citizens a direct role to play in the preservation of their local environment as citizen scientists. This would be a great project for a family, group of friends, summer camp, or science class to get involved with, and social media- particularly Twitter- is one of the best ways to amplify this message and make these kinds of suggestions.
On Instagram.
While Twitter users seem to mainly be using the platform to share news about the project itself, Instagram users have been carrying out the instructions on the sign posts and posting photos from the different vantage points using the hashtags:
#morganfire02 via Instagram user mo_nini_l 
#morganfire04 via Instagram user coyotethunder
This plays to the strengths of each platform; it's harder to describe what a project is about on Instagram which doesn't enable link-sharing, while this is Twitter's main strength. The stunning visuals of the recovering areas of the park posted on Instagram can capture attention and make a user curious about what the hashtags mean, leading them to ask the user or search out the information themselves on other social sites, like Twitter.
If you live in the Mt. Diablo State Park area, consider making a weekend hiking trip out to Mt. Diablo and contribute to this citizen science project on your social networks! You might be the first to see something like this wild lily coming back:
via Instagram user coyotethunder
It's Friday, so that means it's time for This Week in Social Analytics and our favorite posts of the past week in the world of measurement, analytics, and social media. See a great piece we missed? Link to it in the comments, or tell us about it on Twitter or Facebook.
Connected Customers are Invisible to Those Who Value Demographics [from Brian Solis]
Markets are now conversations, and audiences are no longer passive or static. It's time to move beyond old demographic profiling.
2014 Internet Trends [from KPCB; written by Mary Meeker]
Mary Meeker's 2014 Internet Trends report is out! It's definitely worth a look.
Social Media Platforms 2014 And Beyond | Research/Charts [from Heidi Cohen]
"Social media platforms are where your target audience spends their time. 70+% of US online adults use social media and 40+% of online adults use 2 or more social media platforms based on December 2013 Pew Internet Research. (Here's our analysis of US social media activity.)"
Emerging Markets Drive Twitter User Growth Worldwide [from eMarketer; written by staff]
"Twitter's user base will increase 24.4% in 2014, according to eMarketer's first-ever forecast of Twitter users worldwide. The social media property's user growth will continue with double-digit gains through 2018, eMarketer estimates, and there are significant opportunities for Twitter to increase its audience across emerging markets."
You can see different breakdowns of this from All Twitter and Marketing Charts:
30% of "Socially Active" Brands Said to be on Instagram [from Marketing Charts; written by staff]
"Predictably, some industry categories have been quicker to include Instagram in their marketing mix than others: leading the pack are luxury retail and luxury auto, with 67% and 60% penetration among socially active brands, respectively."
The Periodic Table of Content Marketing [from Social Times; written by Christie Barakat]
"The visualization offers an overview of content marketing's key elements and focuses on the following areas:

Strategy

Format

Content type

Platform

Metrics

Goals

Sharing triggers

Checklist"
You can find the original article from Econsultancy here.
The Essentials of Social Media Training for Students [from Social Media Today; written by Chris Syme]
"Last year, I conducted an informal survey of college student-athletes in my Practice Safe Social™ training workshops and found the following:

The social media behavior of first-year college students is more closely related to the behavior of high school students than that of their older college cohorts.

Most college seniors desire to align their social media habits more with adults and less with typical college-age behaviors." 
Is all engagement created equal? [from Social Media Explorer; written by Tracey Parsons]
A proposal to start looking at engagement on two different levels: Active engagement, and passive engagement. A like and a share are not the same.
Summer travel season, meet #VegasSeason: A well-executed summer travel campaign that crosses from traditional advertising to social media channels in a way that gets each audience interested, even if they aren't aware of the contest tied to it.
The contest
Vegas itself wants to give you two chances to win a trip there, and the trip can be "naughty" or "nice". If the holiday season is all about giving, then Vegas Season is surely all about living and treating yourself. What better than a Vegas hashtag in your Twitter feed- or a snappy commercial on your TV featuring that hashtag- to inspire some last-minute summer travel to Sin City?
The social execution
Scrolling down on the official contest page, there's a section for sharing about traveling to Vegas on Twitter that has two choices: One about tanning, and one about champagne. Their tweet about having enough champagne is being shared at a much higher rate than their tweet about tanning: over 500 RTs vs. 13.
Hey guys, do you think we have enough champagne? #VegasSeason pic.twitter.com/8c3rMtxSFo

— Vegas (@Vegas) May 2, 2014
This is also the tweet currently pinned to the top of their account page, so it's the first one anyone sees when they visit their profile. Smart use of the Twitter redesign! (Scrolling further down the contest page there are sections for visiting their other social sites: Instagram, Pinterest, Vine and YouTube.)
Most #VegasSeason tweets are directly related to the contest, but some are inspired by its accompanying commercials. The official Vegas Twitter account serves as a great hub for redirecting followers to their accounts on other platforms, hosting other elements of the contest. For example, one leads to a Facebook page offering a free download of the song featured in the Vegas Season music commercial:
Get THE jam of this #VegasSeason while it's hot! RT @Audien: My song is in the new #Vegas TV commercial! FREE dl: http://t.co/eDinmjJIac

— Vegas (@Vegas) May 7, 2014
Some Twitter users have just seen the commercials and may not be aware of the contest to win a free trip, but are still inspired to tweet their excitement about their own summer plans to travel to Vegas using the hashtag:
All these Vegas commercials are making my skin tingle so excited #whereareyoujuly #vegasseason

— JasmineRegal (@JasmineRegal) May 19, 2014
Lol at the commercial I just saw, it's #VegasSeason! Can't wait to turn up for my bday!!

— Shayngstaa (@Shaynamss) May 22, 2014
#VegasSeason has also shown up alongside the #TravelTuesday Twitter chat hashtag (you can learn more about that and other Twitter travel resources in our updated post) where participants discuss all things travel, including current travel plans and dream destinations, all day on Tuesdays. Tweet chats are an easy way to connect with and expand your audience.
The takeaway
Adding hashtags to commercials isn't a new tactic in advertising, but it is a smart move for something that gets as much chatter on social media as travel does, especially when wanderlust hits during the summer months. Cross-promoting contest elements across platforms with incentives like song downloads increases the contest reach, as does building in easy-to-share content for each platform on the contest page itself.
Travel companies of all kinds should definitely have a social presence, use it creatively, and be sure they're measuring their share of voice in the industry.
It's Friday, so that means it's time for This Week in Social Analytics and our favorite posts of the past week in the world of measurement, analytics, and social media. See a great piece we missed? Link to it in the comments, or tell us about it on Twitter or Facebook.
The 2014 Social Media Marketing Industry Report from Social Media Examiner came out this week, and while you should definitely take the time to read the whole thing if you can, there are also a lot of great pieces highlighting different aspects of the findings:
How the Older Generation is Embracing Social Media | Infographic [from Social Times; written by Christie Barakat]
"Did you know that one in five Twitter users are over the age of fifty? Or that of the 53 percent of
of Americans 65 and older who use the Internet, 77 percent of them are active on a typical day?

What's more, the older generation has the most spending power of any age group and accounts for 80 percent of all online luxury travel spending. Baby boomers also contribute 43 percent of America's philanthropic activity."
Click through for the full infographic.
Three Key Elements in Building Your Brand Through Social Media [from Social Media Today; written by Andrew Hutchinson]
"It's not enough to broadcast your message anymore, you need to be able to establish trust, your place in their day to day lives. How does your brand help and improve your consumer's world? What ways can your business contribute? Answering these questions are the first steps towards working out how you can use social media to achieve them."
Facts Tell, Stories Sell – How Infotainment Inspires Action in B2B Marketing [from Top Rank Online Marketing; written by Lee Odden]
Stories aren't just for B2C; check out these examples of creativity in connecting in the B2B market from Lee Odden, as well as a full ebook from other B2B marketers.
How to Spot Good Social Media Marketing Research [from Social Media Today; written by Chris Syme]
"Dr. Freberg also has some tips for marketers on how to wade through the large volume of data labeled "study" on the internet.

Always look at the data itself, the sample and method in which the data was collected, and whether or not the results match up with the question posed for the actual research and the method being used. A lot of times, there are some methods and statistics that do not match up with the results. In some cases, there are research studies that try to "spin" the results to make these big conclusions when in reality, the data does not reflect on this.

If the study does go into detail on how the research was collected and is transparent with the methods and audience they used, that is a good sign. However, there are a lot of studies that don't give readers any clue about sample size, audience numbers, how the data was collected, or what questions were asked. Having a solid base and understanding in traditional research methods to explore, critique, and analyze the results yourself is critical to know as a social media marketer now to determine what is good research versus promoted research."
How Instagram Became the Best Crisis PR [from New York Magazine; written by Maureen O'connor]
"Modern celebrity relies on the illusion of intimacy, and Instagram PR is the ultimate tool for pseudo-intimate fan management: It emphasizes the celebrity's direct connection with her fans (illusion) without forcing her to reveal any facts (reality). It feels more genuine than a press release, but still allows for meticulous image control."
How to get strangers to retweet your tweets [from Wired UK; written by Olivia Solon]
"The team found that when it sent local information tweets to individuals identified by the algorithm, 13.3 percent retweeted it, compared to just 2.8 percent of people picked at random. This was improved to 19.3 percent (a 680 percent increase) when they timed the RT request to match the periods when people had been most active in the past."
Read the full study here.
With Memorial Day approaching this weekend, summer travel is on the minds of many, and the resources to plan and execute the best trips for business or for pleasure lie within the social sites you know and love. Last year we looked at the Top travel resources on Twitter: Accounts to follow and chats to attend as well as the 10 best travel resources on social media and beyond. So what does the travel landscape look like on social in 2014?
On Twitter
All of the travel advice and perspective accounts from our Twitter travel resources post are still active and providing information on everything from amateur and budget travel to high-end luxury accommodations; skim the list to find and follow the users that fit your needs.
As for the travel chats, read over the transcripts to get an idea of which ones would be worth joining in on before you plan your next trip:
#MexMonday (all day Mondays): Check this one out if you're planning a trip to Mexico 
#TravelTuesday (all day Tuesdays): Chat about all things travel-related
#CruiseChat (2pm EST Tuesdays): Whether you're a veteran cruiser or new to boat-bound travel, find out all you need to know in this chat
#NUTS (Not-so-usual-therapy-session, aka travel and specifically roadtrips) seems to be used more as a generic hashtag than a travel related chat, but you can still check out the session recaps on their site.
#TTOT (5:30 am/pm EST Tuesdays): standing for Travel Talk on Tuesdays, you can check out the topic ahead of time on their Facebook page.
#LuxChat (2:30pm PST every 3rd Wednesday): While #LuxChat doesn't always cover travel, keep an eye on the month's chosen topic if treating yourself while you travel is your goal. You can find recaps of their chats on their Tumblr.
#TourismChat (2:00pm CST bi-weekly on Thursdays): Check the @tourismchat account for topics and transcripts.
#FriFotos (all day Fridays): You can find out each week's theme from @EpsteinTravels
Other chats to check out:
Aren't sure how to participate in a Twitter chat, or want to host your own? Check out our posts about how to get the most out of a chat as a participant or as a host.
Other social media travel resources
All of our holiday travel tips from last year still hold true, and if you're looking at how to get the most out of travel blogging on Tumblr we've covered that too. (You can see all of our travel-related Tumblr posts here.)
We still recommend Pinterest for planning what you're going to pack, what sites you want to see at your destination, and more. Instagram is an amazing way to catalog your travels that lets everyone at home follow along with you and avoids overwhelming them with an album of 200 new photos to parse when you get home.
But what about using Instagram for inspiring and planning your next trip? Stay tuned. We'll have that for you soon!
If you've got any social media travel resources we missed, leave them in the comments, or let us know on Twitter.
Photo courtesy NYPL Digital Gallery. 
It's Friday, so that means it's time for This Week in Social Analytics and our favorite posts of the past week in the world of measurement, analytics, and social media. See a great piece we missed? Link to it in the comments, or tell us about it on Twitter or Facebook.
Instagram Ads Are Getting Instant Recall: Taco Bell and Hollister seeing picture-perfect results [from AdWeek; written by Christopher Heine]
"Taco Bell saw a 29 percentage point gain in ad recall for the April rollout of its breakfast menu, per data from Instagram's user panel that pits a control group against a test group. The fast-food chain's promos sometimes got engagement rates 400 percent higher compared to its organic posts. According to Union Metrics, Taco Bell's Instagram following—currently at 411,000—jumped 45 percent during its monthlong ad campaign. The data company also reports that Instagram advertisers—including Michael Kors and Ben & Jerry's—are averaging 60 percent higher engagement rates for their organic posts in the three days following their paid promos."
Pair with these other great reads around Instagram this week:
The Value and Meaning of Community In Marketing [from Danny Brown; written by Tinu Abayomi-Paul]
"[Communities] are made up of people I go out of my way to advise, assist, appreciate and attend to when I can – not just when it's required by the community manager/leader hat I have on that day. And I worry about this concept because there's this false impression that a community is an entity that can be owned.

Like a thing.

Instead of a gathered group of humans."
A great connection piece in the ongoing discussion about businesses and humanity. Pair with: How to Speak Like a Human (and Why It Matters) and Mass Personalization Through Digital.
Women Trust Word-of-Mouth Recommendations From Their Friends | Infographic [from Social Times; written by Kimberlee Morrison]
"As for what women sought advice about, 79 percent would ask a friend about food and beverage items, and 28 percent would buy or strongly consider buying something after talking to a friend. Trips and travel were second with 68 percent and third was home furnishing at 61 percent. Nineteen percent of those inquiring about home furnishings would buy or consider buying something immediately after chatting with a friend.

So perhaps when designing social media campaigns, consider seeking testimonials from your most-active users and fans. Their word means a lot."
Small Business: Are You Using Social Media Photographs? [from Heidi Cohen]
Great tips for using images across social platforms, and tailored to each one.
How American Adults Spend Their Time Online [from Marketing Charts; written by staff]
"Social networks account for the single largest share of consumers' time online, per the data."
We're Using Twitter, Facebook Less, Instagram, Tumblr More, Says Data | STUDY [from All Twitter; written by Shea Bennett]
"In the meantime, Instagram goes from strength-to-strength, registering an incredible 25 percent grow in active usage since Q3 2013.

Tumblr (+22 percent) and Pinterest (+7 percent) also registered solid gains."
Why We Favorite Tweets, According To Science [from Buzzfeed; written by Charlie Warzel]
A great breakdown of the myriad reasons why we favorite tweets. Pair with our piece on why brands should favorite tweets.
You can access the full study here.
How to Handle Twitter Trolls on Your Business Account [from Social Media Today; written by Matthew Y]
Dealing with negative comments is very different from dealing with trolls.
YouTube: How to Amplify Your Content With Social [from Social Times; written by Christie Barakat]
"To amplify your content using social, YouTube suggests you focus on Top Fans, Google+ Hangouts on Air, leverage all marketing channels and Google+. To be sure you're leading productive community discussions, start by recognizing your community, develop relationships with top contributors and engage your them on and off YouTube."
Pinterest Promoted Pins: What You Need To Know [from Edelman Digital; written by Andra Pintiliuc]
"In order to keep promoted pins as relevant as possible and ensure a seamless experience for the user, Pinterest will be taking a 'Consultative Approach' to ad selling by working closely with advertisers to understand what type of content resonates with their audience. These recently introduced promoted pins won't show up in a user's home feed or within their own pin boards, but rather through searches where they can be bought on a CPC basis and users are organically searching within their favorite categories. Keeping inspiration at the forefront, Pinterest manually selected the advertiser partners and will be working with the brands closely to ensure authenticity is maintained with their content."
One of the highlights of using Instagram for brands is that once you've uploaded a post, you can quickly share it across several other platforms once you've connected your accounts: Facebook, Tumblr, Flickr, and Twitter.
It's important to know the details of how exactly Instagram posts translate to each platform before you hit the share button; that way you can tweak your posts to get the best results across all of them.
On Twitter
Instagram posts on Twitter are shown as a link in the tweet, and they pull in all the text and the hashtags used to caption a post before the allotted 140 characters are used up. Here's an example of this post as it was shared to Twitter, below:
Meet our Lead Engineer @jcsalterego! A pioneer of #steakgram here on Instagram, he can also be found… http://t.co/tiOJAT1WEX

— Union Metrics (@UnionMetrics) May 14, 2014
Captions longer than 140 characters are truncated with an ellipses, as above, and if all of your hashtags are at the end of a long caption, none of them will translate to Twitter. If you want the full caption and hashtags to show up, keep it short; a short caption and no more than two or three hashtags (three will probably only work if you're using shorter hashtags like #TBT). Remember that some of the characters will be used up on the link to the Instagram post itself.
Instagram will also translate another Instagram user's account name that you've tagged in a post to their Twitter account username, if they've connected their accounts. If they haven't connected their accounts, the tweet will show the person's Instagram account name and will remove the "@" symbol so it doesn't tag anyone on Twitter.
However, if you use the incorrect Instagram username when you tag someone in a post and it doesn't match any Instagram users, it will translate to Twitter using the "@" symbol. Another reason to be sure you're using the right account name (you should see it pop up while you're typing it in, as in the photo below) when you decide to mention someone in a post you plan to share.
Want more?
For more tips about using Instagram as a brand, head over to the Union Metrics blog.
For more Twitter tips, or tips specific to TweetReach, check out our master post from last week.
It's Friday, so that means it's time for This Week in Social Analytics and our favorite posts of the past week in the world of measurement, analytics, and social media. See a great piece we missed? Link to it in the comments, or tell us about it on Twitter or Facebook.
The Surprising Data Behind How Often Brands Should Post On Instagram [from Forbes; written by Jeff Bercovici]
 "Union Metrics also looked at activity around paid content — ie. advertising — on Instagram, and found that it's remarkably effective as a tool for driving follower acquisition and engagement. One big brand saw a 32% increase in followers after a 30-day paid campaign, translating into tens of thousands of new followers, plus a corresponding 25% increase in engagements on organic, non-paid posts. That suggests that followers obtained through paid promotion are as valuable as or more valuable than those acquired for free — another reversal of conventional wisdom, if it holds up on a wider scale."
Want to learn more? Download our full Instagram whitepaper here.
10 Actionable Research Based Instagram Marketing Tips [from Heidi Cohen]
"93% of prestige brands have a presence on Instagram, up from 63% in July 2013 according to L2 Think Tank research."
Emphasis original. Pair with another great piece from Heidi this week: 10 Small Business Marketing Lessons You Need Regardless of Size.
10 Kinds of Stories to Tell with Data [from Harvard Business Review; written by Tom Davenport]
"Narrative is—along with visual analytics—an important way to communicate analytical results to non-analytical people. . .What's needed is a framework for understanding the different kinds of stories that data and analytics can tell. If you don't know what kind of story you want to tell, you probably won't tell a good one."
7 Ingredients for Employee Social Advocacy [from Convince and Convert; written by Jay Baer]
". . .employee social media advocacy gives you Authenticity, Trustworthiness, and Reach. But, getting there isn't a snap. There are many steps involved in creating and maintaining an effective program of this type."
Click through for the full SlideShare.
The best crowdsourced social media campaigns [from iMedia Connection; written by Drew Hubbard]
Examples of the best crowsourced social campaigns in recent memory. Do you have one to add? Or a failed attempt everyone can learn from?
Over 100 B2B Content Marketing Statistics for 2014 [from TopRank Online Marketing Blog; written by Lee Odden]
This roundup covers everything from "insourcing vs. outsourcing to the most effective tactics", but we pulled B2B content marketing and social media tactics here:
"B2B content marketers use an average of 6 social media platforms

91% of B2B marketers use LinkedIn to distribute content
85% of B2B marketers use Twitter to distribute content
81% of B2B marketers use Facebook to distribute content
73% of B2B marketers use YouTube to distribute content
55% of B2B marketers use Google+ to distribute content
40% of B2B marketers use SlideShare to distribute content
34% of B2B marketers use Pinterest to distribute content
22% of B2B marketers use Instagram to distribute content
22% of B2B marketers use Vimeo to distribute content
16% of B2B marketers use Flickr to distribute content
15% of B2B marketers use StumbleUpon to distribute content
14% of B2B marketers use Foursquare to distribute content
14% of B2B marketers use Tumblr to distribute content
14% of B2B marketers use Vine to distribute content"
On Being Useful [from Social Media Explorer; written by Tracey Parsons]
Excellent follow-up piece on the discussion on the balance brands need to strike between being human and being useful; shows examples of brands who strive to be useful in a human way.
The Ecommerce Brand's Guide To Pinterest [from Social Fresh; written by Julie Bee]
If you're an ecommerce brand that has already set up a Pinterest Business Page and gotten verified, then this article tells you where to go next.
How 4 Brands Embraced Tumblr's New Mobile Design [from AdWeek; written by Garett Sloane]
"'Tumblr is a place where brands can breathe,' the company said in today's mobile redesign announcement. 'We're once again stretching the canvas for brands and marketers to create a mobile identity that is truly representative of their brand.'"
Pair with Tumblr declares war on the internet's identity crisis from The Verge.
Twitter's Marketing Problem [from stratechery; written by Ben Thompson]
The headline takes away from the interesting potential ideas for Twitter's future in this article:
"So why not embrace the complexity? Instead of trying to teach new users how to built a curated follower list, build the lists for them. Don't call them lists, though; embrace Twitter's TV connection and make them 'channels.' Big basketball game? Go to the basketball channel, populated not with the biggest celebrities but with the best and most entertaining tweeters. Build similar channels for specific teams in all sports. Do the same for Apple, Google, and technology; liberals, conservatives, and politics in general; have channels for the Oscars, the Olympics and so on and so forth. And make them good, devoid of the crap that pollutes most hashtags and search results. If the ideal Twitter experience is achieved with a curated list, then provide curated lists and an easy way to switch among them.

Now you have a value prop: easily join the conversation about what is happening in the areas you care about, without the months-long process of building a perfectly customized Twitter feed. Oh, and by the way Ad Person, here is a very easy-to-understand ad unit built around a specific topic filled with self-selected followers."
Whether you know someone just getting started with Twitter as they're launching their new business, or you want to brush up on some of the basics yourself, we've rounded up all of the Twitter and TweetReach tips and best practices we've written up and tested and put them here for your convenience.
Twitter Best Practices
Twitter Hashtag Best Practices
Why you should use lists on Twitter
Use favorite tweets to find new resources
Brands: why you should favorite tweets
Using Twitter Trending Topics to your advantage
Twitter Quick Tips
Twitter Tip: Turn off mobile alerts at bedtime
TweetReach Tips
Tracking Instagram, Vine and more with TweetReach (And now, of course, you can also use our Union Metrics for Instagram analytics!)
TweetReach Tip: Measuring the results of a Twitter contest
Using TweetReach to monitor a social media crisis
TweetReach Tip: Find & engage influencers on Twitter with TweetReach snapshot reports
TweetReach Tip: Common Tracker mistakes
TweetReach Tip: Improve your snapshot report search query
TweetReach Tip: Measuring the reach of a Twitter account
TweetReach Tip: Saving your snapshot reports
TweetReach Tip: Excluding tweets from your search
TweetReach Tip: Searching for a specific tweet
TweetReach Tip: Searching for URLs
TweetReach Tip: How to isolate specific dates in a Tracker
TweetReach Tip: How to isolate specific dates in a snapshot report
Today's TweetReach Tip: When tweets are available for analysis
Got any good tips we missed or questions you want answered? Leave them in the comments, or find us on Twitter. We're always happy to answer your questions!
Image courtesy NYPL Digital Gallery. 
It's Friday, so that means it's time for This Week in Social Analytics and our favorite posts of the past week in the world of measurement, analytics, and social media. See a great piece we missed? Link to it in the comments, or tell us about it on Twitter or Facebook.
Real-time marketing fails from major brands [from iMedia Connection; written by Jenn Deering Davis]
"Just because RTM is the hot marketing tactic of the moment doesn't mean that it's right for every brand at every event."
We are not all Oreo: Check out these RTM fails and the lessons that come with them.
A Brand and a Person Offer the Same Post with Very Different Results [from Social Media Explorer; written by Jason Falls]
A good piece in the ongoing discussion of just how human brands should try to be.
Millennials Tweet About Brands When Rewarded [from All Twitter; written by Mary C. Long]
"53% of Millennials could be following your brand on Twitter with the right incentives. Wink wink.

And that's not all, according to the report, Millennial women are seven times more likely to retweet your brand and three times as likely to follow your brand on Twitter (and see all those great incentives you're offering). Men are three times as likely to follow on Twitter as well, but they're a bit less generous on the retweets."
Emphasis added.
Instagram Video Ads Are Coming Soon [from AdWeek; written by Garett Sloane]
"'Instagram is almost a magazine, and it wants its ads like in a magazine to be just as compelling as content,' said James Borow, CEO of digital marketing platform Shift."
How Do Social Media Styles Differ by Culture/Nation? | Part I [from Social Media Today; written by JC Giraldo]
We're all in a global market, and understanding regional differences in social media use is important. You can read part 2 here, and part 3 here.
How to Develop a Pinterest Marketing Strategy for your Business [from Eli Rose social media; written by  Liz Jostes]
"Someone landing on your Pinterest profile will make a judgment on your brand and business within seconds. Developing a group of boards that presents a full, well-rounded view of your brand is absolutely the best strategy to have."
Snapchat: A New Breed of Network [from Social Media Today; written by Derek Smith]
"Still, Snapchat is a potential gold mine for advertisers, according to the San Francisco Chronicle. We've become good at ignoring intrusive advertisements, but Snapchat users must quickly pay attention to messages before they're deleted, so ad impressions could be impactful if they're relevant to the demographic."
Online Shares Could Be As Influential As In-Person Recommendations [from Marketing Charts; written by staff]
"Across the three categories – supermarket, automotive, and mini-tablet – the average lift in purchase incidence from an "excellent" online share (a strong positive one) was found to be 9.5%. What that means, according to the analysis, is that an excellent online share increases the perceived value of these products by an average of 9.5% over a neutral share."
3 Ways to Ensure Your Social Promotions Follow the Law [from Convince and Convert; written by Kevin Bobowski]
Be very clear about your social promotions, or the FTC could come calling.