Join us for a short demo this Thursday, February 20 at 9:00am PDT and we'll walk you through TweetReach Pro, our historical analytics and our snapshot reports.
Demos usually take 15-20 minutes followed by an open Q&A session. At the end, attendees will receive a discount code that can be applied to a TweetReach Pro subscription.
You can register here. Hope you can make it!
It's Friday, so that means it's time for This Week in Social Analytics and our favorite posts of the past week in the world of measurement, analytics, and social media. See a great piece we missed? Link to it in the comments, or tell us about it on Twitter or Facebook.
Instagram Video: How You Can Use This Short Form Now [from Heidi Cohen]
"Short form video findability matters. If your target audience can't find your content, it's useless. Instagram short video findability comes from 2 major sources:

90% of Instagram Video shares occur on Facebook.
Instagram has a 150 million user installed base. While not all of these users have the video version of Instagram, it doesn't need to convert its base to testing the platform."
Emphasis original.
3 TED Talks that Should Shape your Social Strategy [from The Buzz Bin; written by Michelle Wright]
"While there are a few talks that address social media directly (here's one on reputation management, one on online crowds, and one on how social media can make history), I wanted to share a few of my personal favorites that don't actually mention it, but rather contain ideas we can incorporate to make our strategies more effective."
STUDY: Which Social Networks Inspire the Greatest Brand Dependence? [from PR Newser; written by Patrick Coffee]
". . .Instagram beat its parent company for loyalty in the coveted 18-25 demo.

"Finally, some up-and-coming networks scored very highly on the dependence front despite lower membership numbers. Reddit and Tumblr were right behind the big four (Facebook, Instagram, YouTube and Pinterest) in nearly every category."
Emphasis original.
6 Tips for Financial Service Companies on Social Media [from Social Times; written by Odysseas Papadimitriou]
 "The challenge for financial institutions is figuring out a way to operate within the current regulatory framework, while also transforming their social media operations into a weapon for efficient customer service, brand management and crisis mitigation (rather than a ticking time bomb of liability). Just because you have one hand tied behind your back doesn't mean you can't do some damage, right?

Here are six tips to ensure that your company's social media strategy packs a major punch."
Tips for Creating Pinnable Content [from Soshable; written by Savannah Marie]
"While there's no surefire method for finding Pinterest success, using the right combination of content, images and infographics seems to key. Follow the tips below to create pinnable content that meets or exceeds your expectations for the network while reaching the largest audience possible."
First, do the research to be sure this is where your audience is.
Using Snapchat: A Guide for Brands [from Social Media Today; written by Elizabeth Kent]
"Exactly what audience can you reach through Snapchat? Here's what the stats have to say:

Snapchat has an estimated 26 million active users in the U.S.
About 400 million snaps (photos and videos) are sent per day.
The core audience on Snapchat is ages 13-25.
Women make up 70% of Snapchat's user base.
18% of people who own an iPhone are on Snapchat.
From May 2012 to April 2013, the number of snaps sent per day grew from 6 million to 150 million.

These statistics show not only that Snapchat's core audience is the same audience that many marketers are trying to reach, but also that its audience is ever-expanding, making Snapchat a prime target for your brand's social media marketing strategy."
Literature festivals are no longer restricted to the physical world; there's a literature festival happening right now and it's taking place completely on Twitter. Running March 12-16, the #TwitterFiction Festival is already off to a pretty fantastic start: 17.3k tweets have been made so far with a reach of 11.7 million. And that's with just day one of the festival finished!
The most retweeted tweet so far announces the start of the festival and has a link for the curious to learn more:
#TwitterFiction Festival has begun! Tune in around the clock for fiction brought to life on Twitter http://t.co/l3tmoDnOKe

— Fiction Festival (@TWfictionfest) March 12, 2014
Events like this on social media remind us that such platforms are more than just a fad (even if it's just our elderly relatives who still think that way) and that even if traditional forms of literature decline, new and interesting means of storytelling are sure to pop up in their place. 140 characters at a time forces participants to be witty, after all.
Boy meets girl. Girl meets abyss. Abyss gazes back. Girl becomes abyss. Boy destroyed. Boy meets girl. Time is a flat circle #TwitterFiction

— Lincoln Michel (@TheLincoln) March 13, 2014
We'll keep an eye on the festival. In the meantime, hit your Twitter feeds for a little fiction fix!
Quick reminder that our SXSWi happy hour is today from 3-5pm at The Ginger Man! Hit us up on Twitter or give us a shout if you're in Austin and want to come by. Join us for some delicious beer and snacks, and ask all the burning questions you've ever had about our products. Or just relax and enjoy a respite from the chaos of SXSWi while having the opportunity to meet our robot mascot, Merle.
It's Friday, so that means it's time for This Week in Social Analytics and our favorite posts of the past week in the world of measurement, analytics, and social media. See a great piece we missed? Link to it in the comments, or tell us about it on Twitter or Facebook.
Gear Up for SXSW: A Look Back at 2013′s Top Themes [from Social Media Today; written by Trevor Jonas]
As you descend into the madness of SXSW 2014, here's a reflection on the standout takeaways from 2013. Bonus: 6 networking tips from Social Fresh. (And here's where you can find us during SXSWi!)
The Ultimate Cheat Sheet for Social Media Dimensions [from Likeable Daily; written by Samy Simorangkir]
A handy resource to bookmark.
Philoselfie: Science behind selfie-expression [from Brian Solis]
"Right now, there are more than 79 million pictures on Instagram with the hashtag #selfie. You can add another 7 million for #selfies and 1 million for #selfienation. Not counted though, are the number of selfies that don't include a meta reference beyond the visual that you are indeed looking at a selfie."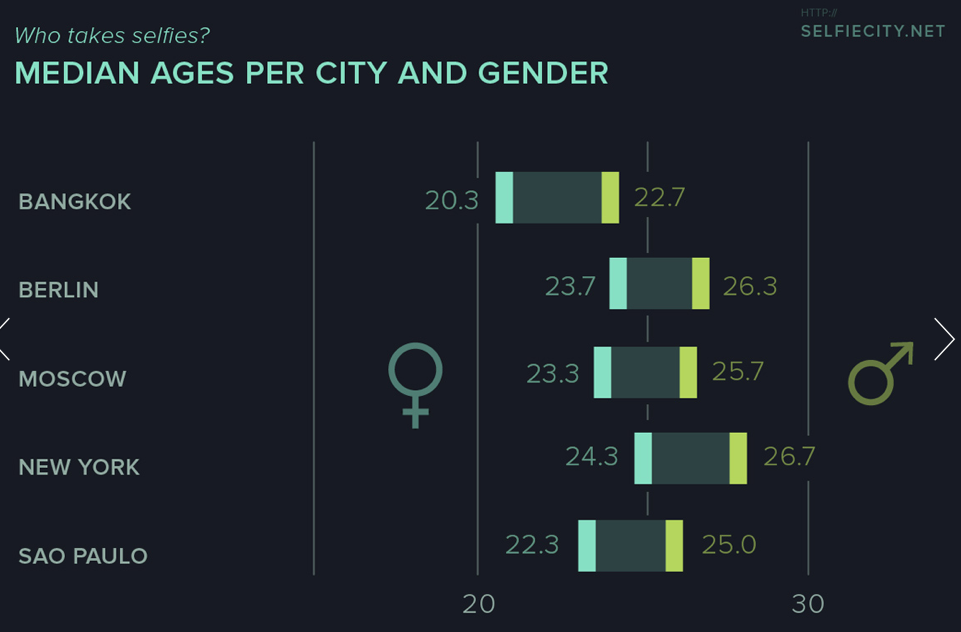 Another breakdown of the Selfiecity study, this time from Brian Solis.
Is Vine Paying off for Smaller Brands? [from Social Times; written by Christie Barakat]
"Home Depot believes Vines tap into people's desire for unique content and fresh perspectives. 'Stop motion provides the perfect excuse for casting your product as the star of the show.'"
Building Visual Narratives with Photographs [from Geoff Livingston]
Incorporating more visuals in your brand communication can be a powerful way to draw the attention of and connect with fans and followers– or capture the attention of people who might become them. This article has tips from a National Geographic Traveler Seminar on storytelling through photography.
Social media's 'law' of short messages [from MITnews; written by Peter Dizikes]
"The study found that at times of lower activity, the most popular length of tweets ranges from about 70 to 120 characters. But at moments of much greater traffic — when messages are sent up to 200 times as frequently — the highest concentration of tweets is only around 25 characters in length, and declines sharply to a low at about the 130-character mark."
Global Social Media Trends – What You Need To Know [from Heidi Cohen]
Use these stats to inform your strategy for the rest of 2014.
Biggest Twitter Linguistic Study Ever Hopes To Discover The Next Viral Sensation [from AllTwitter; written by Lauren Dugan]
"The main goal of this research is two-fold: one, to determine how new words become popular and how they spread; and two, to analyze how the actual movement of people influences our linguistic patterns."
Are You Still Missing a Strategy for Negative Social Posts? [from eMarkter; written by staff]
"February 2014 research from social media training firm Social Media Marketing University (SMMU) found that fewer than half of US marketing professionals had an effective plan in place for dealing with negative posts on social sites. One-quarter did not have a plan but were working on one, and nearly one-quarter more had no plan—and no plan for a plan."
Next generation marketing: how to engage millennials [from Waggener Edstrom; written by Charlotte Sanville]
"Moving forward, brands need to understand that the key to engaging with gen Y audience is by participating in a two-way communication."
The Five Promises Every Corporate Social Media Account Should Make [from Convince & Convert; written by Andy Lombard]
"The common element in the above five promises is strategy. Too many businesses throw up social media pages and expect them to attract leads and drive sales as if by magic. To really build an effective social presence, you must offer consistent customer value."
Emphasis original.
Coming into Austin for SXSWi and not sure what to fill your dance card with just yet? We've highlighted some panels around social media, analytics, and from some of our friends at Gnip, Tumblr, and more that we think are worth checking out. (And if you want to know what we're up to, you can check that out here, and give us a shout if you want to come by our happy hour on Monday, March 10 at The Ginger Man!)
Sunday, March 9
12:30PM: Sharknado & Twitter: The Perfect Social Storm with Dana Ortiz of NBC Universal/Syfy and Fred Graver, Head of TV at Twitter
1:00PM: Beyond Dots on a Map: Visualizing 3 Billion Tweets with Gnip Product Manager, Ian Cairns
3:30PM: The Fragile Laws of Protection with Tumblr's General Counsel, Ari
5:00 pm: Union Metrics Co-Founder and CCO Jenn Deering Davis is hosting a mentoring session at the Hilton Garden Inn. Register for a time slot ahead of time, and hurry– there's only one left!
Monday, March 10
12:30PM: Why Clicktavisim is Not a Dirty Word with Director Politics & Causes, Liba
12:30PM: Entertainment Marketing in the Age of the SuperFan with Director of Canvas, David
3:30PM: Dive into Social Media Analytics with Gnip VP of Product Strategy, Robert Johnson
Tuesday, March 11
11:00am: #EsuranceSave30: Why 5 Million Tweeted in 36 Hours with John Ploumitsakos, Director of Online Sales at Twitter; Jesse Dillow, Associate Creative Director at Leo Burnett; Josh Raper, Vice President + Account Director at Leo Burnett; and Nancy Abraham, VP of Advertising at Esurance
Wednesday, March 12
11:00AM: Letting Your Fandoms Build Your Kingdoms with Director of Product for Community and Content, Danielle
And a bonus session for those sticking around for the music portion of the festival:
Friday, March 14
12:30PM: Fan Data: The Journey from Analysis to Action with Music Evangelist, Nate
It's Friday, so that means it's time for This Week in Social Analytics and our favorite posts of the past week in the world of measurement, analytics, and social media. See a great piece we missed? Link to it in the comments, or tell us about it on Twitter or Facebook.
New Research: Most Companies Do Not Have the Talent to Leverage Marketing Analytics [from Convince & Convert; written by Tom Webster]
"The simple truth is that many marketers can't show the business impact of social because they can't show the business impact of a lot of things.

"All of which is to say this: if you are in the business of using social for your marketing efforts, either on the brand-side or the agency-side, now is a great time to dig those wells before you get thirsty. Use those extra dollars, and that extra optimism, to build analytics and pre/post campaign measurement into everything you do and to recruit or develop tomorrow's analysts. End 2014 with more actionable insight and knowledge about the impact of social on your business than you have today. Hold your efforts to the highest possible standards–and let Darwin take care of the rest."
Emphasis original.
A Marketer's Guide to SXSW Brands try to keep Austin wired [from Adweek; written by Christopher Heine]
"For those braving the South-by crowds, be prepared for a little something weird. That's just part of the deal, friendo."
Adweek, preparing you for the "controlled chaos" of SXSW. As for us, this is what we're up to during SXSWi. See you there?
This week had a ton of great articles on Instagram:
Fantastic Infographics, Drawn From A Study of Instagram Selfies [from Wired; written by Liz Stinson]
Finally the selfie gets the serious scientific study it deserves:
"Right now, there are more than 79 million photos on Instagram that fall under #selfie. This is not counting #selfies (7 million photos), #selfienation (1 million photos), #selfiesfordays (400,000 photos) or the countless number of photos with no hashtag at all. You might be thinking: "Finally, we've reached peak #selfie!" But according to a new study, only 3-5 percent of photos on Instagram fall into the category."
Keys to Photog Jamie Beck's Success: Tumblr, Insta, Hard Work [from Racked; written by Chavie Lieber]
"Did social media help at all with the jump start?

'Well, I was kind of behind on Twitter, but Tumblr for sure, it was amazing. They were really supporting our community of original content creators. We were part of the original smaller group of people [on Tumblr] so it was easier to engage. We went to meet-ups, and made friends who were incredibly supportive. It was definitely right time, right place.'"
Emphasis original.
How Instagram Harnesses the Awesome Power of Mobile, Social Media and Photos: 3 Success Stories [from Jeff Bullas]
"This visual self expression and sharing culture combines the power of three.

People's obsession with their iPhone (read smartphone)
Engagement power of Facebook
The love of photos that seems to have been reinforced with the easy availability of the camera in your pocket

The only challenge for marketers is how to harness that through a touch of creativity."
Instagram Captures Higher Interaction Rates than Facebook [from eMarketer; written by staff]
"While Instagram's community of 150 million monthly active users was a fraction of the size of Facebook's, and even smaller than Twitter's, the digital marketing organization found that interaction rates for posts made by the 249 prestige brands studied were some 15 times higher than those on Facebook."
Emphasis added.
Can Flickr Catch Instagram? [from Geoff Livingston]
"Flickr celebrated 10 years of serving photos earlier this month, making it an old man amongst social networks. But the photo network is still relevant today, ranking in the top 10 social networks thanks to a resurgence under Marissa Mayer's watch. In fact, Flickr is now ranked just one spot behind rival photo network Instagram."
Here's how to become the ultimate Tumblr power user [from The Daily Dot; written by Aja Romano]
A fantastic roundup of basic Tumblr tips- including all the changes from Tumblr's recent revamps- and some excellent power user tips.
10 Must-Know Tips to Leverage Pinterest for Your Business [from Social Media Today; written by Brett Relander]
"Pinterest offers perhaps the most unique benefits among all social media platforms. And if your businesses' content marketing strategy has not factored Pinterest in the mix you are missing out on a huge chunk of traffic from a site that sends more visitors to web properties than the much-vaunted Twitter and has more than 70 million users."
Three Ways Twitter Chats Can Help Build Your Technology Brand [from Edelman PR; written by Aurora Arlet]
You can find us hanging out in #MMchat  followed by #socialchat on Monday evenings starting at 7pm CT.
Facebook Pulls Ahead of Twitter in Social TV Battle, But Can It Win the War? [from Social Media Today; written by Elizabeth Kent]
"Why Does Social TV Matter for Marketers?
Last but not least, what does all this mean for marketers? The data acquired from Facebook and Twitter on TV viewing and social media use can be used for:

Better insights: Social TV data is critical because it allows marketers to better understand who their audience is.
Campaign optimization: Through these insights, marketers can optimize their advertising campaigns to maximize effectiveness.
Cost-effective ad purchasing: Understanding when certain ads are most effective will allow marketers to make advertising purchases that are more cost-effective.
Real-time change: With real-time data comes real-time change. Marketers may be able to use social TV data to improve their advertising campaigns in real-time for immediate results.
Social media integration: Data has shown that when networks and advertisers incorporate social media content into their broadcasts, they are able to engage more effectively with their audience."
Introducing Promoted Accounts in search [from Twitter; written by Nipoon Malhotra]
"With this launch, relevant Promoted Accounts can be presented to users in search results along with recommendations of people to follow. We automatically select relevant search queries for presenting Promoted Accounts based on an advertiser's targeting choices, so no additional action is required for your business to access this capability."
Will you be at SXSWi this year? We'd love to see you! Here's where you can find the Union Metrics team (and probably our buddy Merle):
Austin Startup Crawl | Thursday, March 6 | 5-10pm
We love being a part of the Startup Crawl to unofficially kick off SXSWi! If you haven't experienced the Startup Crawl before, it's a great way to get to know a lot of the people at the fantastic, burgeoning companies in Austin as well as the people who have brought them to life. Find details and RSVP here, and you can find us at a table in the lobby atrium at the Omni downtown.
Interested in working with us? You can find our open job listings here!
SXSW Mentor Sessions | Sunday, March 9 | 5-6pm
Our CCO and Co-Founder Jenn Deering Davis is hosting a mentor session Sunday evening at the Hilton Garden Inn on the 10th Floor. Register for a time slot online ahead of time, but you'll have to hurry– there are only three left!
Union Metrics SXSWi Happy Hour | Monday, March 10 | 3-5pm
This year we're excited to host our happy hour at The Ginger Man! Join us for some delicious beer and snacks, and ask all the burning questions you've ever had about our products. Or just relax and enjoy a respite from the chaos of SXSWi. Sound good to you? Shoot us an email, or let us know on Twitter and we'll put you on the list!
It's Friday, so that means it's time for This Week in Social Analytics and our favorite posts of the past week in the world of measurement, analytics, and social media. See a great piece we missed? Link to it in the comments, or tell us about it on Twitter or Facebook.
Instagram – Sales Versus Engagement | Research [from Heidi Cohen]
"On Instagram, the researchers found that images showing customers wearing or using the product resulted in sales. This helped with fit and use. By contrast, attention-getting or aspirational images drove engagement (such as likes and comments.)"
How Instameets Unite Instagrammers And Brands [from Viral Blog; written by Marion aan 't Goor]
If your brand is looking for a fresh perspective driven by customers, you might consider sponsoring an Instameet:
"There are multiple brands that are sponsoring instameets and lending out their products (such as cameras and camera supplies) so Instagrammers can try them out."
Coca-Cola's Secret to Storytelling [from Social Times; written by Christie Barakat]
The company applies the "water cooler test" to determine if blog, photo and video content is compelling:

Does it answer the "Why should I care" test?
Does it surprise you?
Is it compelling with universal appeal?
Is it being measured systematically?
TV's Approach to Firing Up Social Fan Base Applies Across Brands [from PR Newser; written by Nancy Lazarus]
"'Give fans recognition and shine; that's not precious to TV, it could apply to any fans out there', said Tom Chirico, VP digital and social engagement for VH1."
Brands, Stop Chasing New Customers and Ignoring Your Existing Ones [from Mack Collier]
"I've talked about this before, but you build loyalty and create fans with rewards, not incentives. Offering me products if I will switch to your company doesn't win my loyalty to your brand, it simply gives me an incentive to take advantage of the offer. I may have to sign a 2-year contract to get all the goodies, but if you have ignored me and my business, guess what happens in 2 years? I will switch to your competitor, because they just offered me prizes and incentives for switching.

You are training your customers to leave you."
Emphasis original.
6 Ways to Make People Love Your Brand [from Mashable; written by The Daily Muse]
"'People don't buy things for logical reasons,' Zig Ziglar once famously said. 'They buy for emotional reasons.'

Which means: In order to gain customers — and keep them for life — you've got to do more than introduce them to your brand, business, or product. You've got to make them fall in love with it."
Click through for the full infographic on how.
Brands Slow to Respond to Complaints Posted on Social Media [from Marketing Charts; written by staff]
"In fact, fewer than 1 in 5 respondents said they respond to complaints within an hour. And although a slight majority do so within 24 hours, more than 1 in 5 say they rarely – if ever – respond to customer complaints made via social."
Last Year, Social Ads Proved Highly Effective in Delivering New, Quality Audiences [from Marketing Charts; written by staff]
"The study reveals that social ads performed 52% better than the 4-channel average in delivering such quality users during Q4. In fact, social ads performed better than the average during each quarter of the year."
Twitter Tips and Tricks That Don't Work Anymore [from Business 2 Community; written by Roxanne Roark]
Split into a list of tips and tricks that do still work, and those that don't. An important highlight from the don't list:
"1. Add a period or really anything before someone's Twitter handle so the tweet is public. If you don't, the only people that can see it will be you and the person you are talking to, plus both your followers. This is no longer true and admittedly, I can't tell you when it stopped being that way. Don't believe me? Please let me note, these following accounts were NOT adding a period or anything in front of the Twitter handles, and to further verify, I signed in, unfollowed one of the accounts, and opened a different conversation between the account and another that I've never followed."
Have any of you tested this to see if it still works or not?
Is Real-Time Marketing a Hoax? [from Social Times; written by Christie Barakat]
"Connecting with consumers in real-time requires more than industry grandstanding and knee-jerk reactions to prominent events; sensitivity, relevancy and prioritizing content is of paramount importance, and engaging narratives should first be designed according to an overarching editorial scheme. Real-time content should keep fans entertained as well as engaged, and follow a general story line that addresses an audiences varied interests."