Archive for the 'Events' Category
The 71st Annual Golden Globes aired last night, and we were there as usual in conjunction with mhCarter Consulting and the Hollywood Foreign Press Association to help out on the red carpet and keep track of the social conversation. (Those of us at home did it with our shoes off and our beverage of choice in hand, just like Emma Thompson.)

During the 3-hour show there were 1.59 million tweets, and the awards predictions, red carpet fashion reviews, and general commentary brought the total up to 2.59 million over the course of the entire day. 875k Twitter users generated these tweets, reaching 296.4 million people overall– its biggest year on Twitter yet!
Actor Aaron Paul from Breaking Bad tweeted the most retweeted tweet of the night, with 30k retweets and 530 replies:
Breaking Bad for the win bitches!! Yeah Mr. White! Yeah science! #GoldenGlobes

— Aaron Paul (@aaronpaul_8) January 12, 2014
The most retweeted tweet from the official @GoldenGlobes Twitter account was a photo of actress Jennifer Lawrence on the red carpet, and it earned 3800 retweets and 550 replies:
It's Jennifer Lawrence on the @goldenglobes #redcarpet! pic.twitter.com/L6DxsOZ4XJ

— Golden Globe Awards (@goldenglobes) January 13, 2014
Further proof that the Internet still loves Our Lady JLaw (even at the moments when she's not sneaking up on Taylor Swift).
How does this compare to last year?
The 2013 Golden Globes saw 1.7 million tweets from 598.5k contributors, reaching 184.8 million people and earning 8.1 billion impressions.  This means tweets increased more than 1.5x this year over last year, with nearly 300k more contributors reaching over 100 million more people and doubling in total impressions.
We have to say, we're looking forward to what the 2015 Golden Globes bring us under the returning helm of hosts Tina Fey and Amy Poehler.
There has been plenty of coverage around Monday night's BCS Championship Game between Florida State and Auburn; everything from fan to brand reactions on Twitter. On the surface these tweets strike as funny, impassioned, angry, or incredulous– not unexpected reactions when it comes to something fans connect with as deeply as their favorite sports teams. Looking at how people talk about sports on social media like Twitter can tell us more than just which team they're a fan of, however; it gives us insight into their actions and behaviors. And if you know what it is that a fan is doing with their spare time, then you have a better idea of how to approach them, and talk to them. For brands this is invaluable. As for fans, they get the chance of an individualized approach to putting things in front of them that they'll want to connect with.
The Action: A favorite game gets rewatched like a favorite movie.
I will never ever delete the #BCSChampionship game off of my DVR. EVER.

— Melina Vastola (@melinasphotos) January 8, 2014
Rewatching the #BCSChampionship game and I just got mad at Jalen Ramsey all over again for missing that tackle on Mason

— Rod Williams (@Rodistotle) January 8, 2014
The Implication.
What's the point in rewatching a sports game you already know the outcome of? It's not that different from rewatching a favorite movie or television show, really: while you already know what's going to happen, now you can watch to see how it happens, and gain a deeper understanding of the thing that you love. While you're likely experiencing the same emotions of elation at a great play or sadness in a defeat, it's also likely not as strong as when you watched the game live. It's easier to spot a certain player's motivations, or how a play completely unraveled, because you're not sitting on the edge of your seat with your teeth clenched, or screaming at the ref.
For brands whose demographic includes sports fans, this is helpful information. People who save a game to rewatch it are exhibiting behavior that's planned, thoughtful, and deeply engaging– and that's the kind of approach any brand wanting to build a relationship with them should take when reaching out to them. That fan behavior shows the kind of loyalty companies are lucky to find in a customer. Reach out the right way, with understanding, and you stand to be rewarded.
The Action: Not holding back feelings about a new way to watch the game.
ESPN debuted their Megacast for the BCS Championship, and like all things on the Internet viewers were not shy about sharing their feelings.
I really have grown to dislike ESPN over the years but the BCS Championship Game megacast cast was brilliant #Megacast #BCSChampionship

— Nathan Winder (@nAtr0nBomB) January 7, 2014
Wait, I just discovered the #MegaCast on ESPN2. restart the game! #BCSChampionship

— BrockKoller (@BrockK) January 7, 2014
So, I tried the #MegaCast. Not working for me. Just give me the football. No…not literally. #BCSChampionship

— Pigskin 'N Pearls™ (@PigskinNPearls) January 7, 2014
The implication.
Sometimes it's the simplest lessons that bear repeating: Listen to your audience. Obviously ESPN will never be able to make every single sports fan happy with a magical coverage design, but they can find ways to tweak their Megacast for future games by paying attention to the things their watchers are saying about it. This is also an opportunity to shine a spotlight on certain fans; if you incorporate their idea, highlight the tweet they shared it in on a future broadcast and say thank you. Nothing could spell out clearer that you do care what viewers have to say.
And some of their ideas are pretty entertaining.
New #MegaCast idea: Find the guy who bet the most on the game (legally) and put a camera on him. #BCSChampionship

— Michael T (@STLMetsFan5) January 7, 2014
Speaking of events that happen this time of year, it's CES week in Las Vegas. (You may recall that we've analyzed CES tweets before.) We'll write more on this as the event continues over the next few days, but we wanted to check on what Twitter thinks about CES so far. Here's a quick rundown of early CES tweets.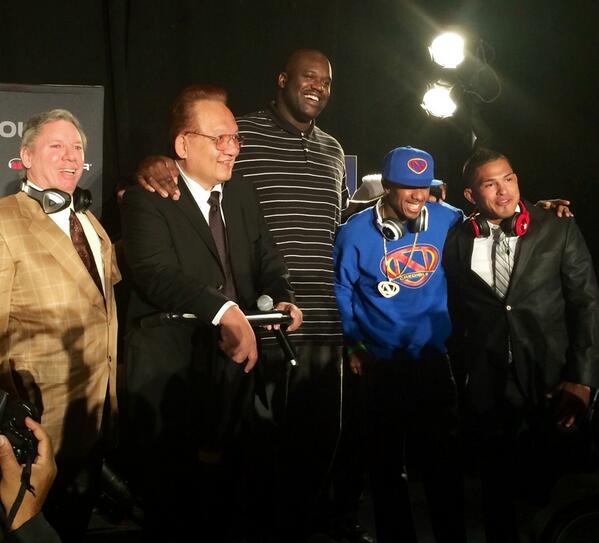 Most retweeted accounts:
Most buzzed about brands:
Intel
Samsung
Sony
Biggest celebrity endorsements:
@Shaq (Monster)
@NickCannon (Monster)
@LeVarBurton (AMD)
There were nearly 100,000 tweets using the official #CES2014 hashtag posted yesterday (January 6) and today – the first official full day of the conference – is on track to beat that. More CES updates throughout the week, so check back in later!
Want help tracking tweets about your next conference or event? Let us know!
It's that time of year again – awards season! The 71st Golden Globe Awards are this Sunday, and as usual, we'll be there to track the social media conversation around the event and help out on the #redcarpet.
So, we were wondering… In the days leading up to the first major awards show in Hollywood this season, which movies, TV shows and actors are Twitter and Tumblr buzzing about?

Well, Tumblr can't get enough of Amy Poehler and Tina Fey, who are coming back for a second year as hosts of the show. Most of the top posts about the Golden Globes right now are GIFs of the comedic duo, taken mostly from the commercials for the upcoming broadcast (like this one from gillianjacobs).
After Tina and Amy, Twitter and Tumblr are both excited about Tatiana Maslany from BBC America's Orphan Black and Jennifer Lawrence - or JLaw, if you prefer, which we do – from American Hustle. And there's a lot of talk about Jared Leto from Dallas Buyers Club, Leonardo DiCaprio from The Wolf of Wall Street, and Bradley Cooper from American Hustle.
As far as movies and shows go, Tumblr's favorite films right now are American Hustle, 12 Years a Slave, and Dallas Buyers Club. Twitter also loves Catching Fire, partly because Taylor Swift's song from the film was nominated. And Orphan Black is wildly popular on both networks. Breaking Bad and Scandal are getting some attention on Twitter, while American Horror Story is popular on Tumblr.
Want to follow along with the conversation this week? Find @GoldenGlobes on Twitter and on Instagram, and participate in the conversation with the #GoldenGlobes tag. And stay tuned here, as we'll update with more social data about the show next week!
As we like to do every year around this time, we're checking into what Twitter is saying about holiday shopping, particularly around Black Friday. This past weekend- a full week before Black Friday officially starts- things were starting to really accelerate on Twitter, with an average of about 5,000 tweets an hour posted about Black Friday over the past two days. And so far this month, 780k people have posted 1.3 million tweets about the biggest shopping weekend of the year.
Which upcoming Black Friday sales was Twitter most excited about over the weekend? Amazon was the most talked about sale, with Walmart a close second. And so far, the product topping everyone's wish list is the Xbox One.
We're tracking all Black Friday tweets this week, so we'll keep you posted!
Which conferences and events are you headed to this fall? We at Union Metrics would love to see you if you find yourself in the same place as us in the next few weeks! Here's our conference schedule for the next month or so. Let's meet up!
Today, we'll have a table at the ATX Startup Crawl in Austin, Texas. If you're in Austin, come by and say hi! We're hiring and we'll have lots of swag and stickers to give away. Follow us on Twitter to find our location.
Next week, we're headed to New York for Pivot Conference, where we'll be exhibiting on Tuesday, October 15. Come see us! Can't make it? Keep up with PivotCon on Twitter via @pivotcon or #pivotcon.
Then we're headed to Digital Hollywood on October 21-24 in Los Angeles, where our Chief Customer Officer Jenn Deering Davis will be speaking on Thursday, 10/24. You can keep up on Twitter via the event hashtag #DHFall.
Finally, we'll be at the KEEN Digital Summit on October 24-27 in Nashville, where our CEO Hayes Davis will be speaking on Saturday, 10/26,. Follow along via @KEENsummit and #KEEN2013.
Did you miss co-founder Jenn Deering Davis' talk at SXSW V2V last month? You're in luck; the video is now available!
"Social media has had a dramatic impact on how we watch TV and movies. The past few years have seen big changes in how TV shows and movies are created, delivered and consumed. These forms of entertainment have been able to adapt to a rapidly changing media environment. How can you use Hollywood's strategies to market your startup? This panel will focus on examples and lessons learned in the entertainment industry and help you apply them to your startup or small business."
Let us know what you thought in the comments.
SXSWi Panels you should definitely take a look at, and vote for if they interest you!
We also humbly submit our own panels for your consideration, one last time:
Happy voting! See you at SXSWi 2014?
Adorable GIF credit goes to Pusheen.com
We're proposing two panels for next year's SXSW Interactive conference, and if you like the sound of either one, we'd love your vote! (Here's the link to the first proposal from one of our founders, Jenn Deering Davis.)
Check out this quick interview from our Gentleman Developer Mando Escamilla on Career Autopsy: Lessons from 16 Years as a Dev to see why you should vote for his panel proposal, in his own words.
1. What inspired/drove you to propose a panel around this subject?
I recently started mentoring some developers-in-training and it's been an amazing experience.  The students are incredible and driven and it's been a lot of fun helping them out.  They're all so young, and I'm so very old and it's been nice to share my OH SO VERY LONG career advice with them. So that got me thinking that maybe I could help not just those folks, but EVERYONE AT SXSW!!!!
2. What makes you qualified to discuss it? 
I've worked in this industry for a pretty long time and despite my best intentions, it turns out that I've learned some stuff!  Well, only about 45 minutes worth of stuff.
Which, if you think about it, is pretty sad.  I think I need a drink.
3. Why should people come to your panel? 
Sometimes I can be funny, so that's a plus.  I'm still a little bummed from my last answer, so I don't really know how funny I'm gonna be.  Let me see:
Why did the chicken cross the road?
Tennis ball.
Yeah, my funny's broken right now, so don't come for that.  I'd say the free candy is gonna be the big draw.  Didn't I mention the free candy? Oh, I'm totally gonna hand out candy.  And not the stupid cheapy candy – real, high quality chocolates and such.
4. What would you hope attendees take away from your panel?
Besides the candy you mean?  Well, I suppose I'd like for them to understand that their career is theirs alone – they can choose to make it what they want and they don't have to just accept how things are.
I would add that I hope they DON'T take my soul away with them.  Ha, who am I kidding? I don't have a soul.
5. How would you hope attendees interact with the subject manner of your panel long after they've gone home? 
Well, this panel is pretty introspective, so I'm gonna recommend gin as the primary interaction vector.  Some people are gonna try and tell you to use whiskey, but they're wrong.  And then you'll get Big Tequila telling you that life's a big Cinco de Quatro, but we all know that's just a cheap joke.
So yeah, gin.  Lots and lots of gin.  Once they're good and sloppy on the gin, that's the perfect time to start processing my talk.  I'm WAY smarter and funnier when you're drunk – that's just science.
***
If that sounds good to you, just click here to vote. Again, we would never want to be accused of bribery, but there might be some hugs in it for you.
While perhaps less flooded with music programming than it was in the past, MTV still delivers on pop culture touch points, as the chatter around last night's Video Music Awards (VMAs) shows. A large number of viewers took to Twitter and Tumblr to talk about what was happening on their TV screens– or the live-stream that MTV conveniently provided, an appropriate nod to viewers who have grown up in the digital age.
Twitter
So what was the activity breakdown? Twitter saw 3.9 million tweets from 1.3 million contributors.  One Direction, current kings of pop, provided the most retweeted tweet from member Niall Horan:
 That one tweet saw 55,664 retweets and 2,130 replies.
1D wasn't the only act to get buzz, however; Miley Cyrus, Ariana Grande, Macklemore and Justin Timberlake also saw a lot of mentions.
MTV's Twitter account was the number one contributor to the conversation, followed by Perez Hilton, MTV Spain, People Magazine and MTV News. Top hashtags included #vmas, #vma, #instarazzi, #the2020experience, and #MTV. #Instarazzi perhaps points to celebrity Instagram posts, either directly from the celeb themselves or an Instagram shot of them from someone else. Two of Justin Timberlake's Instagram shots were in the top five tweeted URLs of the evening.
Tumblr
Over on Tumblr, 1.1 million contributors generated 2.1 million posts earning 1.9 million likes– that's huge for Tumblr in a live viewing. The most reblogged post was this one (possibly NSFW if you have delicate sensibilities or don't enjoy seeing a large, superimposed image of Billy Ray Cyrus on anything) with 84,735 reblogs and 60.483 likes. 1D and Miley Cyrus were most buzzed about on Tumblr as well as Twitter, with Lady Gaga, Taylor Swift, and 'N Sync joining them.
'N Sync's reunion performance capped off Justin Timberlake's VMA medley.
Going by top tags on Tumblr, Rihanna was also a popular artist mention of the evening, along with two specific members of 1D; top retweeter Niall Horan and perpetual fan favorite Harry Styles.
Top tags:
vmas

vma
miley cyrus
one direction
mtv
harry styles
lady gag
niall horan
rihanna
nsync
MTV's Tumblr was also the top contributor to the topic, but put out most of its posts on the subject prior to the show rather than choosing a live-blog approach.
Did you watch the VMAs? Better yet did you post about it on Twitter or Tumblr?
Fine print: This includes all Twitter and Tumblr activity posted during the day of 8/25/13 (EDT), using a set of VMA-related keywords. Most buzzed-about musicians determined by the most popular tweets (by retweets) and posts (by notes).
GIF credit: Uproxx