Archive for the 'Events' Category
On Friday we took a look at all the brand chatter on Twitter leading up to last night's blowout Super Bowl game between the Seattle Seahawks and the Denver Broncos. The lack of action on the field turned a lot of faces toward their second screen instead, and made for some entertaining brand interactions (Marketing Land catalogued some of them).
Here's a second look at the brands we examined on Friday- this time for activity on game day alone- and the answer to the eternal question "Is SodaStream still making Coke and Pepsi say #sorry?"
Budweiser
Budweiser's #UpForWhatever hashtag saw 7k tweets from 6k contributors with an overall reach of 14.6 million; about 5x the activity they saw leading up to the big game. The most retweeted tweet was again from Bud Light and featured Arnold Schwarzenegger:
Join us all game long as @Schwarzenegger helps us add Vine color commentary to the #SuperBowl. #UpForWhatever https://t.co/38mHPsG5ch

— Bud Light (@budlight) February 2, 2014
This tweet has seen 600 RTs so far.
Coca-Cola
Coca-Cola saw 49.4k tweets on big game day, from 41.4k Twitter users for a total reach of 32.5 million, just over three times the activity from their game day lead-up conversations. The most retweeted tweet was from the official Coke account and included their #AmericaIsBeautiful campaign hashtag and was retweeted over 5k times so far:
The only thing more beautiful than this country are the people who live here. Discover why #AmericaIsBeautiful: http://t.co/YIE2jtBWEZ

— Coca-Cola (@CocaCola) February 3, 2014
Doritos
Doritos aired the two winning commercials from their Crash the Super Bowl contest last night, and each saw some activity around around their respective hashtags- #TimeMachine and #CowboyKid- and the whole conversation around Doritos, including their campaign hashtag #ForTheBold, saw 16.7k tweets from 15.1k contributors for an overall reach of 14.6 million. That's about six times the activity we saw in their game day lead-up.
The most retweeted tweet around the Doritos conversation with the #Doritos hashtag came from their official account, congratulating the Seahawks on their win:
Congrats @Seahawks for winning the Super Bowl! it must taste good! now you are all that & a bag of #Doritos chips! pic.twitter.com/7p7vqnV55q

— Doritos (@Doritos) February 3, 2014
It has seen 94 retweets so far.
Kia
The conversation around Kia last night didn't change much from their lead-up: 1.4k tweets from 1.2k contributors, for an overall reach of 3.2 million. The most retweeted tweet actually came from some entertaining brand interaction from Xbox, based on Kia's Matrix-themed commercial:
.@Kia We found the One #XboxOne #KiaK900 pic.twitter.com/fEeTVRONqO

— Xbox (@Xbox) February 3, 2014
This tweet was part of a back-and-forth conversation from the brands, and has earned a total of 276 retweets so far.
SodaStream
SodaStream has the most activity around its name by far in the lead-up conversations we looked at last week, but yesterday saw much lower activity numbers for them: 6.6k tweets from 4.9k contributors, for a total reach of 16.4 million. It seems a little brand controversy will get you talked about leading up to an event, but not necessarily boost the conversation once the event takes place.
One of the most retweet tweets featuring their hashtag #SorryCokeAndPepsi came from the official SodaStream account, and referred to their celebrity spokesperson Scarlett Johansson:
She just loves helping people! #sorrycokeandpepsi http://t.co/2XU7zS5rvE #SB48 #Superbowl

— SodaStream USA (@SodaStreamUSA) February 3, 2014
It has seen just 23 retweets so far.
Toyota
Terry Crews and The Muppets teamed up for Toyota's #NoRoomForBoring ad last night, and the conversation around Toyota saw a little boost in activity, if a drop in reach, from their lead-up: 12.4k tweets from 10.2k contributors, for a total reach of 14.3 million.
One of the most retweeted tweets came from the official Muppets account, and featured King Prawn Pepe doing a touchdown dance on Vine:
Can we agree to do the #PepeTouchdownDance from now on? RT @Toyota The Official #NoRoomForBoring Touchdown Dance. https://t.co/NlhZF5Sahs

— The Muppets (@TheMuppets) February 3, 2014
311 retweets for the dancing King Prawn so far, and some decent crossover exposure for Toyota.
What about brands who didn't buy ad time?
A lot of brands who don't buy ad time still live-tweet during big cultural events to interact with viewers and other brands; last night saw a lot of discussion between brands, riffing on the commercials and more. A standout was definitely J.C. Penney, who decided to tweet in a pair of mittens to very mixed results. The numbers, however, are in their favor: 131k tweets from 81.2k contributors, for a total reach of 36.9 million. That's slightly more reach than Coke, who usurped SodaStream on game day, but more than twice the amount of activity.
Both of their slightly incoherent tweets saw around 20k retweets:
Toughdown Seadawks!! Is sSeattle going toa runaway wit h this???

— JCPenney (@jcpenney) February 3, 2014
22.7k retweets so far.
Who kkmew theis was ghiong tob e a baweball ghamle. #lowsscorinh 5_0 — JCPenney (@jcpenney) February 2, 2014
19.2k retweets so far.
A number of other brands- even some of the big game advertisers- interacted with J.C. Penney's tweets:
.@JCPenney We know football goes great with Coors Light, but please tweet responsibly.

— Coors Light (@CoorsLight) February 3, 2014
Coors Light jumped in first, getting some exposure- 7.1k retweets- on a night dominated by their competitor Bud Light.
Hey @jcpenney need a designated driver?

— Kia Motors America (@Kia) February 3, 2014
Kia's tweet has seen 3.1k retweets so far, while Snickers and Doritos both offered themselves as snacks to soak up any extraneous Coors Light:
Eat a #SNICKERS, you're not you when you're hungry RT @JCPenney Who kkmew theis was ghiong tob e a baweball ghamle. #lowsscorinh 5_0

— SNICKERS® (@SNICKERS) February 3, 2014
Slow down, @jcpenney. Have some #Doritos.

— Doritos (@Doritos) February 3, 2014
Snickers has gotten 3.1k retweets so far, and Doritos 1.3k.
The Takeaways
We are living in the real-time marketing present, it would seem. The brands who saw the most activity and reach last night were the ones who were interacting like people do on Twitter around big cultural events, and inserting their brand in ways that were funny and relevant. J.C. Penney may have confused a lot of people with their decision to tweet in mittens, but it definitely got everyone talking about them. It remains to be seen whether it will help them sell any more mittens.
Watching brands interact during events like the Super Bowl has become an unexpected highlight for many viewers, especially when the action happens to be slow on the main screen.
What was your favorite social moment of the big game last night?
Super Bowl XLVIII will be upon us in two days, so we thought we'd take a look at what the chatter is like on Twitter around some of the brands who have purchased multi-million dollar ad time around the game.
Budweiser
Budweiser had already released its full #BestBuds ad and a teaser for their hero's welcome ad when they released the full version yesterday. They kept their biggest ad under wraps until yesterday as well, leading up to it with a full series of teasers sharing the set-up, including some celebrity names: Arnold Schwarzenegger, Don Cheadle (with a llama), Reggie Watts, and a promised fourth (who turned out to be Minka Kelly and not the llama, Lilly).
The hashtag for the ad, #UpForWhatever, has been used in 1.3k tweets from 1.2k contributors, with an overall reach of 3.1 million– all since Tuesday, January 28th. The most retweeted tweet? From the official Bud Light Twitter account, sharing the full spot, with 453 retweets:
Watch our full #SuperBowl spot now. See one fan have the most epic night. #UpForWhatever http://t.co/iuND86BdY4 pic.twitter.com/5nt2ResxNJ

— Bud Light (@budlight) January 31, 2014
Coca-Cola
Coke's big game spot "Going All The Way" was released in full this week, and the conversation around Coke and the Super Bowl on Twitter since Monday, January 27th has seen 15k tweets from 12.5k contributors, for a reach of 12.8 million. That's about four times Budweiser's reach, so far.
The most retweeted tweet with their hashtag #AmericaIsBeautiful is this one from the official Coca-Cola Twitter account, sharing their full ad and promising a $50k donation to the Boys and Girls Club of America for 10k shares of the spot:
Have a first look at our Game Day ad! Help the video get 10K shares & we'll give @BGCA_Clubs $50K http://t.co/zg8P6hVcRx #AmericaIsBeautiful

— Coca-Cola (@CocaCola) January 27, 2014
Fortunately it's not based on retweets, since it was only retweeted 49 times.
Doritos
Doritos ran a contest to air a fan-made ad again this year, but unlike last year they opened it to residents outside of the U.S., provided they live in one of the other countries where Doritos are sold. Voting has ended, and two of the spots will be shown at the big game on Sunday (in addition to other prizes).
2.7k tweets from 2.4k contributors about Doritos and the Super Bowl, their contest, and their hashtag #ForTheBold have been tweeted since Tuesday, with a reach of 4.4 million, or about 1/3 of Coke's reach so far.
The most retweeted tweet in this conversation around Doritos and the big game is from ESPN Sports Business Reporter & ABC News Business Correspondent Darren Rovell. It's a recipe idea for a big game party:
Super Bowl Party Appetizer Idea: Doritos Crusted Chicken Strips pic.twitter.com/H7QqQKo4we (via @DudeFoods)

— darren rovell (@darrenrovell) January 30, 2014
This was retweeted 240 times.
Kia
Kia reached back to the 1999 movie The Matrix for Morpheus to reveal to Super Bowl audiences the truth about luxury. On Twitter using hashtags #KiaK900, #RedKey, #BeTheOne, and #ChallengeLuxury, 1.3k tweets have been posted by 1.2k contributors for a reach of 1.4 million since January 22nd, putting them at the bottom of the list of brand mentions right now. The most retweeted tweet comes from the official Kia Twitter account, and shares the full game ad:
Morpheus is back. And now, he's revealing a whole new world of luxury. #KiaK900 http://t.co/Df3Gr0CtqP pic.twitter.com/fdMsuf70QE

— Kia Motors America (@Kia) January 28, 2014
Morpheus was retweeted 865 times; a lot of revealed luxury.
SodaStream
While SodaStream's ad has been banned by Fox for its direct mention of competitors Coke and Pepsi (the line from the ad is reflected in their hashtag #SorryCokeAndPepsi), that hasn't dampened the conversation around the Scarlett Johansson spot on Twitter: 18.6k tweets have been made by 13.9k contributors since Tuesday, for a reach of 56.2 million. This time it's just #SorryCoke so far; we'll have to wait until later to see if they usurp Pepsi too.
The most retweeted tweet featuring their hashtag #SorryCokeAndPepsi is this one from the official SodaStream Twitter account, explaining the controversy over their ad:
"It's not because ScarJo gets too sexy in it."  Why our ad was censored via @mashable http://t.co/ampf32hOvL  #sorrycokeandpepsi

— SodaStream USA (@SodaStreamUSA) January 30, 2014
SodaStream might have the most reach in the Super Bowl conversation thus far, but that tweet only garnered 7 retweets.
Toyota
Toyota has teamed up with former NFL player and actor Terry Crews and timeless entertainers The Muppets to show off their new Highlander, which has #NoRoomForBoring. Since Tuesday, 10.1k tweets have been made by 8.3k contributors for a reach of 24.5 million. That's about double Coke's reach, but still half that of SodaStream. One of the most retweeted #NoRoomForBoring tweets was from the official Toyota account, and featured a custom Vine of Rowlf:
Room for a talking dog…and his piano. #NoRoomForBoring. Play along with Rowlf in the All-New #ToyotaH… https://t.co/XlgP3Xhlka

— Toyota USA (@Toyota) January 28, 2014
It has seen 125 retweets so far.
Want more?
We'll be back Monday with more numbers from the big game itself. Let us know if you end up making those Doritos Crusted Chicken Strips.
The NFL NFC and AFC conference championships both played out yesterday, determining the Super Bowl matchup of the Denver Broncos vs. the Seattle Seahawks. To make things more interesting, we took a look at mentions of quarterbacks Peyton Manning of the Broncos and Tom Brady of the New England Patriots on Twitter, before, during and after they played out the AFC championship game. We were curious if the same name would come out ahead in social mentions as in the game itself. The verdict?
Tom Brady came away with about 13% of the mentions in the overall conversation, but Peyton Manning got ahead of him with 15%. And while the range of things said about professional athletes on Twitter is impressive, the two tweets below naming the QBs sum up the mood around each of their mentions pretty well.
The most retweeted tweet mentioning Brady:
Tom Brady"s Wishlist: -A defense -Wes Welker -New Uggs -Chocolate to make him feel better about himself #NEvsDEN

— NOTSportsCenter NFL (@NOTSCNFL) January 19, 2014

And the most retweeted tweet mentioning Manning:
TOUCHDOWN #BRONCOS!! Manning to Tamme for the 1-yd score. Denver leads 10-0, 7:50 left in 2nd qtr. #NEvsDEN

— Denver Broncos (@Broncos) January 19, 2014
This just didn't turn out to be Brady's year. Better luck next time, Brady! In the meantime, we'll keep an eye on the talk around Manning and much more as the Super Bowl approaches.
Join us for a short demo where we'll walk you through TweetReach Pro, our historical analytics and our snapshot reports. Demos usually take 15-20 minutes followed by an open Q&A session. At the end, attendees will receive a discount code that can be applied to a TweetReach Pro subscription.
The demo starts at 11am CT, tomorrow. You can register here.
And we promise it won't be like this:
We took an early look at the #CES2014 tweets last week, and now we're back to give you the bigger picture of everything that happened in Vegas (it doesn't stay there if you put it on Twitter, and especially if you hashtag it).
From the lead up to the show- we started tracking on January 5th and the show officially began on the 7th- until it ended on January 10th, there were 457.2k tweets made by 163.8k contributors, reaching 170 million people. The first official day saw the biggest spike in tweets: 119.6k, beating out the previous day's just-under-100k. That's an average of just under 5k tweets an hour.
The most retweeted tweet was posted on the first day of CES, from PlayStation, and saw over 5k retweets and 141 replies:
4.2 million PS4s sold. Four. Point. Two. Million. #CES2014  pic.twitter.com/TXLA3FElQh

— PlayStation (@PlayStation) January 7, 2014
The rest of the most retweeted tweets were from other brands and an agency, with one or two independent reporters in the mix:
1. @intel
2. @cmithun (Campbell Mithun, agency)
3. @chippy (Chippy, tech writer)
4. @Windows
6. @byandreachang (Andrea Chang, tech writer)
7. @Logitech
8. @Audi
9. @WWE
10. @BMWi
This is a departure from the past, when CES was ruled by tech bloggers rather than brands. Since 2011, however, more brands have fully embraced social media and in-depth social strategy, joining the conversation that was already happening around them. Their increased presence in the conversation- especially their ability to direct it- shows the results this investment has brought. Brands aren't just responding to various levels of coverage from tech bloggers, they're creating, participating in, and growing the conversation themselves.
That is a powerful presence to have at the biggest consumer electronics show in the world.
This isn't just in terms of retweets either; the top contributors to the overall CES conversation also included brands:
1. Endgadget
2. Microsoft
3. Mashable
4. CNET
5. Intel
6. WSJ
7. YouTube
9. WWE
10. intlCES
That's four brands in the top ten contributors when three years ago there was only one. Based on this activity, influence from brands can only be expected to grow in the coming years.
Want help tracking tweets about your next conference or event? Let us know!
The 71st Annual Golden Globes aired last night, and we were there as usual in conjunction with mhCarter Consulting and the Hollywood Foreign Press Association to help out on the red carpet and keep track of the social conversation. (Those of us at home did it with our shoes off and our beverage of choice in hand, just like Emma Thompson.)

During the 3-hour show there were 1.59 million tweets, and the awards predictions, red carpet fashion reviews, and general commentary brought the total up to 2.59 million over the course of the entire day. 875k Twitter users generated these tweets, reaching 296.4 million people overall– its biggest year on Twitter yet!
Actor Aaron Paul from Breaking Bad tweeted the most retweeted tweet of the night, with 30k retweets and 530 replies:
Breaking Bad for the win bitches!! Yeah Mr. White! Yeah science! #GoldenGlobes

— Aaron Paul (@aaronpaul_8) January 12, 2014
The most retweeted tweet from the official @GoldenGlobes Twitter account was a photo of actress Jennifer Lawrence on the red carpet, and it earned 3800 retweets and 550 replies:
It's Jennifer Lawrence on the @goldenglobes #redcarpet! pic.twitter.com/L6DxsOZ4XJ

— Golden Globe Awards (@goldenglobes) January 13, 2014
Further proof that the Internet still loves Our Lady JLaw (even at the moments when she's not sneaking up on Taylor Swift).
How does this compare to last year?
The 2013 Golden Globes saw 1.7 million tweets from 598.5k contributors, reaching 184.8 million people and earning 8.1 billion impressions.  This means tweets increased more than 1.5x this year over last year, with nearly 300k more contributors reaching over 100 million more people and doubling in total impressions.
We have to say, we're looking forward to what the 2015 Golden Globes bring us under the returning helm of hosts Tina Fey and Amy Poehler.
There has been plenty of coverage around Monday night's BCS Championship Game between Florida State and Auburn; everything from fan to brand reactions on Twitter. On the surface these tweets strike as funny, impassioned, angry, or incredulous– not unexpected reactions when it comes to something fans connect with as deeply as their favorite sports teams. Looking at how people talk about sports on social media like Twitter can tell us more than just which team they're a fan of, however; it gives us insight into their actions and behaviors. And if you know what it is that a fan is doing with their spare time, then you have a better idea of how to approach them, and talk to them. For brands this is invaluable. As for fans, they get the chance of an individualized approach to putting things in front of them that they'll want to connect with.
The Action: A favorite game gets rewatched like a favorite movie.
I will never ever delete the #BCSChampionship game off of my DVR. EVER.

— Melina Vastola (@melinasphotos) January 8, 2014
Rewatching the #BCSChampionship game and I just got mad at Jalen Ramsey all over again for missing that tackle on Mason

— Rod Williams (@Rodistotle) January 8, 2014
The Implication.
What's the point in rewatching a sports game you already know the outcome of? It's not that different from rewatching a favorite movie or television show, really: while you already know what's going to happen, now you can watch to see how it happens, and gain a deeper understanding of the thing that you love. While you're likely experiencing the same emotions of elation at a great play or sadness in a defeat, it's also likely not as strong as when you watched the game live. It's easier to spot a certain player's motivations, or how a play completely unraveled, because you're not sitting on the edge of your seat with your teeth clenched, or screaming at the ref.
For brands whose demographic includes sports fans, this is helpful information. People who save a game to rewatch it are exhibiting behavior that's planned, thoughtful, and deeply engaging– and that's the kind of approach any brand wanting to build a relationship with them should take when reaching out to them. That fan behavior shows the kind of loyalty companies are lucky to find in a customer. Reach out the right way, with understanding, and you stand to be rewarded.
The Action: Not holding back feelings about a new way to watch the game.
ESPN debuted their Megacast for the BCS Championship, and like all things on the Internet viewers were not shy about sharing their feelings.
I really have grown to dislike ESPN over the years but the BCS Championship Game megacast cast was brilliant #Megacast #BCSChampionship

— Nathan Winder (@nAtr0nBomB) January 7, 2014
Wait, I just discovered the #MegaCast on ESPN2. restart the game! #BCSChampionship

— BrockKoller (@BrockK) January 7, 2014
So, I tried the #MegaCast. Not working for me. Just give me the football. No…not literally. #BCSChampionship

— Pigskin 'N Pearls™ (@PigskinNPearls) January 7, 2014
The implication.
Sometimes it's the simplest lessons that bear repeating: Listen to your audience. Obviously ESPN will never be able to make every single sports fan happy with a magical coverage design, but they can find ways to tweak their Megacast for future games by paying attention to the things their watchers are saying about it. This is also an opportunity to shine a spotlight on certain fans; if you incorporate their idea, highlight the tweet they shared it in on a future broadcast and say thank you. Nothing could spell out clearer that you do care what viewers have to say.
And some of their ideas are pretty entertaining.
New #MegaCast idea: Find the guy who bet the most on the game (legally) and put a camera on him. #BCSChampionship

— Michael T (@STLMetsFan5) January 7, 2014
Speaking of events that happen this time of year, it's CES week in Las Vegas. (You may recall that we've analyzed CES tweets before.) We'll write more on this as the event continues over the next few days, but we wanted to check on what Twitter thinks about CES so far. Here's a quick rundown of early CES tweets.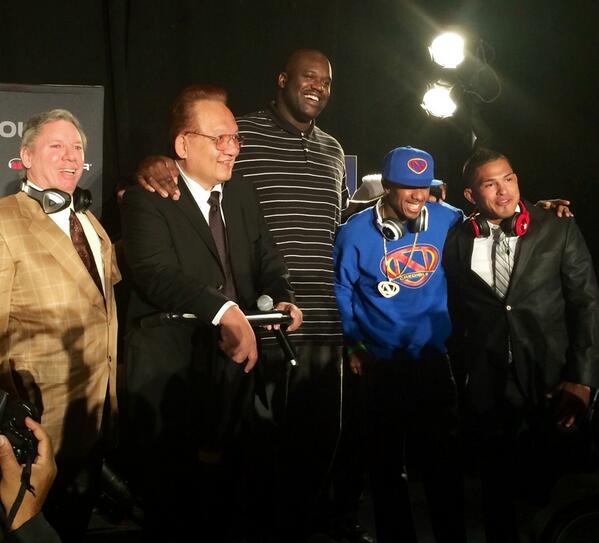 Most retweeted accounts:
Most buzzed about brands:
Intel
Samsung
Sony
Biggest celebrity endorsements:
@Shaq (Monster)
@NickCannon (Monster)
@LeVarBurton (AMD)
There were nearly 100,000 tweets using the official #CES2014 hashtag posted yesterday (January 6) and today – the first official full day of the conference – is on track to beat that. More CES updates throughout the week, so check back in later!
Want help tracking tweets about your next conference or event? Let us know!
It's that time of year again – awards season! The 71st Golden Globe Awards are this Sunday, and as usual, we'll be there to track the social media conversation around the event and help out on the #redcarpet.
So, we were wondering… In the days leading up to the first major awards show in Hollywood this season, which movies, TV shows and actors are Twitter and Tumblr buzzing about?

Well, Tumblr can't get enough of Amy Poehler and Tina Fey, who are coming back for a second year as hosts of the show. Most of the top posts about the Golden Globes right now are GIFs of the comedic duo, taken mostly from the commercials for the upcoming broadcast (like this one from gillianjacobs).
After Tina and Amy, Twitter and Tumblr are both excited about Tatiana Maslany from BBC America's Orphan Black and Jennifer Lawrence - or JLaw, if you prefer, which we do – from American Hustle. And there's a lot of talk about Jared Leto from Dallas Buyers Club, Leonardo DiCaprio from The Wolf of Wall Street, and Bradley Cooper from American Hustle.
As far as movies and shows go, Tumblr's favorite films right now are American Hustle, 12 Years a Slave, and Dallas Buyers Club. Twitter also loves Catching Fire, partly because Taylor Swift's song from the film was nominated. And Orphan Black is wildly popular on both networks. Breaking Bad and Scandal are getting some attention on Twitter, while American Horror Story is popular on Tumblr.
Want to follow along with the conversation this week? Find @GoldenGlobes on Twitter and on Instagram, and participate in the conversation with the #GoldenGlobes tag. And stay tuned here, as we'll update with more social data about the show next week!
As we like to do every year around this time, we're checking into what Twitter is saying about holiday shopping, particularly around Black Friday. This past weekend- a full week before Black Friday officially starts- things were starting to really accelerate on Twitter, with an average of about 5,000 tweets an hour posted about Black Friday over the past two days. And so far this month, 780k people have posted 1.3 million tweets about the biggest shopping weekend of the year.
Which upcoming Black Friday sales was Twitter most excited about over the weekend? Amazon was the most talked about sale, with Walmart a close second. And so far, the product topping everyone's wish list is the Xbox One.
We're tracking all Black Friday tweets this week, so we'll keep you posted!