It's Friday, so that means it's time for This Week in Social Analytics and our favorite posts of the past week in the world of measurement, analytics, and social media. See a great piece we missed? Link to it in the comments, or tell us about it on Twitter or Facebook.
Social Data Market Momentum: It's Not About the Firehose [from Thought Experiments; written by Susan Etlinger]
"But this market, as it's evolving, is not just a game of 'Capture the Firehose'; it's about taking this enormously complex, rich and challenging data set and turning it into insight that can be used to suggest trends that real people in real organizations can act on. It's not about the firehose; it's not even about the water. It's about the fires the water can put out, and the things it can cause to grow."
Nine Valuable Marketing Lessons From a Nonprofit – Charitywater.org [from KISSMetrics; written by Chloe Gray]
These lessons are equally applicable to for-profit businesses.
"Through a commitment to storytelling, beautiful design, broadcasting a unique value proposition, putting donors at the center of their strategy, and creating highly sharable content, the nonprofit has built a brand that incites the kind of loyalty, excitement, and inspiration most companies dream of."
How To Build The Perfect Tumblr Profile For Business [from MarketingThink; written by Gerry Moran]
"Tumblr needs to be considered for every brand's picture-perfect content marketing strategy in 2014. With native buying behavior focusing on the visual experience, brands need to be presenting their story at the multitude of customer touchpoints. This content consumption behavior demands that brands evolve into a curator and syndicator of their content assets on visual and graphical platforms like Tumblr, Instagram and Pinterest."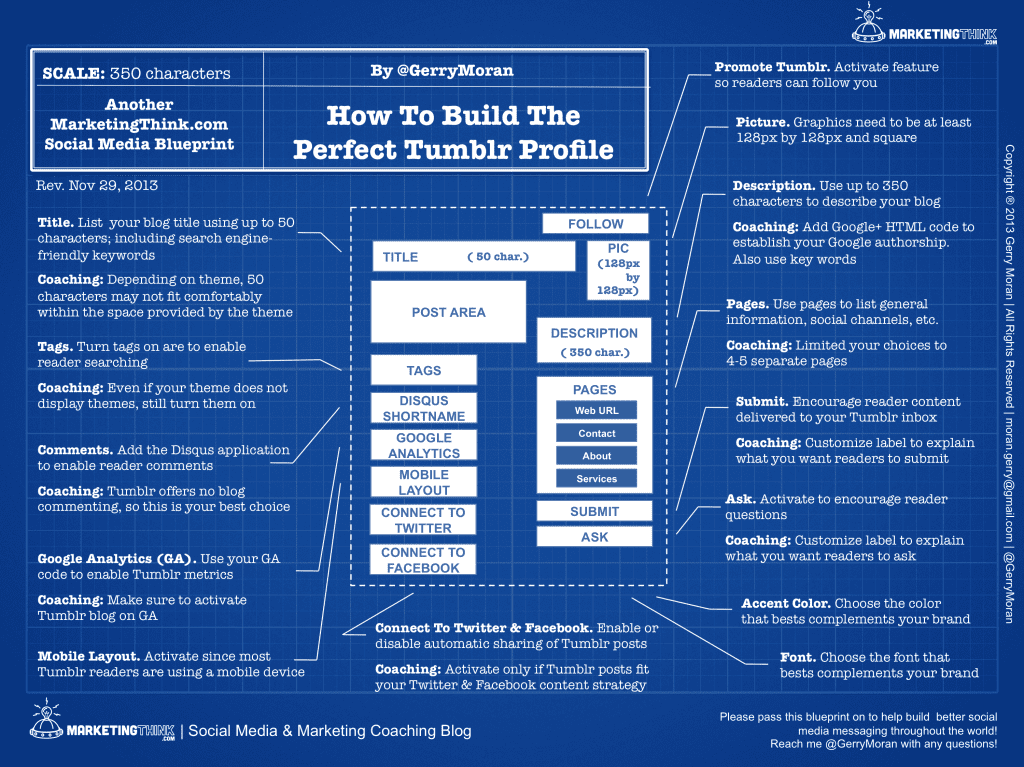 4 Creative Instagram Brand Campaigns [from Business 2 Community; written by Theo Schmidt]
Check out four of the most interesting uses of Instagram for brand campaigns.
(And you can find us here on Instagram, if you're so inclined.)
STUDY: It Only Takes 76 Seconds to Secure or Lose Brand Loyalty [from PR Newser; written by Elizabeth S. Mitchell]
"And assistance doesn't only need to be fast — it also needs to be direct and personal. The survey revealed that 69% of consumers are more likely to be loyal to a brand that provides live, human assistance at critical moments, and 82% say their perception of a brand improves when live chat is available."
Avoid a social crisis with one simple question [from Social Media Explorer; written by Tracey Parsons]
Before publishing something on a social account, say it out loud.
"In real time, the Out-Loud Voice litmus test it is a quick affirmation that could be the last check before something is posted online. And let's be honest, what you post on social as a brand is very much out loud even if it is only written word. And without a doubt, most branded social media gaffes could have been prevented with this test."
Social Business is not Dead: New charts and data reveal the real evolution of social businesses [from Brian Solis]
"Along the way, I've also learned that pushing for social adoption because of technology misses the point of change. The true catalyst isn't whatever the latest trend in social media is this week. That's reactive and almost impossible to leapfrog. The truth is that change is fueled by the affect that social media, mobile, and other forms of disruptive technologies have on customer behavior. Whether it's B2B, B2C, B2B2C, or whatever model you prefer, as long as we're talking about connected human beings, you can bet that social and digital in general are influencing discovery, decision-making, and impressions in every moment of truth."
5 Tips to Help Busy Small Business Owners Better Manage their Social Media [from Eli Rose; written by Liz Jostes]
". . .adjust your expectations to a level you can confidently maintain."
What Do You Get With A Social Media Audit? [Top Rank Online Marketing; written by Lee Odden]
"Ultimately, the results of a social media marketing audit should reconcile the difference between the current situation and where the brand social media efforts need to be. Just like the other online marketing audits companies will perform, a social media audit is not a "one and done" situation. They should be repeated periodically as part of being accountable for the social media investment."
B2B Experts: The Difference Between Social Media and Content Marketing [from Social Media B2B; written by Jeffrey L. Cohen]
"Your neighbor isn't going to talk to you about those darn teenagers and their content marketing. But there's plenty of discussion by businesses and citizens alike about social media."
What to Do When Your Twitter Handle is Taken But Isn't in Use [from Social Media Today; written by Deborah Sweeney]
Helpful guidelines for a 140-character crisis.
History Retweets: How Ancient Romans Created Social Media [from the Wall Street Journal; written by Tom Standage]
"Who invented social media? It wasn't the founders of Facebook, or Twitter, or even MySpace or Friendster. Social media—the exchange of media within networks of friends and acquaintances—is much older than the Internet. A social-media environment requires two things: a certain level of literacy, and the ability to copy and deliver information cheaply and quickly. This combination first arose in the late Roman republic of the 1st century BC, more than 2,000 years ago."
Emphasis added.
You don't have to go Pro to save your TweetReach snapshot reports. As long as you've registered for a free TweetReach account - and you're logged in! – you can save every report you run for future access in your My Reports archive. That applies to both free, 50-tweet snapshots, as well as full, $20 snapshots.  Just be sure to log in to your account before you run your next snapshot report.
And whenever you purchase  a full snapshot report, you'll still receive an email copy and a receipt. If you happen to purchase a report while you were logged out, just send us an email and we'll be happy to move it into your account.
Are you new to TweetReach or want to learn more about our products? 
First, run a free snapshot report about your Twitter account, hashtag, keywords or URL on tweetreach.com. If you have any questions about our metrics, read this.
Second, if you'd like to set up ongoing monitoring for any Twitter account or keyword-based topic, check our TweetReach Pro. Starting at just $84 per month, it's a great and affordable way to start tracking and analyzing your tweets in real time. Contact our sales team if you have any questions at all.
It's Friday- but a day-after-a-holiday Friday here in the US, so this week is short and sweet!- and that means it's time for This Week in Social Analytics and our favorite posts of the past week in the world of measurement, analytics, and social media. See a great piece we missed? Link to it in the comments, or tell us about it on Twitter or Facebook.
Three Ways to Break Through on Social Media [from The Wall Street Journal; written by Gary Vaynerchuk]
"Make something funny, or thoughtful, or provocative that nobody else is making (or, maybe more importantly, that is just better than what everybody else is making)."
Emphasis original.
What Marketing/Analytics Can Learn from Mythbusters [from Demystified; written by Tim Wilson]
"To be clear, the marketer (Jamie) is complicit here. He is the one who expects the analyst to simply dig into the data and 'find insights.' But, week in and week out, month in and month out, he gets the report, the report includes 'analysis' of the anomalies in the data and other scattershot true-but-not-immediately-relevant findings, but he doesn't get information that he can immediately and directly act on. (At which point we invoke Einstein's definition of insanity: "doing the same thing over and over again and expecting different results.')

'Insights' that are found this way, more often than not, have a perfectly logical and non-actionable explanation. This is what analysis becomes when the analyst is told to simply dig into the data and produce a monthly report with 'analysis and insights.'"
31 Ways To Thank Your Customers [via Heidi Cohen]
Not just for the Thanksgiving holiday.
20 Statistics That Will Drive 2014 Marketing Strategies | INFOGRAPHIC [from Social Media Today; written by Pam Dyer]
The year-in-review and prediction posts are starting to roll in; what are you expecting in 2014?
What Tumblr Taught Me About Writing [from Publishers Weekly; written by Tim Manley]
"The most important insight I gained by forgoing an M.F.A. program in favor of launching a Tumblr was learning that to be successful, I didn't need a particular degree, or any specific family background or life experience. I didn't have to apply to a writing program or have a friend who knew somebody. All I needed to do was make good content."
Marketers Remain Wary of 'Holiday Creep' Backlash [from eMarketer; written by staff]
"Respondents indicated that they did not suffer from Black Friday and Cyber Monday tunnel vision in planning their promotions. Half of those polled said they would spread most of their promotions across the holiday shopping season, while only 13% said they would focus the majority of them on Black Friday and the following weekend."
Also of note:
"The poll found that social media promotions, in particular, had grown substantially, increasing by 43% over the previous year."
The Union Metrics support team will be around to answer all of your questions throughout the Thanksgiving holiday. However, please allow us a little extra time to return your calls and emails on Thursday, November 28 and Friday, November 29, as we're likely to be stuffing our faces with turkey and cranberry sauce (or sleeping off our resulting food comas).
During this time, we will return all urgent requests as soon as possible and non-urgent requests within 24 hours. As always, you can get in touch with us in many ways, but email is the best way to reach us over the holiday (aren't smartphones great?).
Happy Thanksgiving!
If you buy one of our full snapshot reports (up to 1500 tweets, posted up to one week ago), then we'll send you an email with your snapshot report, as well as a receipt for your purchase.
In that report email, you'll have links to access your report and receipt online, download a PDF, export a CSV file and find our support contact information. Here's an example of that email:
So, when you order your report, don't lose this email! It has your receipt and report info, in case you need it later. But if you do lose the email, call or email us and we'll be happy to send you another copy!
As we like to do every year around this time, we're checking into what Twitter is saying about holiday shopping, particularly around Black Friday. This past weekend- a full week before Black Friday officially starts- things were starting to really accelerate on Twitter, with an average of about 5,000 tweets an hour posted about Black Friday over the past two days. And so far this month, 780k people have posted 1.3 million tweets about the biggest shopping weekend of the year.
Which upcoming Black Friday sales was Twitter most excited about over the weekend? Amazon was the most talked about sale, with Walmart a close second. And so far, the product topping everyone's wish list is the Xbox One.
We're tracking all Black Friday tweets this week, so we'll keep you posted!
It's Friday, so that means it's time for This Week in Social Analytics and our favorite posts of the past week in the world of measurement, analytics, and social media. See a great piece we missed? Link to it in the comments, or tell us about it on Twitter or Facebook.
The Complete Guide to Tumblr Etiquette [from Mashable; written by Sara Roncero-Menendez]
"Whether you want to maximize your Tumblr experience or just want to learn how to participate in activities on this popular social network, here's a complete guide to Tumblr etiquette."
While more of a guide for personal Tumblr use than for brands, it still has some helpful tips on how communities within Tumblr operate; valuable information to any brand that wants to understand and connect to their customers.
How Whole Foods Has Commandeered Tumblr [from Business 2 Community; written by Tree Treacy]
"Dark Rye has a website, but also hosts an analogous Tumblr blog. This is a smart move on the part of Whole Foods for a couple of reasons. The first, of course, is that having multiple venues for content is a great way to reach a wider audience. Tumblr users who may not otherwise be keeping up with Dark Rye are much more likely to follow the online magazine's blog more casually when it is on this blogging site."
Your Field Guide to What it Means When Someone Complains About Your Brand Online [via Mack Collier]
"But before you can respond appropriately, you need to properly assess who you are responding to!"
How To Generate B2B Leads With Content Marketing [from Marketing Land; written by Arnie Kuenn]
"There are numerous tactics that can be leveraged to generate B2B leads with content marketing. In fact, 28 percent of B2B marketers reported using between five and nine content marketing tactics to drive leads, while 64 percent reported using more than nine. As you can see from these statistics, a successful B2B content marketing strategy includes a variety of methods and there is no one-size-fits-all solution."
10 Surprising Social Media Statistics That Will Make You Rethink Your Social Strategy [from Fast Company; written by Belle Beth Cooper]
"1. THE FASTEST GROWING DEMOGRAPHIC ON TWITTER IS THE 55–64 YEAR AGE BRACKET.

This demographic has grown 79% since 2012.

The 45–54 year age bracket is the fastest growing demographic on both Facebook and Google+.

For Facebook, this group has jumped 46%.

For Google+, 56%."
India Leads Worldwide Social Networking Growth [eMarketer; written by staff]
"This year, eMarketer estimates, 1.61 billion people will log in to social networking sites at least monthly, from any electronic device. That's a 14.2% gain on social networker numbers from 2012, and double-digit growth is expected to continue for another year. By 2017, 2.33 billion people will use social networks."
5 forthcoming social media advances you should know about [from iMedia Connection; written by Elisabeth Crane]
"Developing Niche Platforms

Although sites like Google, LinkedIn, and Instagram are major platforms for social media in a bigger context, niche marketing has its place in social media. In fact, many of these niche platforms will be playing a role in specific interests and activities in daily life. Applications will be considered unique to the individual user, such as connecting DIY-saavy designers or those curious to start a new cause."
Which Social and Mobile Platforms Are Older Teens Using? [from Marketing Charts; written by staff]
If teens are leaving Facebook, where are they going? (Older teens aren't leaving, it seems.)
"Given all the fuss about teens leaving Facebook, GlobalWebIndex has taken a look at the most widely-used social platforms and mobile applications by 16-19-year-olds around the world. The global survey finds that Facebook remains the most commonly used social platform, with 56% of respondents claiming to have used it in the past month. Facebook's mobile app is next, at 43% of respondents, followed closely by YouTube's mobile app (39%) and site (35%). There are some surprises on the list."
You can exclude certain tweets from your results by using the minus ("-") operator in your TweetReach search. You can exclude tweets that include certain keywords or tweets that mention a certain account. For example:
or
The second example is a good one to use if you find a spammer or someone whose tweets you really don't want to include in your reports.
Note that there should not be a space between the minus and the word you're excluding.  If you'd like to exclude a two word phrase, wrap them in quotation marks, like this:
What airlines should look for on Twitter and what to measure, before, during, and after a crisis
Social media is both a blessing and a curse in a time of crisis. While companies are able to rapidly disseminate information, share updates, and directly interact with the public in real time, misinformation can also spread like crazy on platforms like Twitter.
For something as high stakes as air travel, it's important for airlines and travel companies to have a plan in place should a crisis arise, particularly during the stressful holiday travel season. We have some advice for creating just such a plan, or reassessing it if you already have one.
What to look for on Twitter during a crisis
First, you need to set up a monitoring plan for Twitter. Exactly what you're looking for will depend on the nature of the crisis you're dealing with and your communication goals around each type of crisis.
In case of common crisis
For flight delays and stranded, angry customers, for example, you'll definitely want to focus on catching every mention of your brand on Twitter and doing everything you possibly can to make affected customers feel listened to and understood. If possible, give your customer service representatives on Twitter the power to offer reconciliations: everything from drink tickets, to discounts on future flights, full or partial refunds; even free tickets for a future flight if the situation is bad enough.
This is vital for turning an angry person who swears they will never fly with you again- whether the circumstances of the situation were under your control or not- and someone who will brag about your customer service on the same forum they just used to share their unhappiness, while remaining a customer.
In case of not-so-common crisis
If the situation is more serious- like the recent shooting that happened at Los Angeles International Airport, or a natural disaster like an earthquake- you don't have to bother to look for misinformation; it will already be out there. Use Twitter as a way to let everyone know you're aware of the situation, the safety of your employees and passengers, and any updates you can make on the situation, waiting as long as possible to confirm new information before you send it out while still making any corrections as necessary.
In both cases- and the rest of the time, as a general rule of thumb- you should be monitoring not only direct replies to your brand's handle on Twitter, but also mentions of your company name in any variety of spelling imaginable, any well-known nicknames your brand has (official or not), and the airports you operate from. Depending on your resources, you might want to include the names of prominent employees, such as founders, board members and c-level executives. Something like our TweetReach Pro Trackers will allow you to do this. (We'll talk more about what to measure in the next section.)
Go the extra mile
Monitoring mentions of the airports you operate from will be vital should a tragic incident such as the LAX shooting occur again, and the rest of the time it will give you an advantage in listening to and addressing problems you might not have caught otherwise. Is a passenger stranded, and you have room on a flight? Even if they weren't booked on your airline, you've probably just won a new loyal customer. If you make someone's day, you've reversed their story of a bad trip gone awry and be more likely to be the first brand on their mind the next time they travel.
What to measure on Twitter in times of crisis, and after
Now that you know what to look for, you need to have a plan in place for how to measure it. What, exactly, should you be measuring on Twitter as a crisis unfolds?
Before; or what you should have set up right now
Ideally you will already have Trackers set up to capture what we mentioned above- tweets directly to your official handle, mentions of your brand in any variety of spelling imaginable, any well-known nicknames your brand has (official or not), and the airports you operate from. If you're not already doing that, now is the time to implement Trackers or take frequent snapshots (using something like our aptly named snapshot reports) around those terms once a situation arises and begins to unfold.
During a crisis
Often during a crisis situation, a hashtag will be born organically. If you're being proactive about communicating via Twitter, however, don't hesitate to create one of your own and immediately set up a Tracker to measure it, or take continual snapshots of the situation. If another hashtag emerges organically, use that one in your messaging as well and be sure you're tracking both.
After a crisis
If everything flies by too quickly and you're a small enough team not to have time to set up Trackers or take frequent enough snapshots of the situation, a historical option to capture the entire incident is available. This can also be used to fill in any noticeable gaps in your data once you've begun to look through everything you've gathered.
In the aftermath of the event, you might also want to track a specific news story (using specific key words from the title if it's unique enough not to return a lot of noise, or you can track via a specific URL) that went around if it directly involved comments from your brand, or got a lot of circulation with commentary from people passing it around. This will give you a much more accurate read on the sentiment around your crisis messaging, and let you see any missed opportunities as well as highlight every win.
Go the extra mile
Once you have all of this data and you can clearly see how the situation unfolded and evaluate the strength of your response, take it a step further: What can you plan better next time, with this experience? What did you and your team do really well, that you should be sure to praise and also pass on as protocol to new team members? This knowledge can be distilled and turned into training and on-boarding materials for any new communications employees in the future.
If you're not an airline a lot of these tactics still apply to you; if you're a hotel, for example, you can offer to put up stranded travelers or victims of a natural disaster or other tragedy. Car rental companies and car sharing services can work out deals to get stranded people home if they don't have far to go. Tour companies can even offer to keep stranded passengers entertained with local sites while they're waiting for delayed travel to get sorted out.
The takeaway
The bottom line is to listen and step in where you're needed, even if you're not expected to.
It's Friday, so that means it's time for This Week in Social Analytics and our favorite posts of the past week in the world of measurement, analytics, and social media. See a great piece we missed? Link to it in the comments, or tell us about it on Twitter or Facebook.
Social Media Fears, Tips, and Strategies for Small Businesses [from Soshable; written by Chastity Mansfield]
An infographic that highlights the anxieties felt by many small businesses approaching social media, along with tips and strategies for successfully implementing a social program despite them.
Full infographic at the link above.  
Saving the world through social media? How development is going digital [from The Guardian; written by Maeve Shearlaw]
"From tracking World Bank projects to Twitter conversations with Rwanda's health minister, technology is driving innovation."
Social media for social good. Pair with Tumblr's effort to help with relief aid in the Philippines.
18 Social Media Marketing Tips From the Pros [from Social Media Examiner; written by Cindy King]
Strategies from pros that they use to boost their social media marketing.
The First Tweets of 16 B2B Brands (and a Few Familiar Faces) [from Ann Handley]
A look at some of the first B2B tweets is amusing, and shows just how far Twitter has come since its inception and eventual widespread adoption by businesses.
How Twitter Hijacked My Mind [from New York Magazine; written by Kathryn Schulz]
"Collectively, the people I follow on Twitter — book nerds, science nerds, journalists, the uncategorizably interesting — come pretty close to my dream community. They also function as by far the best news source I've ever used: more panoptic, more in-depth, more likely to teach me something, much more timely, cumulatively more self-correcting and sophisticated."
Defending Your Personal Brand Online – When Should You Respond? [from Forbes; written by Dorie Clark]
"A study from Stanford's Graduate School of Business indicates that bad publicity harms the reputation of established players, as you might expect. But it can actually help lesser-known figures, because it raises their brand awareness among the public."
Social Serves Many Purposes for Restaurant Industry Marketers [from eMarketer; written by staff]
"Among US restaurants in March 2013, 80% used social media—17 percentage points higher than email, which was the next most popular choice. Social's ubiquity is likely because it's viewed as less expensive than traditional forms of marketing."
A Girl Who Codes [from FastCompany; written by Jillian Goodman]
"'It showed me that if I have an idea or something that I want to make, I shouldn't be afraid to go ahead and make it. I think computer science allows you to make your dreams come true.'"
The tech industry's woman problem: Statistics show it's worse than you think [from Quartz; written by Lauren Bacon]
"The numbers, while preliminary, are revealing: tech companies employ an average of 12.33% women engineers."
The Common Sense Guide For Brands That Want to Show Support Without Looking Like Asshats [from Mack Collier]
No-nonsense advice from Mack Collier.
15 Brands Rocking Tumblr [from Mashable; written by Taylor Casti]
Mashable highlights brands who have really taken to Tumblr's unique possibilities for connecting with customers.
3 in 10 SMBs Advertising on Twitter Seeing "Excellent" or "Extraordinary" ROI [from Marketing Charts; written by staff]
". . . this year, 31.1% of those advertising on Twitter perceived their ROI as "excellent" (10-19 times spend; 18.8%) or "extraordinary" (20+ times spend; 12.3%), up from 25% of advertisers in last year's survey and 17.1% in 2011."
And two bonus resources:
9 Twitter Chats Every Digital Marketer Should Participate In [from Business to Community; written by Cassie Gray]
We have to add #MMchat to this list. Mondays at 8pm ET.
Which Social Media Icons and Logos Can I Print on Promo Items? [from Quality Logo Products; written by Mandy Kilinskis]
Helpful when you're creating promo items for the next conference etc your brand plans to attend.